18 Feb

Snapchat introduces advertisements for Snap Star Stories

Welcome back to another Spark Social Report by Spark Growth! Each week, we cover the latest digital marketing trends and social media updates. Keep reading to find out what Snapchat, Twitter, Instagram, LinkedIn, TikTok, and even Tumblr have been up to this week.
Snapchat
Snap Star Story mid-roll Advertisements
Snapchat continues its effort to support its creators through the new ability to insert mid-roll advertisements in Snap Star Stories.
Snap Stars are Snapchat creators verified by the platform with large followings, selected based on account engagement, authenticity, notability, and content quality. A gold star on their profile then indicates these accounts.
Starting with U.S.-based Snap Stars, but rolling out widely in the coming months, these users will receive a portion of the revenue made from the ads placed on their publicly posted stories. In 2021, Snapchat paid out over $250 million USD to more than 12,000 creators through their existing creator tools.
This update follows Snapchat's previous moves to monetize the app, as advertisements are already present between content such as friend's stories. This update "will allow an easier path to financial success" for its top-performing creators and create additional revenue streams for both creators and the app.
Twitter
Safety Mode in English-Speaking Markets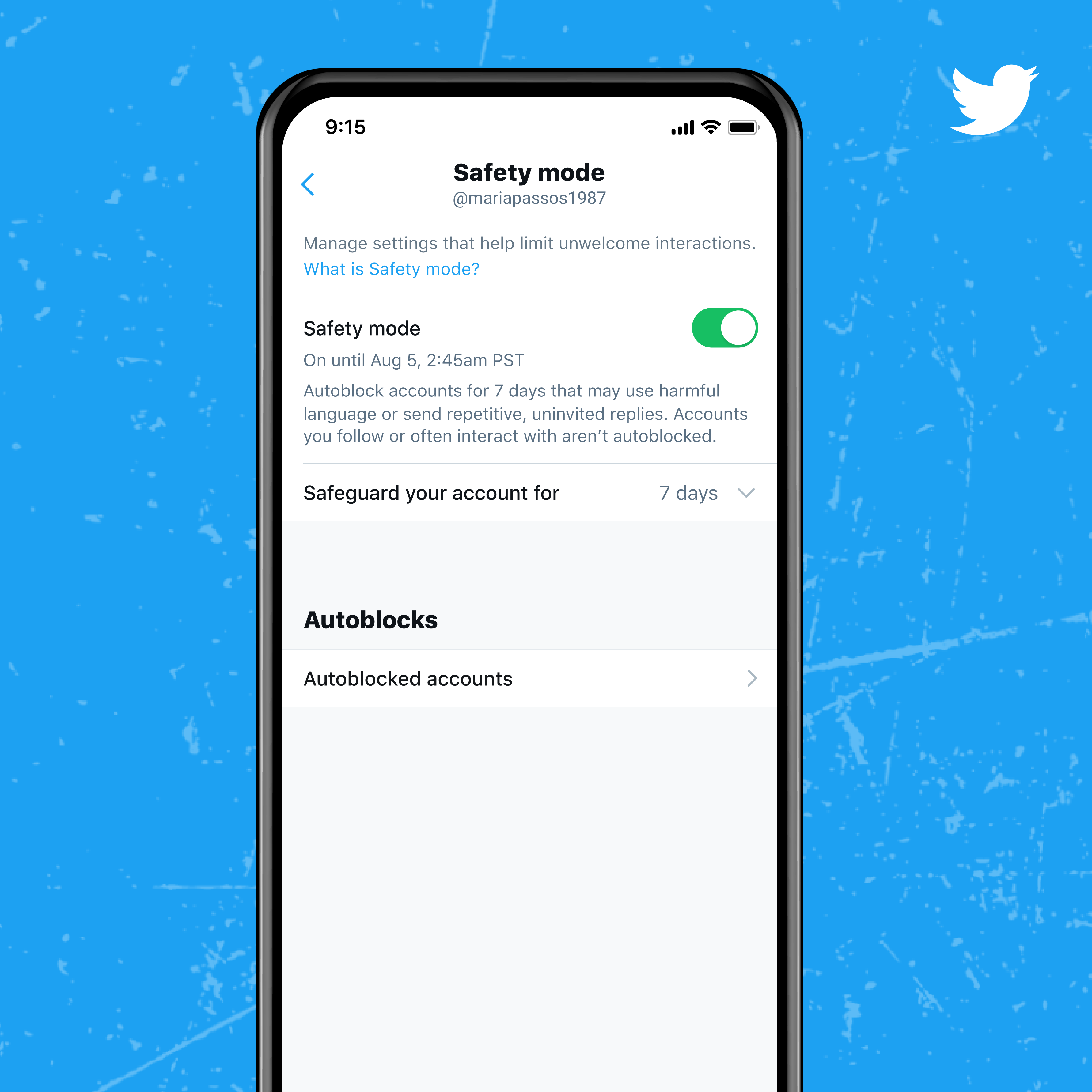 Twitter's "Safety Mode" feature is being rolled out to users in English-speaking markets, including the U.S., U.K., Canada, Australia, Ireland, and New Zealand. This update follows the first announcement and subsequent release to a small number of testers in September 2021.
What is Safety Mode? The user must first enable the feature. Once it is activated, the mode will automatically assess accounts that use potentially harmful language or send repetitive, uninvited replies to the user. Twitter's systems evaluate the nature of the engagements by considering both the Tweet's content and the relationship between the author and the replier. If found to be harmful, the offending account will automatically be blocked for seven days.
The expanded roll-out of this feature aims to bring Twitter more feedback and insights as it leads up to a complete release of the mode.
Downvote Tests Rolled Out
But that isn't all that Twitter is testing on a broader scale this week. Downvotes are rolling out to more accounts in a global expansion of the current test, specifically for those using the platform on web browser. This feature will also soon be made available to more Android and iOS users in the coming future.
What are Downvotes? They are a new feature that will be slotted alongside the Like, Retweet, and Reply options already present on Tweets. They will function as a negative vote towards a Tweet, which on the surface seem similar to downvotes on Reddit. However, the difference is that these votes are not publicly displayed and are enabling Twitter to determine which replies are shown to users. In tests so far, users have been using the tool on content that they found offensive or irrelevant.
With both Downvotes and Safety Mode entering into their finalizing stages of testing, Twitter is showing just how seriously cleaning up post replies is to the platform.  
Instagram
New "Your Activity" Feature
Introduced in its #SaferInternetDay blog post, Instagram released its new "Your Activity" feature and is rolling it out to everyone.
The update brings all of a user's actions within the app into one centralized location. Features include the ability to archive and delete posts, videos, Reels, comments, likes, and story replies in bulk quantities. Additionally, users will be able to sort and filter their content and interactions by date to find and take action on specific interactions.
Users will also be able to see their search history, links they've visited, and can download their information.
Likes added to Stories
This week, Instagram chief Adam Mosseri announced and demonstrated a new feature that gives users the ability to privately like Instagram stories.
Story Likes will appear through a heart-shaped icon, placed between the existing send message and share options on Instagram Stories.
These likes will show up for the story poster alongside the list of story viewers, featuring a heart icon beside the viewer's name if they sent a like to the story.
According to Mosseri, the update aims to clean up reactions from D.M.s and facilitate new types of engagement!
LinkedIn
Retirement of the LinkedIn Lite App
LinkedIn is officially retiring the Lite version of their app. Inspired by a field research trip to a small city 100 miles from Mumbai, the app ensured that LinkedIn was accessible for locations with low levels of internet connectivity.
In the five years since the app launched, there has been a significant improvement in Internet usage and speeds worldwide. In turn, this made the full version of the app more suitable in a wider range of locations and more attractive with its full suite of features.
LinkedIn Lite was removed from Android app stores on January 27th and will be fully deactivated on March 15th, ensuring that users have enough time to transition to the full version of the app.
TikTok
Brand Safety Center
TikTok launched their brand-new Brand Safety Center, a resource page with the goal of demonstrating their "efforts and commitment to becoming the safest, most trusted entertainment platform for people and brands," acting as a centralized location for all information related to brand safety and transparency at TikTok.
With this announcement, TikTok also summarized its four brand safety pillars, which are as follows:
     

Keeping our community safe

     

Building brand-safe solutions

     

Championing transparency and accountability

     

Partnering for Progress
In line with these four pillars, TikTok is determined to continue furthering its safety efforts for both users and brands throughout the year, from working alongside industry groups in setting platform standards to helping creators and brands continue their storytelling safely.
Tumblr
Introduces Tumblr Tips
Tumblr now has a tip jar! This new opt-in feature will allow users to tip their favorite creators alongside a message, or they can choose to tip anonymously. Tumblr will not receive any portion of the tips, with the full amount going to creators.
This feature is currently available to creators in the U.S., with plans to expand to all users soon. 
That wraps up this week's social media news! Be sure to follow us on Facebook for more digital marketing trends, and check back here every Friday for our weekly wrap-ups! 
Are you generating engaging content on your social media platforms? Check out our case study below to see how we've helped businesses like Cisco with their creative strategy and content creation.
Read our case study here!