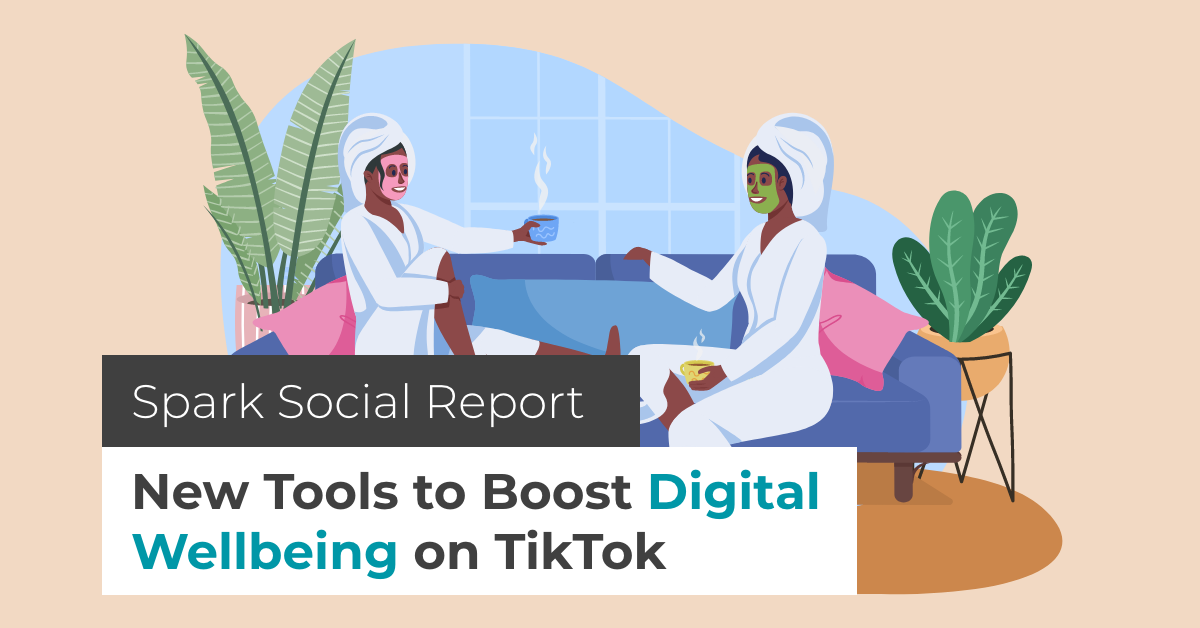 17 Jun

New Tools to Boost Digital Wellbeing on TikTok

Welcome back to Spark Social Report by Spark Growth, your weekly source for social media updates! This week, TikTok introduced new tools to boost digital wellbeing, YouTube has a new correction feature, and LinkedIn launched a business management platform. Continue reading for more updates across social media!
Gen Z Digital Marketing Insights
Gen Z is quickly becoming a major influential digital consumer. Rave Reviews published an infographic on key Gen Z consumption trends and how they interact online. Here are some key takeaways from the infographic: 
Younger Gen Z audiences are moving away from social media sites to more interactive sites such as

Roblox

,

Fortnite

, and

Twitch

. 

85% visit

YouTube

more than any other social media platform. 

44% interact with the content they like in an attempt to alter the algorithm.
For many marketers, this means branching out to new platforms in order to reach this audience. Read more on Gen Z's social media and spending habits in the full infographic.
Instagram 
New Sensitive Content Controls 
Instagram is expanding its sensitive content control settings. Sensitive content includes posts that aren't directly against guidelines but may be upsetting to some users. With sensitive content controls, users can choose to see less of a topic or see more sensitive content if they're over the age of 18. Before this update, users could only limit sensitive content on the explore tab, but now the settings will also impact search results, Reels, hashtags, and in-feed suggestions. 
Additionally, to make this more accessible for users, Instagram is working on a shortcut added in the explore tab. As found by Alessandro Paluzzi, a web developer, users can choose "not interested" or "content controls" options. 
Digital Collectibles Collection
#Instagram is working on Digital Collectibles (#NFTs) collections 👀 pic.twitter.com/w7WWAzVnLB

— Alessandro Paluzzi (@alex193a) June 9, 2022
Instagram announced in May that it's working on bringing NFTs (non-fungible tokens) to the app. Currently, they are working on a "Digital Collectibles" collection to store and sort NFTs on Instagram. The collections are separated into "Created by You" and "Your Collectibles." No release date has been announced yet. 
Updated Parental Controls on Instagram
Lastly, Meta has expanded parental controls on Instagram. The company announced three new updates. First, parents can now send invitations to their teens to request supervision tools to be turned on. Next, parents can set specific times that their teens can use Instagram. Lastly, parents can now see more information if their teen reports an account. They can see what was reported and the type of report to improve safety precautions for young teens. 
New Remix for Photos
More on 'Remix for Photos'… pic.twitter.com/lGpfEn0SBc

— Lindsey Gamble (@LindseyGamble_) June 15, 2022
Meta has added more features for Reels on both Instagram and Facebook. The new Remix for Photos tool allows users to re-use photo content from others and add them to their own Reel. This is a way to react to content on the app or for users to add their own creative input. This Remix feature is now available for both videos and photos. Brands can use this feature to react to new product launches and encourage influencers to do the same. 
Twitter
Location Spotlight for Businesses 
Calling all brick-and-mortar businesses based in the US, UK, Canada, and Australia!

You can now enable our Location Spotlight on your Professional Account which allows you to display your business location, hours, and additional contact methods!

— Twitter Business (@TwitterBusiness) June 14, 2022
Next, Twitter announced a new feature for businesses called Location Spotlight. Businesses can display their location, hours of operation, and other contact methods. This new information will be added to the profile section before their Tweets. The feature works with Google Maps as well! When a user taps on the address, they will get directions via Google Maps. 
Product Drops Reminders
Twitter announces Product Drops, a reminder function that will help keep users updated on when new items are released. Users can click the "Remind Me" button when a brand announces an upcoming launch. Twitter will send users an in-app notification 15 minutes before the drop time. This feature is available for U.S. shoppers with iOS devices and the feature is being tested with a few select brands. No word yet on a wider release date, but the company did mention that it'll be updating the feature in the future. 
TikTok
New Tools to Boost Digital Wellbeing on TikTok
[Source]
TikTok can be highly addictive and the company has recognized its responsibility to improve digital wellbeing and has announced new tools to limit screen time. With this update, users can control how much time is spent in a single sitting on the app. Based on personal settings, TikTok will remind users to take breaks after the set time. Additionally, users can see data based on how much time they spend on the app. This will help them assess how they are using the app to set appropriate limits. 
Post View History on TikTok
Found by social media consultant, Matt Navarra, TikTok is testing a feature that would allow users to see which of their friends viewed their posts. The app currently has a feature that does this for people who have viewed a profile. This additional feature would bring more transparency to the app. No release date has been announced yet!
LinkedIn 
New Business Manager Platform 
LinkedIn announced a new Business Manager platform to manage both paid and organic content. Users will be able to manage their team, ad accounts, business pages, and partners all from one dashboard. The management platform will greatly assist B2B (brand to brand) organizations by making it easier to reach their target markets. The LinkedIn Business Manager will be rolling out over the next few weeks.
Facebook 
New TikTok Like Facebook Feed
Facebook might be changing its algorithm to make the feed more like TikTok. According to a leaked internal memo from April, Facebook will be prioritizing posts from AI-generated recommendations rather than posts from accounts people follow. If this update is rolled out, Facebook could look very different, which may change how users interact with the app. Tom Alison, the head of the Facebook app, said that the company was in the process of building a "discovery engine," which does sound rather vague at this time. Read more about the future of Facebook here. 
YouTube
New Corrections Feature
[Source]
Creators on YouTube can now add corrections rather than re-uploading videos when a mistake is made. The new Corrections feature will display notes at specific time stamps to update the information presented or make a correction. This feature could be used in many ways, including directing users to another video on a similar topic or adding more information such as a call to action. 
Pinterest 
Full-Screen Idea Ads
Pinterest has introduced Idea Ads, an immersive, multi-page format for brands. The Ideas Ads open into a full-screen photo or video. Pinterest reported that people were 59% more likely to recall a brand after seeing an Idea Ad. To further assist brands, Pinterest also introduced Idea Ads with paid partnerships. Pinterest creators and brands can collaborate to make interactive content that is promoted. 
That wraps up the latest social media update for this week! Be sure to check us out on Twitter for more digital marketing trends and news.
Not sure about which social media platform is right for your brand? Click the button below to connect with our team. Let's discuss how we can help you reach your business objectives with social media marketing!
Book a 30-minute consultation today!