07 Aug

YouTube Music is Replacing the Google Play Music App

Welcome back to another week of social media updates in Spark Growth's Spark Social Report! This week, we get ready to say goodbye to Google's Play Music app and look at Facebook's new Chat Plugin updates. Keep reading for more social media updates!
Facebook
This week, U.S. Facebook users will be seeing new music video playlists on the app. The company has stated that exclusive music videos will be premiering on its app over the next few weeks. Some of Facebook's partners in this venture include Sony Music Group, Warner Music Group, BMG, and other independent music publishers. Music videos on Facebook will function like other videos, with users being able to like, comment, and share the content. Facebook says it will be adding more features in the future, so stay tuned!
[Source]
Next, Facebook Chat Plugin has received some updates that will help business owners better connect with their consumers. Now, consumers can use the chat tool without needing to sign in to their Facebook account. This is a great opportunity for businesses to communicate with all consumers who come across their page. For businesses with a Facebook page, it's now easier to install the Chat Plugin to their website. Users can learn how to add Messenger to their website by visiting Facebook's help page here.
[Source]
Twitter
Although new features aren't confirmed yet, Twitter sent out a survey asking users for their opinion on a variety of potential content offerings. The survey starts with, "Imagine that Twitter offered paid memberships for advanced features and tools," hinting at the company's interest in creating a subscription service. Some interesting options include an "undo send" button that retracts tweets within 30 seconds of sending and profile badges that link to businesses you work at or own. One feature that would be useful for marketers who run ads on Twitter is "brand surveys," which asks users questions such as whether your ad was memorable.
😮 Here's a list of features Twitter may be considering for its paid / subscription service

Which would you be willing to pay for? pic.twitter.com/w8vYumrpx3

— Matt Navarra (@MattNavarra) July 31, 2020
LinkedIn
Whether you're looking for a job or you're trying to find the right candidate, LinkedIn wants to improve the job hunting process with its new Qualified Applicant (QA) AI model. The model is currently used in the Job Seekers, Recruiter, and Premium areas of LinkedIn. For those looking for jobs, the system will automatically highlight job search results, flagging those that are a good match. To learn more about how the model works, visit LinkedIn's blog.
YouTube
It's the beginning of the end for the Google Play Music app. In October (and in September for New Zealand and South Africa), users will not be able to use the app. Google says the app will still hold the user's music until the end of December, giving everyone plenty of time to transfer their data. With this app soon to be defunct, YouTube Music is set to take its place. The company is offering tools to help users transfer all of their data from Google Play Music to YouTube Music. YouTube Music will also be getting some updates, such as a redesigned Player Page, a new Explore tab, and updates that connect Youtube Music to Android TVs and Google Maps.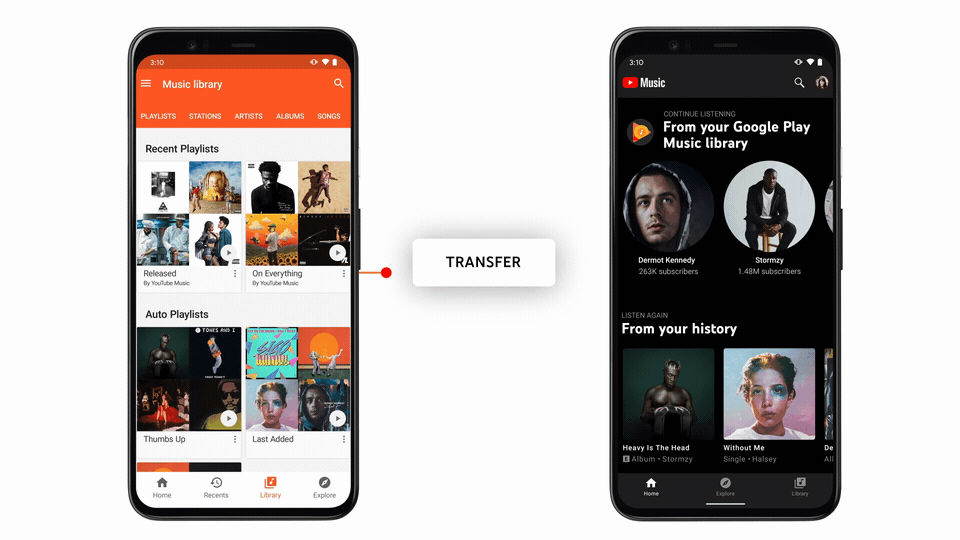 [Source]
WhatsApp
Users in some countries can now click on the magnifying glass on WhatsApp to search for content on the web. This feature helps users learn more about the sources of information and fact check content they receive from others. This feature is available for users in Brazil, Italy, Ireland, Mexico, Spain, the U.K., and the U.S. across Android, iOS, and WhatsApp Web.
[Source]
Snapchat
TikTok's future may be uncertain, but what's clear is that other social media apps are wasting no time in trying to fill the gap. Snapchat confirmed that users will soon be able to add music to their Snaps, similar to TikTok content. Music can be added before or after the Snap is made. The company has partnered with a variety of publishers, including Universal Music Publishing Group, Warner Music Group, and more. When viewing a Snap with music, users can swipe up to see more information about the song, and click it to listen to the full song on Linkfire. The feature launches in the fall season for users in English-language regions.
That's it for this week's round-up of social media updates! In the meantime, have you checked out our Marketer Highlight series on Instagram? It's where we look at today's top influencers in the marketing space, from SEO expert Neil Patel to Facebook guru Mari Smith.
If you want to learn how digital marketing and our social media experts can help your business grow, click the button below!