21 Aug

Instagram and Messenger Chats Have Merged

Welcome to another week of social media updates by Spark Growth! In this week's Spark Social Report, Instagram and Messenger chats are beginning to merge, and TikTok nabs its first music distribution partnership. Keep reading to see what's new with your favorite apps!
Facebook
In order to provide accurate information about COVID-19, Facebook continues to provide updates on what it plans to do across its roster of apps, including Facebook, Messenger, Instagram, and WhatsApp. Its latest Facebook update supports students, parents, and teachers who are heading back to school. The company has launched an Educator Hub, which offers a variety of different features, one of which enables teachers to build a Facebook group to connect with their peers for support.
With Instagram Reels taking on TikTok, Facebook is now looking to its own app to see where and how the TikTok-inspired feature might work. The company confirmed that it is testing a "short videos" feature in India. There's no word on if or when this feature will be released globally but if Instagram Reels' accelerated testing and release is any indication, Facebook users may expect to see it sooner rather than later.
INTERESTING!
Facebook is also testing a 'short videos' feed with TikTok-like swipe up in its main app

This appears to be in addition to Instagram Reels

h/t @roneetm pic.twitter.com/0XHiSowCwW

— Matt Navarra (@MattNavarra) August 13, 2020
Next, small businesses can now create paid online events on Facebook! When creating an online event, users can include an entry fee and set ways to collect payment. The company notes that due to social distancing measures, online events are becoming more prevalent. The current update allows Page owners to create paid online events for Facebook Live, but the company says it's currently testing this feature with Messenger as well, hoping to create a more interactive experience on that app. 20 countries currently have access to this new monetization method, so be sure to click here for more information.
[Source]
Last but not least, Facebook is testing ways for users to control what type of updates they see from Pages they follow. Users can opt in or out of seeing posts, videos, live videos, and offers. There's no word on when this feature will be released so stay tuned!
Instagram
With both apps owned by Facebook, the company is moving another step ahead with merging Instagram and Messenger chats together. Some iOS and Android users may see the screen below when opening their app. After tapping on "update," the top right DM icon on Instagram will change to the Messenger icon. For the time being, the feature is being tested among a small group of users.
[Source]
Instagram wants to make sure accounts on its app are handled by real people, not bots. In its latest update, in cases where there is a "pattern of potential inauthentic behavior," the app will ask the account holder to verify their identity. Accounts that could be flagged include those engaged in "coordinated inauthentic behavior," such as bots, automation, and having a majority of followers from a different location than the user's location. When an account is flagged, the account holder will need to submit a piece of valid ID, such as a birth certificate, visa, passport, or driver's license. Click here to learn more about what identification is acceptable. Failure to provide ID means Instagram may reduce the account's content distribution or disable the account altogether.
Users on Instagram can now generate a QR code from the settings menu, which takes others straight to their profile. It's a convenient way for users to share their profile, especially businesses who want to encourage customers to follow them on social media.
[Source]
Lastly, there's a small update to Instagram ads. Once users see the "You're All Caught Up" notification, not only will there be more recommended organic posts for them to engage with, but Instagram will also be displaying ads in this area. This gives marketers another chance to get eyeballs on their content.
TikTok
While TikTok's future may be up in the air, that's not stopping the company's ventures anytime soon. TikTok announced its new music partnership with UnitedMasters. The indie distributor marks the app's first partnership, which will allow artists to reach users on the app directly. Interestingly, artists won't have to deal with any restrictions that typically come with being a part of major labels.
WhatsApp
Users in the latest beta version of WhatsApp have spotted a new feature that allows users to search for stickers. This will make it easier for those looking for a specific sticker or stickers from a particular pack.
WhatsApp is working on a stickers search feature on Android, that will be available in future.
It's under development. pic.twitter.com/ZtOK5RXrMB

— WABetaInfo (@WABetaInfo) November 8, 2018
Snapchat
Finally, Snapchat's Lens Studio is getting a fun AR update! The new feature can now track your body in 2D, creating interesting visual effects such as those seen below. With the launch of 2D Full Body Tracking, the company reached out to four content creators to develop the first batch of lenses. To help users create their own AR lens, the company has released new guides: full body triggers and full body attachments.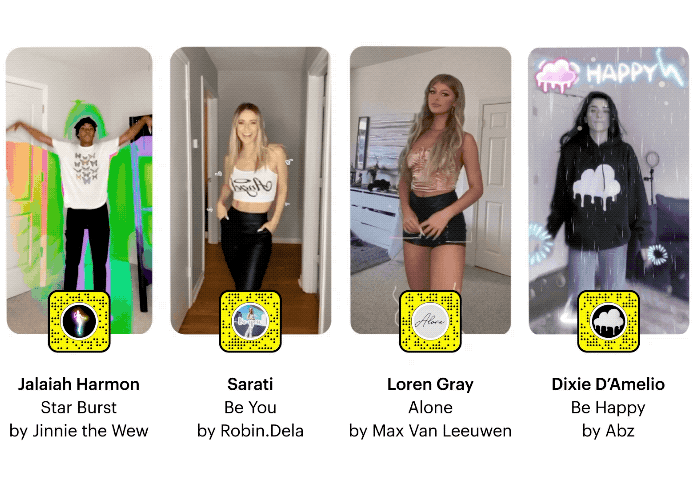 [Source]
That's all for this week's Spark Social Report. If you want to learn more about how Zoom successfully navigated the pandemic or why pivoting to eCommerce leads to success, follow us on Instagram.
In the meantime, we have a story to tell you. It's about an award-winning digital campaign that got over 13 million hashtag impressions and a 794% increase in Facebook engagements.
Read our Engage and Change case study!