08 Feb

Which Short-Form Video Apps Should Brands Use?

Short-form videos have been dominating the social media scene lately, such as TikTok and Instagram Reels, and you've probably watched a fair number of them already if you're a typical internet user. They're instantly recognizable: Typically, they're portrait-sized and recorded on mobile phones, ranging anywhere between 15 to 60 seconds long. 

Brands should consider taking advantage of these short-form video formats, as videos in general tend to see more engagement than images or text. Short-form videos also cater to users with short attention spans, and with a large variety of editing tools already built into these platforms, marketers can easily produce creative and engaging content. 

In this article, we'll be comparing the most popular short-form video platforms, which are TikTok, Instagram Reels, Snapchat, and YouTube Shorts. 
TikTok 
With 800 million users worldwide, TikTok's primary demographic are Gen Z and Millennial users. The TikTok format is a short, looping video that often uses humor or showcases talent. While entertainment-based content like choreographed dances and hashtag challenges tend to dominate on TikTok, brands can incorporate informational, educational, and promotional content into their videos too. Here's an example: 
The maximum video length for a TikTok is 60 seconds, giving creators ample time to execute a concept. The platform also includes an extensive range of built-in editing tools, filter effects, and creation prompts. TikTok also has a comprehensive sound library and offers a large range of musical selections through its partnership with Sony Music. 
Marketers can also choose from ad formats like branded takeovers, branded hashtag challenges, branded effects, and in-feed ads. However, TikTok has a high minimum ad spend for in-feed ads, which may not be feasible for all businesses. Brands can take a more cost-effective route through influencer marketing, i.e. partnering with an influencer to promote your brand's products and services. Marketers can also cross-post their TikTok videos to other platforms like Facebook, YouTube, and Instagram for higher reach. 
Marketers who choose to create a TikTok presence will gain a competitive edge by getting in front of younger audiences. 
Instagram Reels 
With 1 billion users worldwide on Instagram, the platform's primary demographic are Gen Z, Millennials, and Gen X users. Reels are a relatively new addition to the platform, and the format is very similar to TikToks: these short videos can include music, effects, and multiple clips. 
However, the maximum video length for Reels is 30 seconds, which is half of TikTok's. Because of this, Reels may be more effective for capturing and keeping audiences' attention. Another main difference between Reels and TikTok is the caption limit: on Reels, users have a caption limit of 2,200 characters, whereas TikTok's caption limit is 100 characters. This means Reels have much more text space than TikToks, allowing brands to get really descriptive in their captions. 
Marketers can use Reels to create behind-the-scenes videos, educate users on products and services, and partner with influencers to promote the brand. And since Instagram has a more established influencer presence than many other platforms, this gives businesses more options for partnerships.
Snapchat 
Snapchat has 249 million users worldwide, and the primary demographics of the users are Gen Z and Millennials. Users use Snapchat to keep up with their friends, the latest trends, and relevant news. Format-wise, users can take photos and videos and publish them as a Story, which is available to view for 24 hours. A single Snapchat video can be up to 60 seconds long. 
When it comes to advertising options, brands can create sponsored filters and AR (augmented reality) lenses for users to try. They can also feature their content on the Discover tab, which includes Snapchat-native content based on users' subscriptions and interests. Video-based ad types include in-Story ads, Video ads, and commercials which appear within the platform's curated content. There is also no set minimum ad spend required, which makes advertising on Snapchat an accessible and easily customizable option for marketers and their budgets. 
Of all the platforms, Snapchat has the most advanced AR filters and capabilities, such as object scanning, 3D environment interactions, and more.
YouTube Shorts 
With 2 billion users worldwide on YouTube, the primary demographic are Gen Z, Millennials, and Gen X users. 
That said, the official Shorts feature is currently only in beta, so it's hard to tell how popular this format will be. Creators in India can use YouTube's "Shorts camera," a format that allows users to create videos with their mobile phone up to 15 seconds long, with the option to capture multiple clips. Shorts camera is also testing a multi-segment camera to allow stringing multiple clips together, the option to record with music, speed controls to offer creative flexibility for the video, and a timer and countdown to record hands-free. Ultimately, these are all the features that are present on TikTok, Instagram Reels, and Snapchat.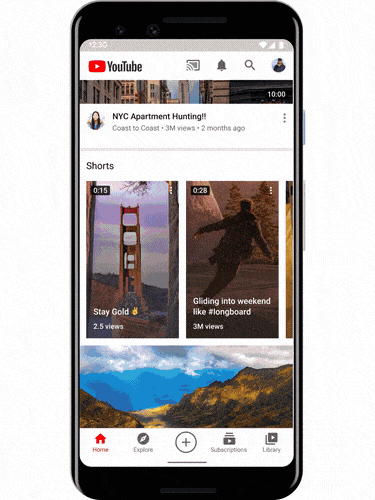 For all other creators, they can upload short vertical videos up to 60 seconds in length, and include #Shorts in the title or description. 
One of the biggest benefits of YouTube is that it has the largest global demographic of all the platforms featured here. However, it'll be worth seeing how this format performs on a global level, and if users still end up preferring platforms like TikTok for their short-form videos. 
Choosing the Right Short Video Format for You 
While platforms like TikTok and Snapchat are only equipped for short-form videos, platforms like Instagram and YouTube offer other services and content formats. So depending on the platform you choose, this may affect the engagement and reach of your short-form video. 
Before hopping on the short-form video trend, marketers should consider which platform best suits their target audience, as well as elements like format, video length, and editing tools which best align with their own creative capabilities. 
If you love the idea of getting your brand onto one of these platforms, but aren't sure how to get started, we can help. Click the button below to schedule a conversation with one of our social media marketing experts!
Book a 30-minute consultation today!