11 Mar

TikTok Launches New Music Distribution Platform, "SoundOn"

Welcome back to Spark Social Report by Spark Growth, your weekly source for social media updates! This week, Instagram updated its tagging features, Amazon announced and launched a new DJ-style live chat service, and TikTok launched its very own music distribution platform. Continue reading the rest of the article for all of this week's updates!
Digital Marketing Insights
[Source]
Twitter published a new report that provides key insights into marketing trends and emerging topics on the platform.
The report, titled "The Conversation: Twitter Trends 2022," focuses on three trends that have been identified through the analysis of billions of Tweets.
The three trends are:
The Great Restoration: the emerging demand for environmental accountability on behalf of big businesses.
Fan-Built Worlds: fans are utilizing Twitter not only to follow but also to create value for other fans.
Finance Goes Social: fast-growing and passionate finance-oriented communities centered around decentralized finance (#DeFi), cryptocurrency, and NFTs are working to redistribute power from brands to people.
Read the full report to gain valuable insights into each of one of these growing communities that can be implemented into your digital marketing plan.
Facebook
Additional tools for Facebook Group Admins
Facebook group admins now have more tools to keep their groups safe and reduce misinformation. 
Incoming posts that contain content that has already been deemed false by fact-checkers will now be automatically declined. Member requests can now be automatically approved or declined based on specific criteria set up by admins. 
Rather than just having the ability to mute group members, admins can now "suspend" members from participating in posting, commenting, reacting or entering Rooms in a group temporarily. 
Additionally, updates to the Admin Home page on both desktop and mobile focus on making important tasks and insights much more easily accessible.
[Source]
Twitter
"Creator Dashboard" Launches
To manage the platform's growing list of monetization options, Twitter has introduced a new "Creator Dashboard." The dashboard will consolidate the results of all of the various income streams, such as Super Follow subscriptions, earnings from Ticketed Spaces, and on-profile tipping, onto one page.
The new dashboard is available to creators on iOS devices that currently make use of monetization features.
introducing the Creator Dashboard 🤩 a new way to help you view your earnings & track your Super Follow subscriptions over time

for now, we're testing with some creators on iOS—can't wait to hear what you think! pic.twitter.com/nOvxUbSpSY

— Super Follows (@SuperFollows) March 8, 2022
Twitter Shops
Twitter announced a new beta experiment for Twitter Shopping, called Twitter Shops. The free-to-use feature allows merchants to showcase up to 50 products to Twitter users.
Accounts using Twitter Shops will have a new "View shop" button above their Tweets. Tapping the button will open the shop and allow users to scroll through the listed items. Clicking on a product will launch an in-app browser with more information about the product, which then leads to a checkout process on the merchant's website. 
Twitter Shops is currently available for shoppers in the U.S. using Twitter in English on iPhones, and the option to set up shops is limited to select U.S. businesses.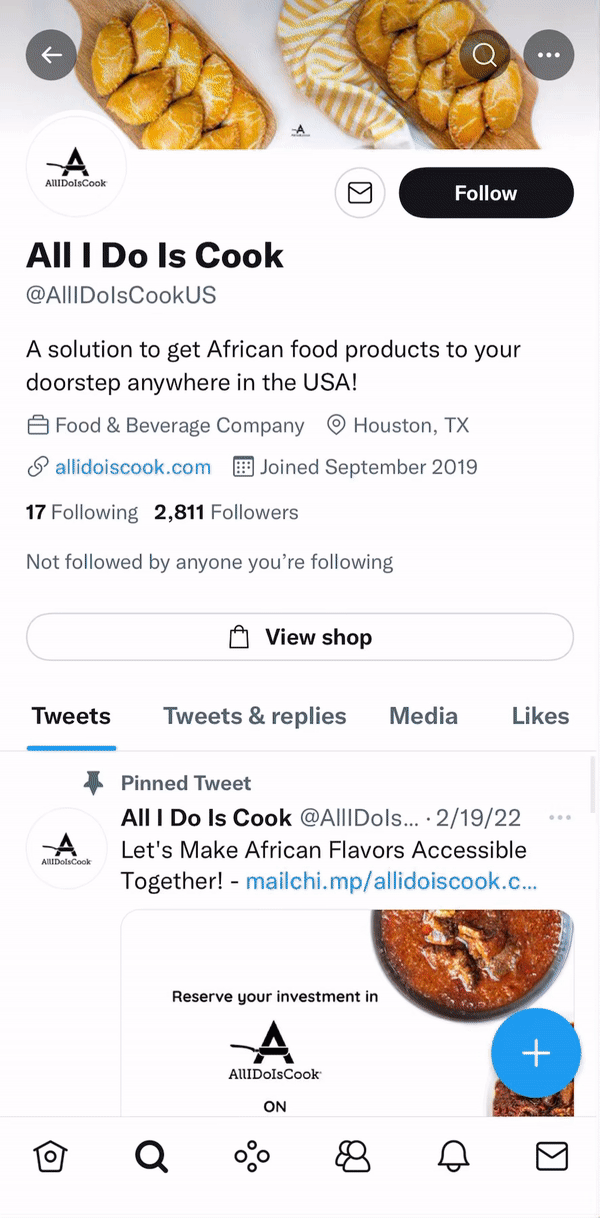 [Source]
Updated Image Descriptions
Image descriptions have been available on Twitter since 2016, but a new update aims to increase the accessibility of the feature for users with disabilities and those who access the site in low-bandwidth areas. 
The update brings a new black badge— labeled ALT— to images with a description. Selecting the badge will open a small pop-up-style dialogue box with the description written by the uploader for the image. Selecting the dismiss button or navigating anywhere outside of the pop-up exit the feature. 
For now, the update is rolling out to a small number of users with a planned wide-scale launch happening at the beginning of April. 
We've gotten a lot of feedback about how to improve the image description (or alt text) experience on Twitter. Today, we're launching 2 features to 3% of Twitter across Android, iOS, and Web: the public ALT badge and exposed image descriptions. 🧵 (1 of 6) pic.twitter.com/HCYzIYEdal

— Twitter Accessibility (@TwitterA11y) March 9, 2022
TikTok
New Music Platform: SoundOn
[Source]
TikTok just launched its own music marketing and distribution platform, "SoundOn." This will allow artists on the platform to upload their music directly to parent company ByteDance's streaming service, Resso, along with global streaming platforms such as Apple Music, Spotify, Pandora, Deezer, and Joox. 
Music uploaded to TikTok will allow artists to earn royalties when their song is used on the platform. 100% of the royalties earned will pay out to artists in the first year, but this margin will drop to 90% in all subsequent years. 
The new music platform aims to provide opportunities to musicians who start their careers through TikTok with a new range of promotional tools such as audience insights and development. Additionally, a new dedicated SoundOn artist team will provide expert advice to these growing creators.
SoundOn is now fully launched in the U.S., U.K., Brazil, and Indonesia.
New "Agency Center"
TikTok added a new "Agency Center" feature located in the TikTok LIVE settings. Matt Navarra, a social media industry analyst, posted screenshots of the new feature to his Twitter account.
The new feature allows creators to be discoverable by LIVE Talent Agencies. For now, users who have this option turned on will be able to receive coaching from these agencies. In the future, agencies will have the ability to invite creators to join their networks.
TikTok has added an 'Agency Center' feature

"If turned on, your account can be searched and invited by any agency" pic.twitter.com/kQ2aF6pdPR

— Matt Navarra (@MattNavarra) March 3, 2022
Instagram
Updated Creator Tags
Instagram has updated its tagging options to show additional details about the profile being tagged in an effort to make it easier to credit creators for their work.
Those with a professional account can add additional category information when their account is tagged. Take a look below to see examples of tags that also include categories like rapper, photography, and fashion stylist. To include profile categories, tap on the "Show Profile Category" option while tagging your photo.
[Source]
Using tags to credit creators is not a new concept. Instagram's userbase has been using tags in this way for some time now. This update makes the process an official feature that should help to encourage the attribution of creators more broadly across the platform.
Boomerang and Hyperlapse Standalone Apps Removed for App Stores
Last week we saw Instagram end its support for the standalone IGTV application. Following this development, Instagram has also quietly removed both Hyperlapse and Boomerang from app stores according to data provided to TechCrunch by Apptopia, a mobile app analytics platform.
Removing the standalone creative effects apps is no surprise, as Instagram has been making continuous strides to merge all of its video content to the main app. The features have also been integrated into the main app's camera for several years.
Amidst these shutdowns, Instagram's standalone "Layout" app— a photo editing and collage tool —remains available on app stores, further signaling that the focus on consolidating features is specifically on video content.
Amazon
Launches new social DJ app "Amp"
Following the recent trend of social audio, Amazon has launched a new competitor app titled "Amp".
Following in the footsteps of apps like Clubhouse and Twitter's Spaces feature, Amp brings people together in a live chat setting— but deviates from the competition with a new twist. The app focuses specifically on listening to music with the ability for any user to host their own live show and stream from its "tens of millions of licensed songs," making the host a new type of radio DJ. Hosts can create playlists, talk to listeners, and can take call-in guests during their shows.
Amp is free to use and access— any user can listen to the full-length songs played during live shows.
The app is launching with a limited beta on iOS. At the moment, users will need an access code to sign up, which can be obtained by joining a waitlist, subscribing to the Amp Newsletter, or following Amp's social accounts.
That wraps up this week's social media updates! Be sure to follow us on Facebook for more of the latest digital marketing news.
Interested in learning more about social media marketing? Check out our case study to learn how we helped one of our clients, iLook Glasses, drive website purchases through social media eCommerce marketing!