26 Jun

New Facebook Livestream Ad Formats

Welcome to another Spark Social Report by Spark Growth! This week's social media updates include: new Facebook livestream ad formats, new features for Facebook's Level Up creators, and Instagram is testing with shoppable post tags. Keep reading for more social media updates!
Facebook
Sheryl Sandberg, the COO at Facebook, posted an article last week about how the company will be supporting Black and diverse communities through the Facebook app. Facebook users will see a new section on the app called Lift Black Voices, which will be used to share educational resources and stories.
[Source]
Facebook has made some updates to its Facebook Gaming division by opening up Fan Subscriptions to more Level Up creators who have at least 250 returning viewers per week. The update is being rolled out to users in Australia, Brazil, Canada, Mexico, Thailand, the U.K., and the U.S. so far, but the company says it'll be expanding as soon as possible.
Facebook Gaming's other update is for partnered gaming creators who now have access to Live Ads. Ads come in different formats, including an image ad that can appear below the livestream, or a pre-roll ad that runs before the livestream takes place. Another Facebook livestream ad format that will be offered is a mid-roll ad that starts playing in the main video during a livestream. During this time, the streamer will be shown in a smaller window but remains present on screen. Facebook is also testing another new ad called Live Breaks. Similar to commercial breaks, Live Breaks gives the streamer a longer break while ads play on screen. However, this ad format aims to keep viewers more engaged by including user-generated content (e.g. clips) alongside traditional ads.
[Source]
Speaking of Facebook Live, the company has been slowly releasing new features for content creators. There's a new "Graphics" section in Live Producer as shown in this screenshot by Matt Navarra below. This can be used to create a graphic overlay on a user's stream. By adding an overlay, streamers can include graphics such as a news ticker, polls, and viewer comments.
Facebook Live Producer rolls out new tools for broadcasters

1/ Upload graphic packages for on-screen graphics during broadcasts

2/ On-screen comments – queue up comments from viewers to show on-screen

3/ Feature a link on-screen during a live broadcast

h/t @MariSmith pic.twitter.com/f9U3Qzn5Pw

— Matt Navarra (@MattNavarra) June 24, 2020
If you're an avid user of Facebook Collections, you'll be happy to know that you may soon be able to share curated content you find on Facebook with your friends and family. Facebook is currently testing ways to share collections with other users, including friends or the general public. The new sharing options have been slowly rolled out to users in the U.S., but no word on whether or not collection sharing will be available in other markets just yet.
[Source]
Lastly, Facebook has added more color options for groups. Admins can choose between 15 different colors to further customize the look and feel of their page. Although Facebook didn't provide a specific date, admins can expect to see this update soon.
🎨 Facebook is refreshing colour-theme options for Groups

Change is being made to help users who are colour-blind by increasing colour contrast

There will be a choice of 15 colours incl. a custom colour based on a group cover image's dominant colour

Starts rolling out next wk pic.twitter.com/9RTBVFwPy2

— Matt Navarra (@MattNavarra) June 24, 2020
Twitter
"Your Tweet, your voice." Twitter has released an interesting new feature allowing users to record their voice and post it as a tweet. To create a voice tweet, click on the wavelength icon on the composer screen. A voice tweet can be 140 seconds long (mirroring Twitter's original tweet limit of 140 characters), but if users want to create a longer tweet, they can simply keep talking. The app will automatically create a thread in such a case. Voice tweets are only available for a small group of iOS users but the company notes everyone on iOS will have access in the next few weeks. No word yet on an Android release, but we're keeping our fingers crossed! In the meantime, click here to visit Twitter's help center to learn more about this new feature.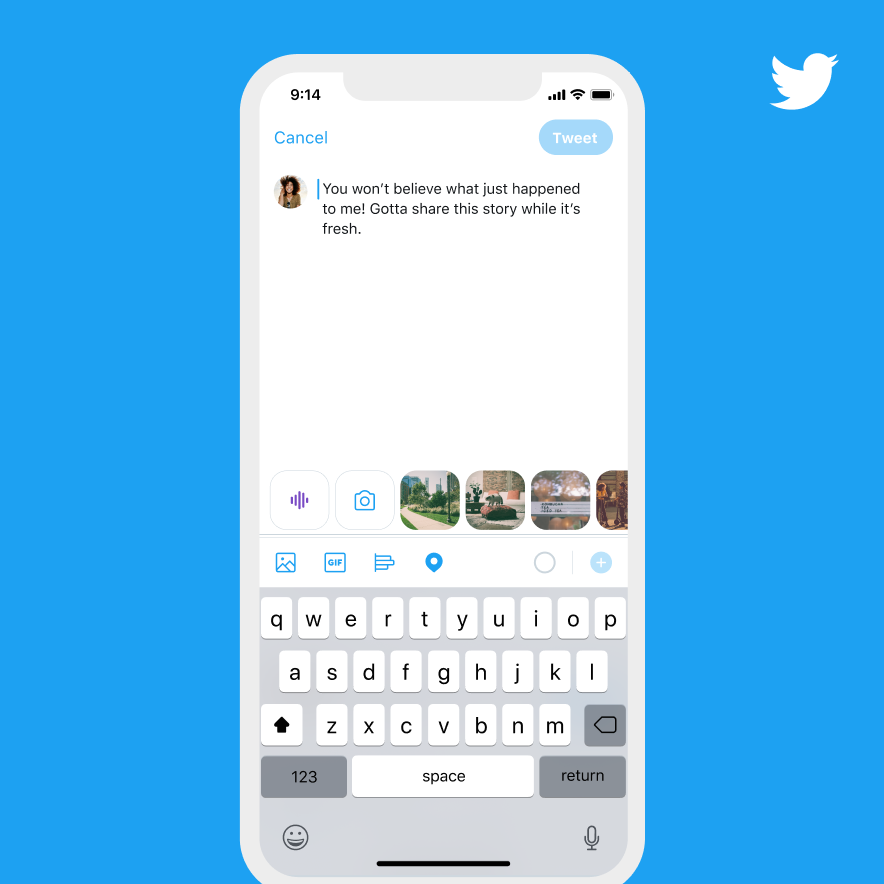 [Source]
Twitter has made some significant updates to its List feature, letting users follow a List, Tweet a List, and more. Users can also click on "Show more recommendations" to access the List search feature to find curated Lists relevant to their interests. Some Lists available to users will be curated by Twitter in an effort to keep content as updated as possible.
Instagram
Instagram is continuing to make its app more shoppable. This time, the company is testing product tags in the post caption as seen in the example below. Clicking on the shoppable tag takes users to a product page where they can make a purchase. At this time, the feature is only available to a select group of users. Instagram has not yet revealed when shoppable tags will be released to more users.
new on Instagram? tagging products in the COPY of an Instagram feed post… https://t.co/0gIBIPq5UV

h/t @oriolsalvador pic.twitter.com/KTXC4xabF8

— Matt Navarra (@MattNavarra) June 17, 2020
We have good news for those of you who want to create ads on Instagram but couldn't because you didn't have a Facebook ad account! Businesses and content creators in the U.S. and Turkey can create Instagram ads without having to link their Facebook. A small caveat is that this is only available to those who have never promoted posts before. To learn more about the new option, click here to read Instagram's article in the Help Center.
Next, after launching its TikTok competitor, "Reels," in Brazil last year, Instagram has expanded this feature to France and Germany. After its initial test, Instagram has made some changes to Reels based on user feedback. For one, to make it more accessible and to provide a more permanent space for this function, Reels now has its own space on a user's profile and its own category on the Explore page. The company hasn't stated when Reels will be released in other markets, so stay tuned!
[Source]
Lastly, are you a business owner using Instagram to promote your products or services? If you are, this next update's for you. As the app gets more shoppable features, Instagram has made some updates to its Commerce Eligibility Requirements. The new requirements will go into effect globally on July 9th. One change to the policy is that brands must now tag products from a single site they own and sell from. To learn more about the upcoming changes, click here to visit Instagram's help center.
YouTube
Google has updated YouTube's video ad features to make it easier for users to take action. The new feature is called Video Action Campaigns, which the company says will be a cost-effective way for marketers to drive more conversions on YouTube. This will automatically pull video ads that drive specific actions to key areas of the app, such as the user's home page and their watch pages. Another useful update for digital marketers is that YouTube has now been added to Google Ads attribution reports. This gives marketers more information on where users are converting from.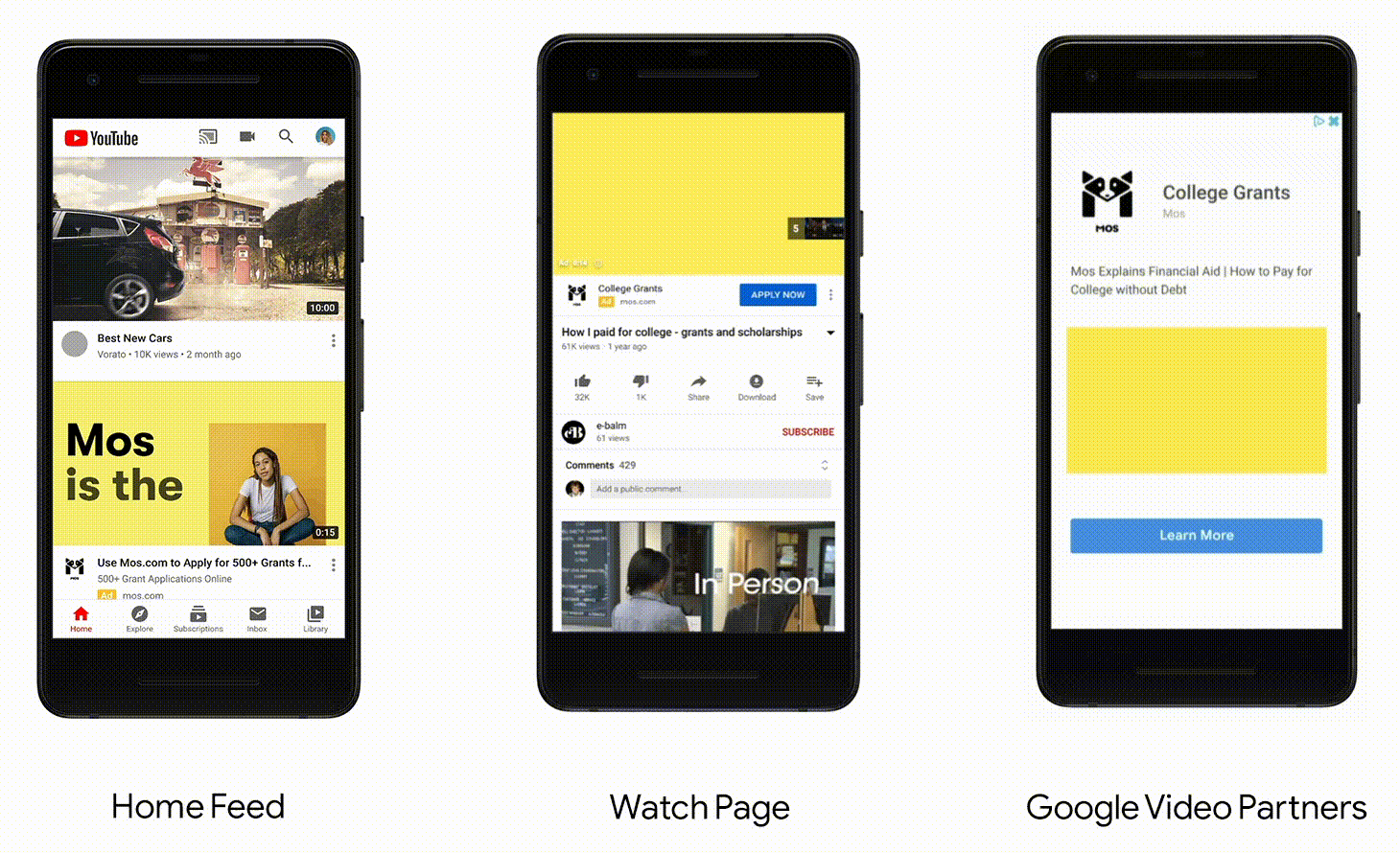 [Source]
WhatsApp
WhatsApp users in Brazil can now make digital payments through the app. When viewing a store's catalog on the app, users can make purchases directly from that screen without leaving the chat. The company also plans to incorporate more of Facebook Pay's features, which is the system currently running digital payments on WhatsApp. WhatsApp says it will be paying close attention to online security and have listed debit and credit cards it is currently supporting in the region. For users making a purchase through WhatsApp or sending money to another user, there won't be any additional charges. For businesses, there will be a processing fee. WhatsApp didn't comment on when this feature will be released in other markets.
[Source]
Stickers in WhatsApp could potentially get way cuter! In a beta test, users found animated stickers but it was promptly removed by the company. Now, it can only be accessed by downloading an older beta version of the app. At the very least, it appears that WhatsApp is actively testing this new feature. We'll be sure to keep our eye out for any updates in the future!
LinkedIn
It seems like every social media app needs its own version of a "Stories" feature. LinkedIn recently rolled out Stories for users in Australia, following its release in Brazil, the UAE, and the Netherlands. Given that the platform is geared towards professionals, LinkedIn says Stories "enables members and organizations to share images and short videos of their everyday professional moments." Similar to how Stories function on other social media apps, the content will be available for 24 hours before being removed. The company says it hopes to release this feature to a wider audience "soon" but did not provide a specific date.
TikTok
Lastly, TikTok has created #MyPride, a week-long celebration during Pride Month. In terms of app updates, users can expect to see different #MyPride creative effects on their app, including Rainbow Eyeshadow, Rainbow Ribbons, and more.
That's it for this week's social media updates! To learn more about today's top marketing influencers, social media stats, and fun advertising campaigns, follow Spark Growth on Instagram!
If you want to read more about amazing digital marketing results, we've got you. Click the button below to read our case study about that time when we worked with a pioneering coffee brand on its product launch.
2,000,000+ impressions in just one month? Learn more here!