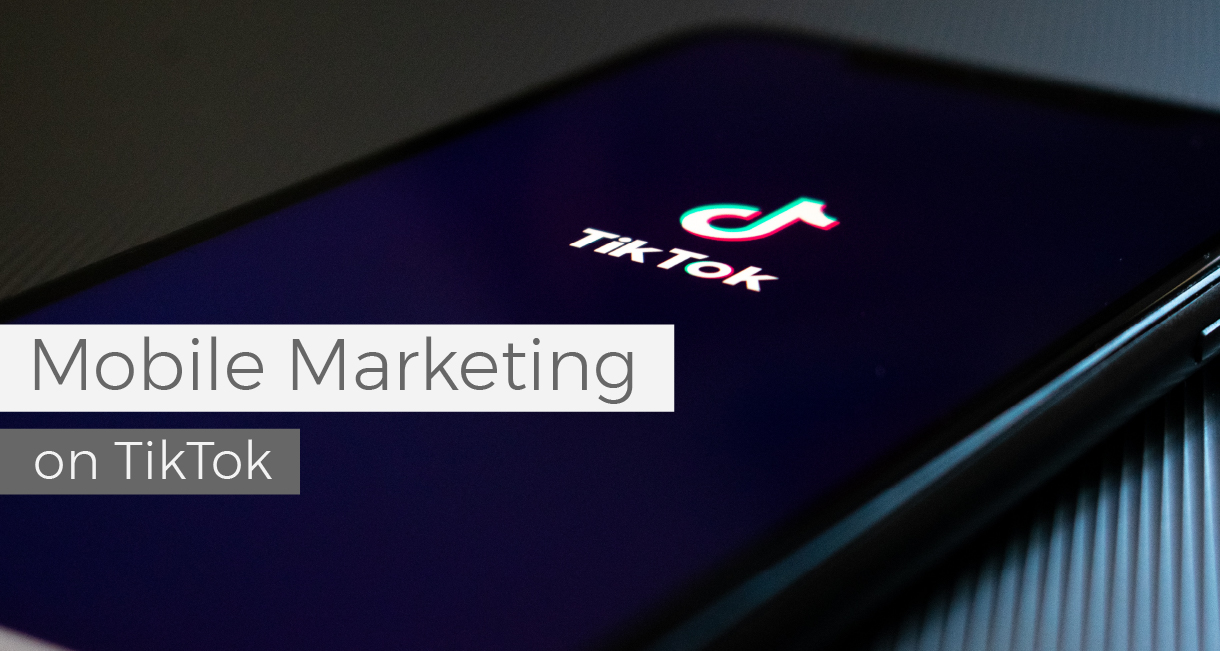 22 Jun

Mobile Marketing on TikTok

From Story ads on Instagram to Snapchat's recently released Dynamic Ads, mobile marketing options on social media platforms are continuously being created and updated. This gives digital marketers more ways than ever to reach their brand's target audience.

In this article, we'll go over the basics of TikTok marketing, the major ad types, and look at an example of a successful campaign.
Why Digital Marketers Should Advertise on TikTok
TikTok offers digital marketers the chance to tap into over 150 global markets. With over 800 million monthly users around the world, the app is one of the most popular social media apps
What makes TikTok an enticing app to advertise on is its user base. Over 40% of users are between the ages of 16 to 24. For certain brands that are looking to get in front of a younger audience, TikTok has become one of the key platforms to include in its digital marketing strategy.
Due to the inherent creativity of the app's user-generated content, brands are encouraged to think outside the box with their creative marketing strategies to make a memorable impact.
Advertising on TikTok
TikTok currently offers five different ad types, so let's take a look at each one.
First, In-Feed Native ads are full-screen ads that show up in a user's "For You" section. Marketers can include other features to increase user engagement with the ad, such as adding a link to the brand's website or an "order now" button. In-Feed ads on TikTok are videos up to 60 seconds, and can feature audio as well. These ads are best used for content that feels authentic. Influencer marketing plays a key role here as in-feed ads are more effective when they are similar to other content on a user's feed. Users can interact with in-feed TikTok ads in a variety of ways, such as liking the ad, commenting, sharing the ad, and even shooting their own video with the same music from the ad.
[Source]
Branded Hashtag Challenge ads are a unique TikTok offering aimed at garnering user engagement. Users will see the banner ad and clicking on it will take them to a page outlining the rules of the challenge. Users are encouraged to create their own content related to a brand's campaign. Branded hashtag challenges offer the possibility for a TikTok campaign to go viral. All user-generated content are then compiled on the main hashtag challenge page, which is a win-win for both parties. Brands get their message out to an even wider audience while users' content gets featured. TikTok notes that its branded hashtag challenge has an average engagement rate of 8.5% when analyzing shares, comments, and likes.
A Brand Takeover ad is a full-screen ad (static or dynamic) that appears immediately after the user opens the TikTok app. It can be a three-second JPG or 3-5 second GIF, which are both interesting options advertisers can utilize to grab the user's attention. These ads are commonly linked to the brand's main website or if it currently has a branded hashtag challenge campaign running, users may be linked to that page on TikTok instead. Due to its placement, these ads are much more expensive since only one brand can "take over" TikTok per day. However, because any user opening the app is guaranteed to see the ad, it offers advertisers maximum reach.
[Source]
Next up are TopView ads. Similar to brand takeover ads, TikTok describes TopView ads as being "unmissable" by users as they will see the ad upon starting the app. The major difference is that TopView ads support much longer video content. This is a fullscreen "video first" ad meant to capture the user's attention right from the start. The video itself can be up to 60 seconds and supports audio, meaning brands will have much more time to play with in terms of telling their stories.
Last but not least, branded effects are another way to garner user engagement. Brands can create custom sharable special effects, filters, and stickers that users can include in their own content. TikTok notes that these fun visuals are especially appealing to the "camera-first" generation.
TikTok Digital Marketing Campaign Case Study: Guess
Mobile marketing campaigns that have historically performed well on TikTok were those that could be easily replicated by other users.
An example of a successful digital marketing campaign on TikTok is Guess' #InMyDenim challenge. You can read the full case study here so instead, we'll focus on why it was so successful.
First, the purpose of Guess' campaign was to increase brand awareness with a specific demographic (Gen Z and millennials). Thanks to TikTok's predominantly younger user base, this platform represented an effective opportunity for the brand to do so.
That's not to say other social media apps wouldn't have worked, such as Instagram or Snapchat. However, TikTok's unique branded hashtag challenge ad type was the perfect fit for Guess. With users creating brand-related content as part of the "challenge," Guess' marketing team only had to develop the initial creatives while TikTok users created the rest of the content themselves. Guess effectively shared the spotlight with other content creators. To supplement its branded hashtag challenge ad, Guess also released a brand takeover ad on the first day in order to drive awareness of the campaign.
[Source]
Another reason why this campaign went viral is because it infused some humor into the content, asking users to take their outfit from "mess" and turn it into "best-dressed" by incorporating denim. Guess understood that TikTok content is meant to be eye-catching and fun, and including this element into their campaign proved successful.
Influencer marketing has been a useful route for many brands and Guess took full advantage of this. The four influencers the company partnered with were among the first to showcase the type of content Guess hoped other users would create. On TikTok, tapping into trends is even more important due to the platform's algorithm and how certain content goes viral. With a combination of using a catchy hashtag, understanding TikTok's demographic, and making use of effective ad formats, Guess' campaign generated over 1,600 user videos, a 14.3% engagement rate, and a 16.5% click-through rate for its brand takeover ads.
Does Mobile Marketing Fit Your Brand?
Whether your business goal is to build brand awareness or generate leads, mobile marketing has become a crucial part of every brand's marketing strategy. For many brands, TikTok represents another effective channel to include. However, what makes a digital ad campaign successful isn't just the quality of the creatives or the platform it's delivered on, but ongoing optimization and expert knowledge on strategic positioning.
To learn whether mobile marketing on TikTok, Instagram, Facebook, or other social media platforms is right for your business, book a consultation today and let's talk about how we can get your brand set up for success.
Take your digital marketing to the next level!