25 Jun

Facebook Launches Live Audio Rooms

Welcome back to another Spark Social Report by Spark Growth! This week, Facebook launched its audio-only content on the platform. Read more about the latest marketing trends and social media app updates below! 
Social Media Marketing Trends 
According to Sprout Social's latest index report, 71% of consumers find themselves using more social media in the last year than ever before. The report lists trends and insights on what consumers are looking for when engaging with brands on social media. It also guides marketers on how to tailor their social media content strategy and digital marketing approach accordingly. Some top qualities that audiences are looking for in brands on social media are strong customer service, transparency, a distinct personality, compelling storytelling, and the ability to leverage popular culture. 
Social Media App Updates
Facebook
Facebook has announced a range of new admin tools for Facebook Groups. First, the Admin Home setup is now more intuitive and streamlined for group administrators, making it easier to access management tools. Next, a comment moderation process has been added to Admin Assist, allowing admins to set up criteria to automatically moderate posts and comments. The platform has also introduced a member summary feature for admins to view summaries of each group member's activity. Admins can also now appeal violations for content that they, other admins, or group members have posted. Lastly, admins and moderators are now able to tag group rules on comments and posts, which will help to effectively share and enforce rules and moderate the community. 
The platform has also added a range of updates to Messenger. First, new chat themes include one for the latest "Fast and Furious" film, F9, a World Oceans Day theme, and a theme to celebrate singer Olivia Rodrigo's launch of her new album, "Sour." These updates indicate more opportunities for sponsored themes within the platform. Second, Facebook has added a "Quick Reply" option to the Messenger media viewer. This will allow users to tap on a photo or video and send a response through the reply bar at the bottom, rather than going through the message thread to reply to the media. Lastly, Messenger users in the U.S. can now send or request money with Facebook Pay through QR codes and payment links. This feature will allow for safer and more efficient fund transfers within the app.
In a livestream hosted by CEO Mark Zuckerberg, Facebook announced a range of new shopping and discovery tools. This includes Shops on WhatsApp and Shop listings in Facebook Marketplace. Shops on WhatsApp will allow businesses to present their Facebook Shop within WhatsApp, which will give brands another channel to reach users with their e-commerce platform. Businesses only need to set up their shop once to have it work across Facebook, Instagram, and WhatsApp. Next, Shop listings are expanding to Facebook Marketplace, which will allow more ways for brands to connect with audiences. 
And finally, Facebook has launched live audio streams and podcasts in the U.S. The app's Live Audio Rooms is a direct competitor to audio-only platforms like Clubhouse and Twitter Spaces, and allows users to listen to or join live conversations with public figures and experts via a room. Hosts can invite speakers either in advance or during a conversation, and there can be up to 50 speakers, with no limit on the number of listeners. Facebook has also stated that only public figures with verified accounts are currently able to start a Live Audio Room, but they'll be able to invite anyone else to speak. Additionally, Facebook's new podcast feature will allow users to listen to a podcast via a mini or full-screen player within the app. Currently, users can listen to a select number of podcast creators on their Facebook Pages, with Facebook planning to add more podcasts in the coming weeks.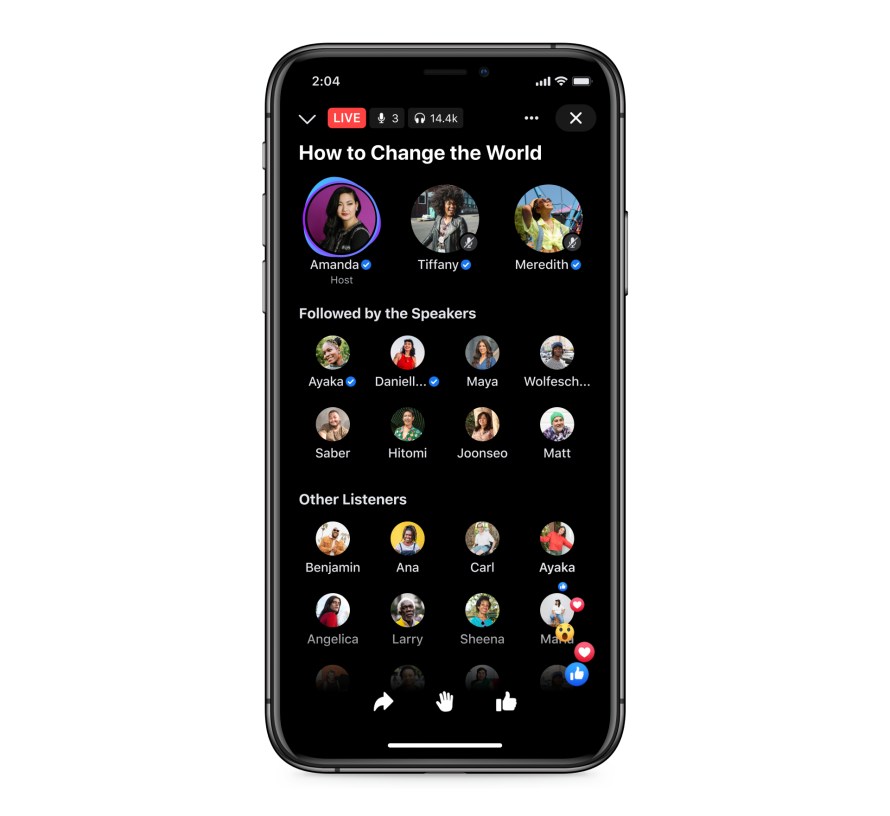 Instagram
Good news for marketers: after testing in select countries, Instagram is launching Reels ads! The new format is now available for users in all regions and will offer brands the ability to expand their audience reach and improve discoverability on the platform. These ads will be displayed in a full-screen format and will be displayed in between individual Reels. 
The platform has also added the ability to run group fundraisers on the platform. By allowing multiple users to partner on a single fundraising promotion, this will help boost awareness and increase the impact for nonprofits and causes. As pictured below, users will be able to invite others to join their fundraising initiative. 
Instagram is also rolling out a feature that allows users to check individual post Insights from the web/desktop version of the platform. This may be a useful feature for brands and marketers who use their computers more often than their phones, offering an easier way to access post insights and analytics. 
Twitter
Hosts on Spaces will now be able to download an audio file of their Space, which Twitter will keep for 30 days. To access the file, users will need to download their personal data files, which Twitter provides on request through the "your Account" section in the profile settings. Once the archive is requested, it may take up to 24 hours to come through. The ability to download a Spaces file may be beneficial to creators who want to keep their audio work to reupload it elsewhere. 
📂 Audio recordings 📂

Recordings of Spaces (hosted in the past 30 days) are now available for Hosts. The feature can be found in the 'data' folder of your Data download.

— Twitter Media (@TwitterMedia) June 16, 2021
Users with a Revue account will soon be able to add a "Subscribe" button to their profiles. The button will showcase newsletter information, and will appear below the main profile information panel. Those with a Subscribe button on their profile can enable other users to easily sign up for their newsletter directly in the app, and when the button is clicked, users will also have an option to read a sample issue. This addition will provide Revue creators on Twitter with another channel to reach audiences and increase sign-ups. 
Twitter users can now share their tweets directly to Instagram Stories! As referenced in the platform's announcement below, many users have already been sharing Twitter content via screenshots, so this new feature offers an easier way for audiences to redistribute their Twitter content across platforms.
pls stop posting screenshots of Tweets on IG Stories. you can now share Tweets directly on iOS.

-management pic.twitter.com/wpjnElsRTK

— Twitter (@Twitter) June 22, 2021
The platform is also looking to provide advertisers with more options to maximize their video ad campaigns. As such, Twitter is rolling out a 15-second view bid unit, which will prioritize reach to users who have the highest likelihood of consuming video content, based on their preferences and behavioral trends in the app. Advertisers who choose this bid unit will be charged on CPM, and this option may provide marketers with more opportunities to maximize engagement and reach on their video content. Twitter stated that this bid unit was created to help marketers who rely heavily on quality video views and video completion rates. 
TikTok
Taking over from YouTube, Tik Tok has signed on to become the major title sponsor for VidCon 2021, an annual multi-genre online video tech conference. As the event's title sponsor, TikTok will have the keynote address spot, and will have its top talent and executives participating in VidCon's Community, Creator, and Industry tracks. This opportunity will be an important community-building event for TikTok creators. 
The platform is also launching its own promotion in celebration of the Cannes Lions film festival called #CreativityForGood. The initiative encourages TikTok creators to use their creativity for positive impact, and will invite them to create a campaign or ad for one of its four partnering nonprofits (including the Malala Fund, It Gets Better Project, IFRC, and One Tree Planted). Users are encouraged to create their own video clips to promote and create broader awareness of these nonprofits. Additionally, TikTok will donate $50,000 to each of these organizations.
YouTube
In its latest effort to provide YouTube creators with more copyright options, the platform has added a new control option in YouTube Studio which allows channel managers to stop other users from using their Shorts audio or content. This also includes the option to block Shorts sampling in bulk. 
In a similar vein, YouTube is rolling out new options to give users more capacity to stop copyright violations in uploads, as well as detecting potential IP infringements within the app. The platform is adding a new element in the copyright claim process, which will allow users to tick a new box called "Prevent copies of these videos appearing on YouTube going forward." This box is available in the detection/removal options. If the box is checked on a successful copyright claim, YouTube will use its Copyright ID detection and video matching tech to stop other users from uploading the same video. 
The platform also announced that it is switching older Unlisted videos to Private. This is because in 2017, YouTube rolled out a security update to their system that generates new YouTube Unlisted links, and included security enhancements that made links for Unlisted videos harder for other users to discover. As such, any Unlisted videos that were uploaded before the update took place will be made Private starting on July 23, 2021. Users will have the options to opt out of this change by filling out this form, which will keep their Unlisted videos uploaded before 2017 in their Unlisted state, make their Unlisted video Public, or reupload as a new Unlisted video. 
Snapchat
In celebration of Pride month, Snapchat has launched new creative tools including AR lenses, stickers, and a tie-in initiative with Pride Basics that allows users to create their own custom Pride flag. Users who create their own flag can then get a physical version of it printed and shipped to them, via in-app tools.

That wraps up this week's news! Tune in every other Friday for more social media marketing trends and app updates, and in the meanwhile, follow us on Twitter! 
With so many innovative advertising opportunities on social media, we want you to ask yourself: is your brand taking advantage of all it has to offer? If not, we can help. Book a conversation with one of our social media experts below! 
Book a 30-minute consultation!