11 Jun

Celebrating Pride Month on Social Media

Welcome back to another Spark Social Report by Spark Growth! To help users celebrate Pride Month throughout June, platforms like TikTok and Facebook have announced new features and initiatives. Read more about the latest social media news below! 
Social Media Marketing Trends 
According to eMarketer, a recent report shows insightful user growth forecasts for social media platforms that marketers should be aware of as they continue to build organic and paid digital marketing strategies. TikTok and Reddit are projected to grow the most in 2021 out of all major platforms, by 18.3% and 14.4% respectively. On the flip side, Twitter will grow the least by 0.2%, and Facebook will experience its slowest growth ever at just 0.8%. In terms of demographic statistics, for the first time ever there will be more social network users ages 65 and older than those aged 55 to 64. 
Social Media App Updates
TikTok
TikTok has launched new Pride Month initiatives and is using the hashtag #ForYourPride to encourage community participation and celebration. Visual features include nine new colorful effects for users to apply to their video clips. The platform has also debuted the participants of its second annual LGBTQ+ TikTok Trailblazers initiative, which highlights creators that are making a positive impact in their communities and on TikTok. Pride-related live music and programming will also be available on the Discover page this month, including the first-ever global TikTok Pride March. Lastly, TikTok is donating $500,000 to organizations that support the LGBTQ+ community, including GLAAD, The Trevor Project, It Gets Better Project, Trans Lifeline, Born This Way Foundation, True Colors United, and more.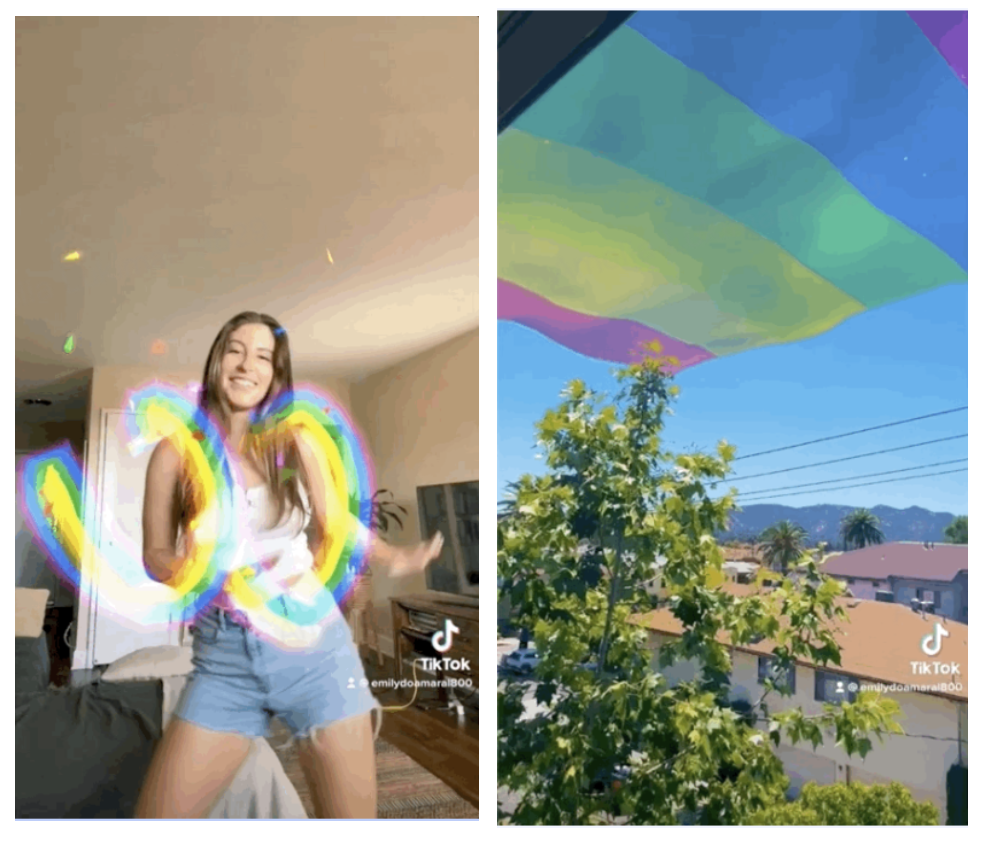 The platform has also created a new accessibility overview, which outlines its various accessibility features and tools. The overview also includes explainers and links to help users implement these tools, and outlines the platform's evolving range of accessibility options such as photosensitivity warnings, text-to-speech tools, animated thumbnails, and auto-captions. Brands and creators can refer to this overview when creating content in order to ensure maximum accessibility for their audiences. 
TikTok has also launched a new campaign called #CreateKindness, which is aimed at combating online bullying and fostering a more positive, inclusive, and encouraging community. The campaign will include an animated video series, produced by various TikTok creators, which will share their real and personal stories. The platform will showcase these videos on the Discover page throughout the month, and has additionally launched the #CreateKindess hashtag challenge, encouraging users to spread kindness through their own stories. 
Facebook
Facebook has added a new checkbox into the video embed process, which enables users to choose a specific time that they want their embed to play from in the video playback. This new feature will be helpful for creators who want to immediately direct their viewers to key elements or segments of the video. 
NEW: Embed a Facebook video with a specific Start Time pic.twitter.com/vdv8vY3TYn

— Valon Kerolli (@valionk) May 27, 2021
Facebook also announced that its Messenger API integration with Instagram is now available to all developers globally. Though the feature—which enables businesses to feed their Instagram Direct messages into their existing CRM platform—has slowly been rolling out to users since October 2020, its widespread availability will help more users streamline and manage their messaging workflow across Facebook and Instagram. 
The platform has also released a range of features and tools to help users participate in Pride Month celebrations, as well as new initiatives to help provide support for the LGBTQ+ community. First, new celebratory features include post backgrounds, custom avatars, and stickers for both News Feed posts and Facebook Stories. The platform has also added an animated Pride logo in the app, designed by Berlin-based artist Jasmina El Bouamraoui. Facebook is also aiming to provide mental health support and well-being resources for LGBTQ+ communities by partnering with a range of non-governmental organizations and experts. Lastly, on both Facebook and Instagram, users can find curated collections from businesses that are founded and supported by LGBTQ+ communities. Facebook will also be including Pride-themed events for its Live Shopping Fridays segments.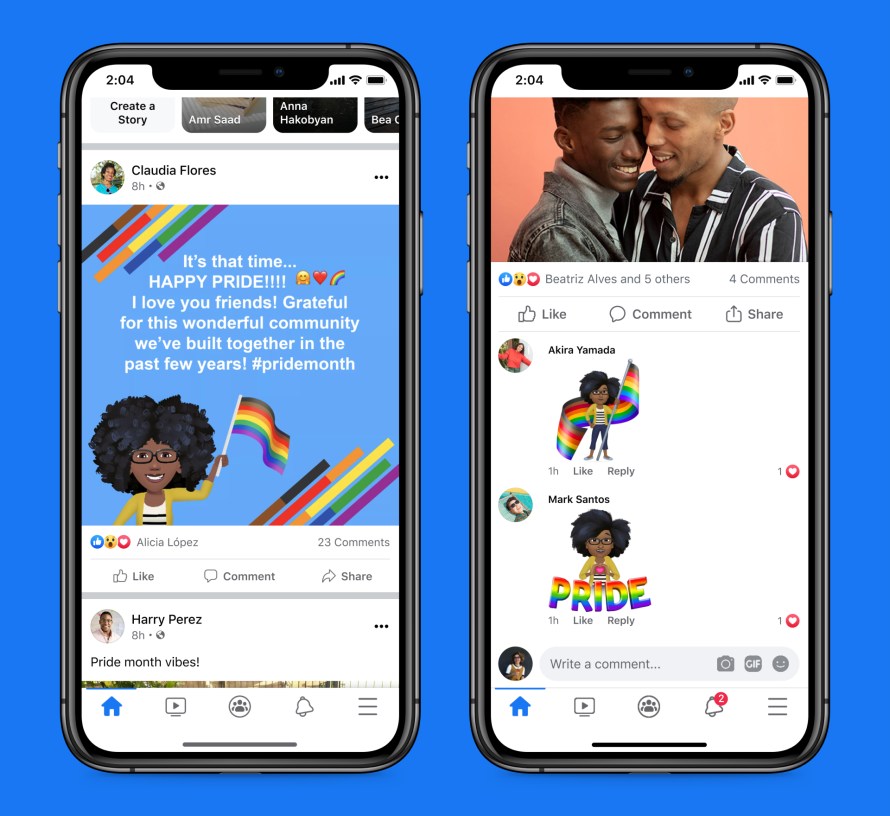 [Source]
Instagram
Instagram has announced some new updates for its Branded Content tools. The platform will now allow creators to tag up to two brands in a single piece of Branded Content, which helps to expand the capacity for tie-in promotions. It will also now allow creators to post branded content prior to brand approval, though it will not include the brand name on the post while it is pending response. These updates will help to further increase transparency and make it easier for creators to manage Branded Content requests and approvals. 
While the platform has previously stated its intention to improve the Stories experience by reducing the reach of reshared posts in Stories, user backlash claimed that Instagram was censoring important news events because of this reduction. In response, Instagram stated changes to its algorithm which will ensure reshared feed posts will continue to get the same amount of reach as any other Story content. 
On the topic of Instagram's algorithm, the platform has created an overview to provide more insight into its previously elusive system. Classified as the first in a series of blog posts that will shed more light on how Instagram's technology works, the post answers questions on why some posts get more views than others, how Instagram decides what to show users on Explore, and how it decides what shows up for the user first. One overall point is that Instagram does not use just one algorithm, but a variety to ensure a personalized experience for each user. These overviews will help to provide some insight on the algorithm and to better guide creators on how to tailor their content for maximum optimization and discoverability. 
Lastly, the platform has announced new monetization options for creators. First, Instagram is adding a new option that will enable users to attach their existing shop into their personal profile, as well as their business or Creator account. Second, updates have been made to Badges on Instagram Live and Stars on Facebook, such as adding the ability for supporters to buy multiple badges during an Instagram livestream, and giving creators an opportunity to earn an extra payout when they meet certain milestones while using Badges or Stars. 
Twitter
According to Twitter's latest "Release Notes," there are a number of new features and updates. First is improvements to DM search, which will allow users to search across all conversations instead of the ones they have recently viewed. Second is access to Fleets threads, which users can now navigate in their Fleets viewer screen. Third, users can now access Spaces, the platform's audio-only feature, on desktop. Lastly, the Topic sidebar is now available for all users, allowing more visibility into relevant topics. 
In an effort to raise awareness and amplify credible sources on climate change, the platform has announced a new "Climate Change" Topic for users to follow. This page will help keep users informed on the latest updates, including tweets from environmental and sustainability organizations, environmental activists, and scientists. Additionally, Twitter is allocating new #AdsForGood grants to environmental causes in partnership with organizations like the Earth Day Network, the United Nations (UN) Environment Programme, Voice for the Planet, World Wildlife Fund (WWF), and others. Access the Climate Change Topic page here. 
YouTube
YouTube has added new analytics tools to provide creators with more insight into the performance of their uploads. First is new Members' insights, which will display the total and active members over the user's chosen time period. Users can also look up data on total, active, gained, and lost members over time; this will provide further detail on how efforts to increase members are performing, or how their upload impacts their member count. Second, the platform is making its "Other Channels Your Audience Watches" and "Other Videos Your Audience Watches" listings available on mobile devices. Third, YouTube is making its video performance explanation more visible in Analytics on desktop, where channel managers will now see clear explanations about the presented data. Fourth, the platform is adding more insights on revenue changes by highlighting potential shifts by viewer region. Lastly, it has added a new post engagement metrics display, which shows votes and likes on the channel's top posts over the last 28 days. These new updates will help provide users with further context on their YouTube channel performance. 
YouTube has also rolled out an update that will allow creators to place add-on features, such as midroll ad breaks, end screens, and information cards, while their video is processing. This update may help save time for creators by allowing them to incorporate these elements into the uploading process.
Pinterest
In celebration of Pride Month, Pinterest has launched a campaign called "Show Your True Colors," which is aimed at highlighting the benefits it can provide for its LGBTQ+ users. The campaign will include a digital film featuring six LGBTQ+ Pinners and other celebrated figures, and Pinterest will also feature content from creators in the LGBTQ+ community and allies in the Today tab. Search terms related to "Pride" will also appear in rainbow-colored text. The platform has also added a new pronouns option for both personal and business accounts, in order to help users better express their identity. 
Clubhouse
Clubhouse has announced the first recipients of its "Creator First" grants program. This program will fund the development of a variety of original programming from Clubhouse creators. The platform will also ensure that participants in the program are provided with at least $5,000 in guaranteed monthly income, and assist in securing sponsorship and brand partnership arrangements to establish a more sustainable funding flow for these creators. 
That wraps up all of the latest social media trends and app updates! Be sure to tune in every other Friday for more biweekly news, and follow us on Facebook in the meanwhile! 
These days, businesses are using social media to convey important brand values and resonate with their audiences. If you're not quite sure what this means, take a look at the work we did for an organization called The Mental Health Association (MHA) of Essex and Morris Counties! 
Read our case study here!