19 Feb

YouTube Shorts Will Soon Launch in the U.S.

Welcome back to this week's Spark Social Report by Spark Growth! This week, Twitter is trying to catch up to Clubhouse, LinkedIn provides more support for healthcare organizations, and YouTube Shorts will soon be launching in the U.S. Keep reading for more social media app updates!
Facebook
Similar to how Facebook labels misleading political and COVID-related content, the app will soon tag posts with climate-related information. When users click on a label, they'll be taken to a Climate Science Information Center hub that includes relevant news articles and science-backed climate change data. Unlike political and COVID-19 tags which were meant to alert users to potentially false information, Facebook will be adding these labels to some climate-related posts regardless of their accuracy as a way to encourage people to learn more about the topic.
Next, Australian users can no longer view or share news on the app. This change comes as a result of proposed laws that would see digital news platforms—like Facebook—have to pay for journalism. Australian publishers can still post links to news articles, but they can't be viewed by Australian users. Since the law hasn't gone into effect yet, there's still a chance that Facebook may reverse this decision.
Twitter
Users in Brazil, India, and Japan will soon be able to send audio messages in their DMs. Twitter says it will be rolling out the option in phases. As shown in the video below, audio recordings can be up to 140 seconds in length. The option to record and send audio messages is currently only available on mobile devices, but desktop users on Twitter can still play the audio messages. There's no word yet on when this feature will be released in other markets so stay tuned!
🎤test,🎤test: Starting today, you'll be able to record and send voice messages in DMs 😉 Here's how👇

PS. The experiment will be rolled out in phases. pic.twitter.com/aqQM6h9sof

— Twitter India (@TwitterIndia) February 17, 2021
With the Clubhouse app absolutely booming, other social media platforms are doubling down on their own audio-only offerings. Similar to Clubhouse, Twitter Spaces is an audio-only chatroom the company is currently testing among a small group of users. Recently, Twitter team members working on the feature went on social media to preview some of the improvements to the user interface (see the Tweet below). Potential updates also include adding a colored ring around a user's avatar to show if they're a host or a speaker.
last week, we did a research deep dive into moderation & audience controls with all of you. we learned so much on how to make it easier to manage a "dinner party" for hosts while staying engaged

some early explorations (WIP!) that we'd love to hear your thoughts/feedback on👇🏽🧏🏽‍♂️ pic.twitter.com/OBf5Vj3e3i

— Danny Singh (@Mr_DannySingh) February 16, 2021
LinkedIn
In its latest update, LinkedIn will be providing additional support for the healthcare and essential jobs industries. Governments, healthcare, and pharmaceutical organizations will be able to post free job listings until May 15, 2021. These listings will be sent to LinkedIn users through real-time alerts, push notifications, job search results, and in their news feed. LinkedIn will also be offering free ads to certain nonprofit and disaster response organizations. For organizations that are recruiting at least 1,000 volunteers to help with COVID-19 vaccine distribution, free ads will be available until June 30, 2021.
TikTok
Social media apps are becoming more shoppable and TikTok is no exception. To get business owners ready for the app's eCommerce features, the company is currently preparing an educational portal titled, "TikTok Shop: Seller University." The program will cover ways you can sell your products on TikTok, such as through TikTok Affiliates or your personal page. 
SPOTTED on TikTok (Coming Soon?)

– TikTok Shop Seller University: https://t.co/7Knl3qdkRG

– TikTok Affiliate Dashboard: https://t.co/hhp4giEGmH pic.twitter.com/jVn2twpoJx

— Matt Navarra (@MattNavarra) February 15, 2021
Pinterest
With the COVID-19 pandemic, this year's New York Fashion Week will be a mix of virtual and in-person shows and Pinterest is helping users get closer to the action. Users can view behind-the-scenes content from Pinterest content creators, which includes interviews, reviews of clothing collections, and fashion ideas. Click on the Today tab at the top of your home feed to access this stylish new content. 
YouTube
In one of the company's latest blog posts, Chief Product Officer, Neal Mohan, talked about how YouTube's upcoming features will continue to shape the future of video content. First, although there's no word on a release date, he mentions how the team is working to modernize the viewing experience for tablet users. Later this year, Mohan says the YouTube VR app homepage will be redesigned to make it more accessible and easier to navigate. 
Next, YouTube Shorts, which has been available in India, will make its U.S. debut in the next few weeks as part of their beta. Shorts are 15-second videos similar to TikTok, where users can add background music. 
With more shoppable features added to YouTube over the past year, the company is beta testing an "integrated shopping experience." Not much is known about this feature, but Mohan did mention that it will tap into a content creator's credibility and knowledge to help viewers make more informed purchases. We can expect to see more updates later in the year.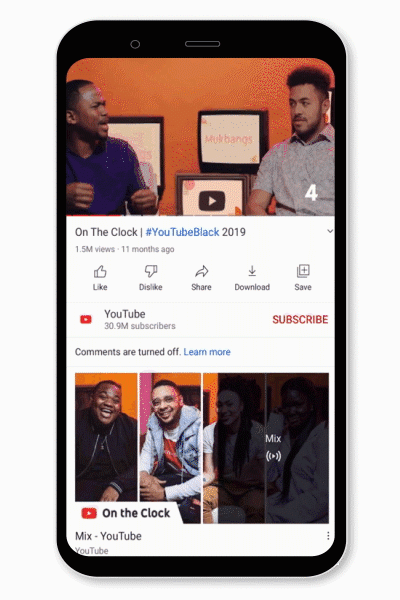 [Source]
That's all for this week! Be sure to check in next Friday for more social media updates! 
As more social media apps continue to help organizations during the COVID-19 pandemic, we've also worked to help our clients through this time. We've developed a KPI (key performance indicator) checklist that we want to share (for free). Use it to see how your business is currently performing and what metrics are important to measure your business' growth.