20 Jul

Spark Bites: Twitter Updates, Trending Topics & More

Welcome to your weekly dose of social media updates! Twitter will soon list related hashtags to Trending Topics, Snapchat will allow Spectacles content to be exported to other platforms, Instagram is introducing Facebook-style reactions to its Stories, and much more! Read on for all the details.

Twitter

Twitter will soon begin showing connected topics within their Trending Topics listing. Under each trending hashtag, users will see a list of related trending hashtags. This update will help users get a better handle of the discussion on the platform, and it will help brands identify which trending conversations they should tap into!

Twitter is also introducing an update perfect for multitaskers: a tool that will allow users to "dock" videos, so you can watch while you scroll through your main feed! The update is currently available on Android and will soon roll out on iOS as well.
Google
As you can imagine, the Google Assistant app collects a whole lot of information. Google recently announced it will be putting all the data it collects to good use. Using relevant information pulled from Google Calendar, your recent flights, restaurant reservations, and other events, Google Assistant will become better at predicting your needs. The updated app will even provide estimated travel times to appointments and events!
Google also rolled out a new motorcycle mode to Maps for countries where it is a popular form of transportation, such as Singapore, Thailand, and Vietnam. The new feature provides more accurate travel times for motorcycles, offers routes too narrow for cars to enter, and avoids roads where motorcycles are not permitted to enter. Stay tuned to find out when the update will be available for Western markets!
Snapchat
Snapchat is rolling out a new feature that will allow you to use content created with Spectacles on other platforms. Instead of posting and storing the content on Snapchat only, users will soon be able to use the content on Facebook, Instagram, and YouTube as well!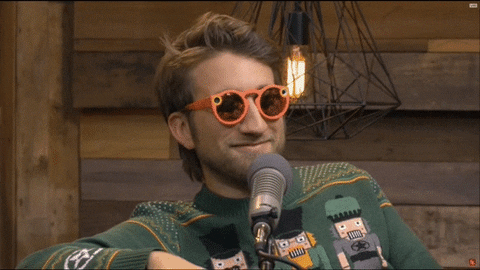 Facebook
In an effort to further increase transparency on the platform, Facebook is testing new labels for its Branded Content Partnerships so that users are more aware of which content is sponsored. Once the update is rolled out, users will be able to click on the label to learn details about the brand partnership.
Instagram
Instagram is adding Facebook-style reactions to Stories. The update will give users a new way to interact with content, and it will give brands and marketers a new way to gauge their audience's opinion of and interest in the content posted. It's worth noting that Instagram will not be including the "angry" reaction in an effort to keep things positive!
LinkedIn
LinkedIn is making a few updates to the way users post native videos, share articles, and review content they've posted in the past. Users are now able to include captions when posting native videos, highlight specific quotes from articles when sharing, and review all the content they've posted, shared, or engaged with in the past. Similar functions have long been available on other social media platforms, so this update is definitely a step in the right direction for LinkedIn!
That's all for this week! Enjoy your weekend, and we'll see you next Friday for another edition of Spark Bites!