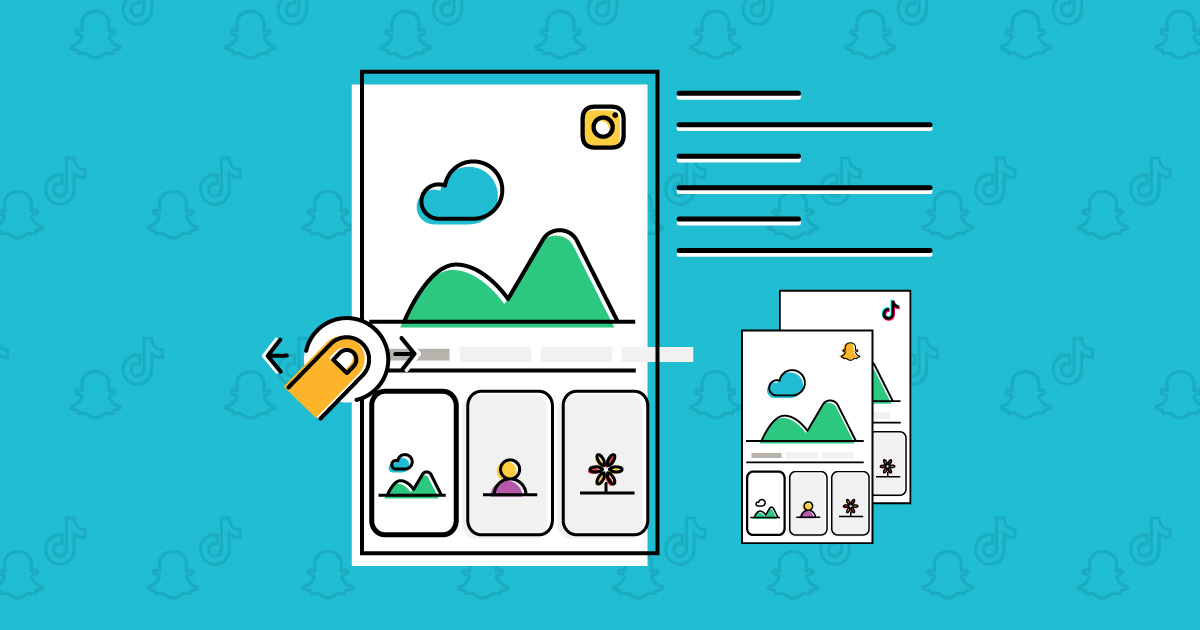 27 May

Spark Bites: Out With the Old Look, in With the New

Greetings, Spark Biters! Welcome to another edition of Spark Bites, your one-stop shop by Spark Growth for all the latest social media updates.

In honor of the Toronto Raptors winning the Eastern Conference finals on Saturday, we are exclusively using Drake gifs- because, who else represents Toronto better?

It's almost summer, and you know what that means… time to start showing off that beach bod!

This week's social media updates are doing the same thing, and they're all making changes to their platform for the *aesthetic*.

Instagram is making changes to its story feature once again—reiterating the message that sharing is caring—as well as changing its IGTV feature, Facebook is revamping its story capabilities, Twitter is testing carousel ads, and Snapchat has created a new filter that changes up your look.
Instagram
If you're an avid Instagrammer, you are no stranger to the paper airplane icon which is stationed at the top right of the app, and that can also be seen in the bottom right while flipping through someone's story.
If you forget what that symbol means, here's a refresher: it's the Instagram symbol for receiving and sending direct messages, which can include other people's stories.
Unlike Twitter, where individual tweets have their own link, there is currently no way to directly share Instagram stories to anyone outside of the app.
This also means that one friend who is on a "social media cleanse but can be reached via text" has no way to indirectly view the Instagram story you are referring to.
Reverse engineering expert Jane Manchun Wong says that Instagram is working on implementing a  "Share Link/ Copy Link" option.
If you're a brand or business, this new feature could change your promotion potential. Since individual stories have their own unique link, they could be implemented in emails or in conjunction with other social media platforms. This could be great for promoting time-sensitive material, and increasing overall engagement.
Let's discuss Instagram's second update of the week.
If you haven't used Instagram's feature Instagram TV, you're not alone. IGTV launched about a year ago, and the in-app video platform allows Instagram users to upload longer videos than they would be allowed to upload in their feed or story: up to 60 minutes of video content, to be exact.
IGTV ranks low in the App Store as a standalone app, and "less than half a percent of Instagram's billion-plus users have downloaded it."
Instagram has continued working on changing IGTV's discovery experience. The goal is to appeal to Instagram users more and to create an immersive experience. The platform has ditched the horizontal scrolling user interface that used to exist and has instead implemented an infinite story scroll (yes, just like Snapchat) where multiple IGTV videos thumbnails are within the frame, until selected by the user. 
Facebook
We admire the never-ending effort Facebook has been putting in to revamp the platform.
Although Facebook stories is still not as popular as Instagram stories, Facebook hopes to slowly increase its usage by implementing new changes.
The redesign is expected to have a text, sticker, effects and draw option. It will also provide an option to include a studio effect on the story itself.
Twitter
Twitter reminds us that just because we try something once and it didn't go as planned, it doesn't mean we shouldn't try it again!
The social media platform is rolling out testing carousel ads for the second time on the mobile app. The first time was in 2016, but was unsuccessful.
On the mobile app, users will be able to scroll horizontally through multiple media clips on the same tweet. This takes away from the standard vertical timeline, as it draws more attention.
The new ad format "gives marketers a rich canvas for brand storytelling using their own Tweets or Tweets about their brand by users who have given permission to the brand."
Snapchat
Snapchat has once again released a set of viral lenses that has made the other lens' capabilities seem weak in comparison.
Remember when we all freaked out about the face swap lens?
3 new lenses have been released that allows users to change their look, and appear to be more masculine presenting, feminine presenting, or to have childlike facial features. The masculine lens gives users a 5 o'clock shadow, short hair and stronger jawline. The feminine lens includes long hair, airbrushed skin, and makeup. Lastly the child lens gives users a younger, rounder baby face (super cute, but no promises you'll look as cute as the real 3-year-old you).  
And those are all the social media updates we have for you this week Spark Biters!
Let's go Raptors!