30 Oct

New iOS Widgets from Pinterest and TikTok

It's the Spark Growth team and we're back with another Spark Social Report. This week, Reddit gets customizable avatars while Pinterest and TikTok release iOS widgets. Keep reading for more social media updates.
Facebook
Facebook has announced some new gaming updates for its Android app and desktop site. With the arrival of cloud-streamed games that don't have to be downloaded, this will help users manage their storage while improving content accessibility. A spokesperson reiterated that while cloud-streamed games may be a new addition to Facebook, the feature is not spinning off into its own service. Users can still access these games in the Gaming tab and News Feed. Unfortunately, those using iOS phones will have to wait before this update gets a wider release.
Instagram
Both Instagram and Facebook will be updating its content policy on posts featuring nudity after a post made by a Black plus-sized model, Nyome Nicholas-Williams, was removed on Instagram in August. Following the removal of the post, fans protested using the hashtag, #IWantToSeeNyome, and pointed to the hypocrisy of the platform leaving up similar photos of skinnier white women. An Instagram spokesperson said new policies will be implemented this week.
Next, Instagram's VP of Product, Vishal Shah, recently announced some updates for Live broadcasts. The maximum length of a livestream video has now increased from one hour to four hours and users can save their Live videos for up to 30 days. The "Live Now" section will also appear in the IGTV app and on the Explore page.
Twitter
One way Twitter is preparing for next week's U.S. election is by encouraging users to vote early. Users will see a home timeline prompt that offers educational resources, with the app encouraging them to Tweet their support for voting early. Tweets featuring specific hashtags, such as #VoteEarly and #IVoted, will feature interactive elements, such as an animated "like" button.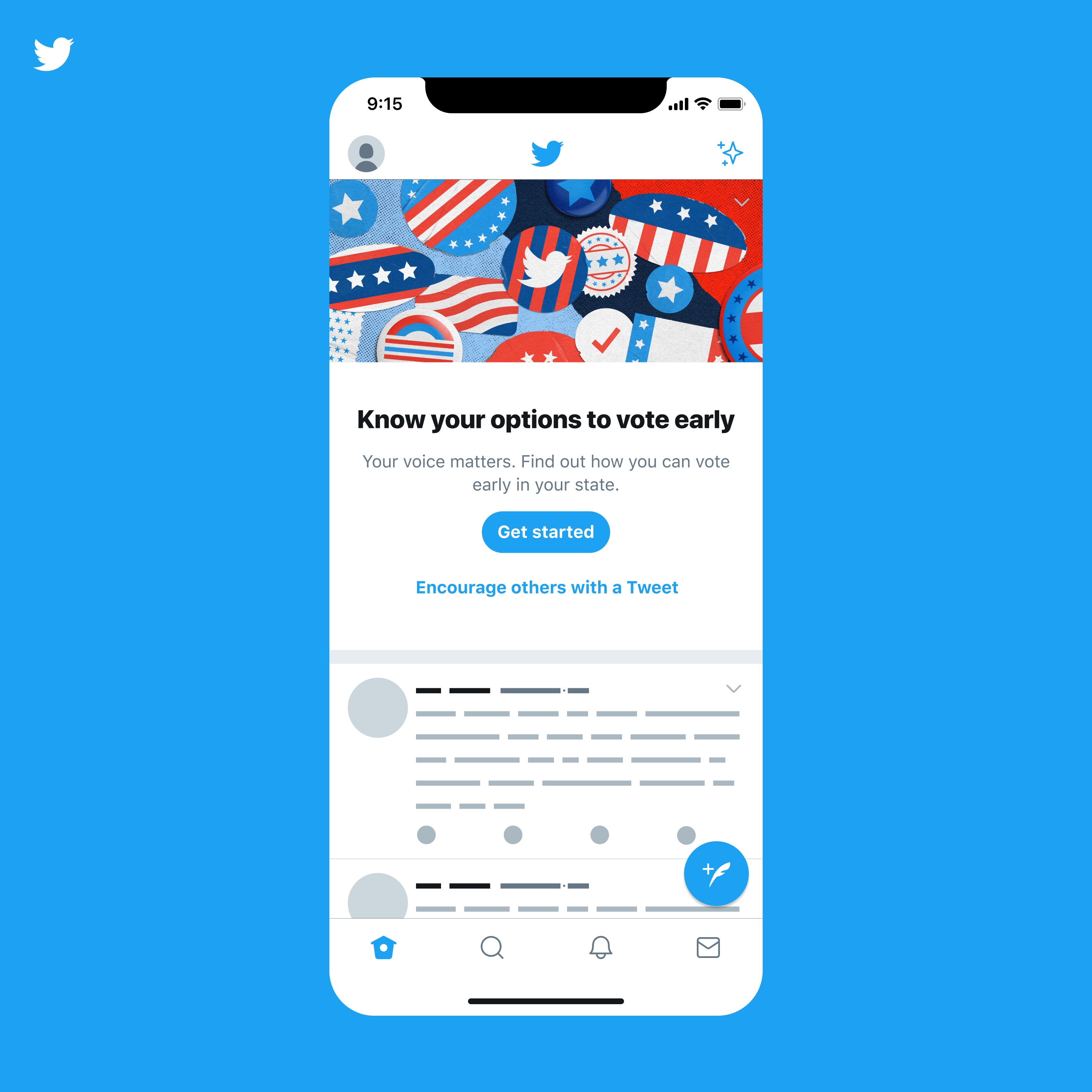 [Source]
New warnings about election misinformation have also been launched on Twitter. Two notices will be shown at the top of a user's timeline, which speaks to the potential of seeing misleading information about voting by mail. The second prompt reminds users that election results may see some delays with more mailed votes.
LinkedIn
LinkedIn has released a new job searching tool called Career Explorer. One way the company has differentiated its tool from other search engines is that it takes an individual's skills and looks at job postings they may not have considered. It will also provide suggestions on other relevant skills they may be interested in learning. Visit Career Explorer to learn more about how LinkedIn matches skills to provide job listings.
Pinterest
If you're an Apple iPhone user, chances are you were thrilled with the iOS 14 update that introduced customizable widgets. Pinterest has launched its own iOS widget which will showcase a user's board or a board from someone they follow. The company mentions that many recently trending searches have been for ways to customize the iPhone home screen, noting a 15x increase in searches for "indie ios 14 home screen" and a 19x increase in searches for "widget iPhone aesthetic."
[Source]
Pinterest has launched new merchant tools to help businesses set up their online shop more efficiently. First, businesses can change their shop tab into a storefront and feature specific products, categories, and more. The product tagging tool has been improved and users can now tag products in a scene photo (see the image below). Updates to the Catalog makes it even easier for businesses to create and maintain shopping ads. Automatic bidding for ad campaigns is now an option too, which will help businesses maximize their budget in a more time-efficient manner. New insights have also been added to their ad platform, giving businesses a deeper look at conversion, engagement, and view rates.
[Source]
Reddit
Reddit users can now create customized avatars! Users will each have their own "snoovatar" to play around with by changing their hair, clothes, color, accessories, and more. Certain items can only be unlocked by joining Reddit Premium, the app's paid subscription service. To customize an avatar, users can go to their profile section. This update is being slowly released to users on desktop, iOS, or Android, with the full release expected for today.
[Source]
TikTok
After experimenting with ways to improve transparency, TikTok has finally confirmed how it will be dealing with removed videos. Improved notifications have been launched globally and will now be sent to users who have had their content taken down. Take a look at the example below, where the prompt also features a link to TikTok's community guidelines. In some cases, the notifications will be accompanied by educational resources, such as when a video is reported to be related to self-harm.
[Source]
With how popular iOS widgets have been, it's no wonder more social media apps are creating their own. iPhone users can now select from three different types of TikTok widgets to customize their home screen. The small widget highlights trending sounds, while the medium-sized widget has the same content but also includes four small icons linking to videos that use the trending sound. The larger widget features trending content with larger video previews.
Next, Shopify and TikTok have partnered to create new ways for Shopify merchants to connect with the TikTok audience. Within the Shopify platform, users can connect to their TikTok For Business account and create in-feed shoppable ads. Once merchants select a product to advertise, the video ads will be automatically generated. Shopify hints that even more eCommerce features will be coming in the next few months, so stay tuned!
Shopify and TikTok will also be supporting Black-owned businesses with its new co-branded Hashtag Challenge Plus, #ShopBlack. From November 10th to the 15th, TikTok users can highlight Black-owned businesses by using that hashtag. Hashtag Challenge Plus is TikTok's eCommerce feature that adds a shopping element to a specific hashtag where users can purchase products directly from tagged content.
Lastly, to minimize misleading content on its platform, TikTok has partnered with a variety of fact-checking partners to prepare for the upcoming U.S. election. TikTok notes that if a claim can't be verified by its team or if the fact-checking results are inconclusive, the content's discoverability will be reduced. Users can expect to see a banner pointing them to an election guide on content that may have misleading content. On November 3rd, users will also see expanded information about the election, such as polling locations and hours. The app will also offer live results through an interactive map.
[Source]
Snapchat
Snapchat continues to add interesting and practical ways to use a phone camera through its app. In the latest update, users can use their camera to scan wine and food labels, which will pull up product information such as the price, rating, nutritional content, and a link to learn more. Information on wine is pulled from the wine app, Vivino, which has a database of over 12 million wines. Meanwhile, food information is provided by Yuka.
YouTube
YouTube Shorts, a feature similar to Tiktok's short videos, has a new icon and is currently being tested on Android. While Shorts launched in India in September, this short video feature has yet to make an appearance in other markets.
YouTube's TikTok-clone 'Shorts' gets its own shortcut button in main app

h/t @WFBrother pic.twitter.com/IasEPcPSz5

— Matt Navarra (@MattNavarra) October 23, 2020
YouTube's mobile app is getting some updates that will make content more accessible and easier to navigate. First, users can now swipe up on the video to go into or exit full-screen mode, rather than rotating their phone or tapping the full-screen button. Another update is a set of prompts for the users to take certain actions to improve their viewing experience. One example is to rotate their phone or use a VR headset. Next, the autoplay and closed captioning buttons have been moved to the overlay menu, making it easier for users to access these options.
Zoom users on Android can now live stream their meetings to YouTube. While in a Zoom meeting, users can go to the menu and select the new "Live stream to YouTube" option to begin streaming across multiple platforms. This new feature will be especially useful for those who hold conferences through Zoom and want to reach a wider audience. It will also be more accessible to users who may want to attend a conference but are more comfortable with using YouTube rather than Zoom.
WhatsApp
In the latest beta version, WhatsApp is testing some updates for its biometric lock. While current WhatsApp users can only use their fingerprint to open WhatsApp, the test shows "face and other unique identifiers" as additional biometric options. Of course, since this is the beta version, there's no telling if or when this feature will be released.
That's all for this week. Be sure to check in next Friday for more social media updates! If you haven't already, follow us on Twitter for digital marketing trends, social media trends, and more.
Speaking of eCommerce, our social media marketing experts have helped many brands develop their online strategy to drive increased sales. If you don't know which metrics are most important in measuring your eCommerce ad campaigns, not a problem. Click the button below to download a free resource our team developed.