23 Oct

iOS Users Can Add Songs to Snaps

We're back with another Spark Social Report by Spark Growth! This week, Snapchat launched "Sounds" to let users add songs to Snaps, and Instagram released a set of monetized badges for creators to use during Live streams. Scroll to read more of this week's social media news! 
Snapchat
Exciting news for Snapchatters! Users can now add song clips to their Snaps through the platform's new Sounds feature. Choosing from a catalog, users can add music into their Snap either before or after recording it. This newest addition to Snapchat mimics TikTok's content format where users heavily rely on songs and musical elements in their videos. While Sounds is currently only available for iOS users, be sure to stay tuned to see when it will be released to Android users! 
Instagram 
In a move to better regulate influencer content that breaks platform rules about disclosing paid posts, Instagram is working to implement some new tools. The first is a prompt that requires influencers to confirm if they have received incentives to promote a product or service before publishing their post. Second, Instagram is improving their algorithms to spot potential advertising content, which would then alert the relevant business and inform them of the platform rules around paid content. 
We announced some important steps to make sure people know when creators are getting paid for their posts. Thank you to the CMA for working with us on this. https://t.co/iE8ZpeHKR3

— Adam Mosseri 😷 (@mosseri) October 16, 2020
In another piece of news relevant to brands and influencers, businesses can now set a minimum age for their branded content feed posts. This includes a default minimum age or a minimum age for specific countries. The feature was released to add more protection for brands and users alike, especially where age restrictions for certain products or services might vary from region to region (such as alcohol, over-the-counter drugs, and more). 
Instagram also announced that it is rolling out monetized "fan" badges for Instagram Live sessions. These badges—the options of which are $0.99, $1.99, and $4.99—offer fans the ability to stand out in the comments and show their support during a creator's Live stream. Currently, the option to add badges to Live is only available to an initial group of approximately 50,000 creators. These monetized badges may make it easier for creators to more efficiently see which fans are supporting them, and will also provide an added income source for creators. 
The platform is also expanding access to the IGTV ads test to more creators on Instagram, a test that was initially announced back in March. IGTV ads allow creators to earn money by including in-stream ads in their videos. 
Facebook 
For users in the U.S., Facebook has added some new options to its Facebook Watch platform. First is "Topics," a feature that users can follow based on their interests. Categories within Topics include "Comedy," "Beauty," "Crafts," and more. Second, a "What's Happening" and "Featured" sections are also available, allowing users to keep up with relevant news and content.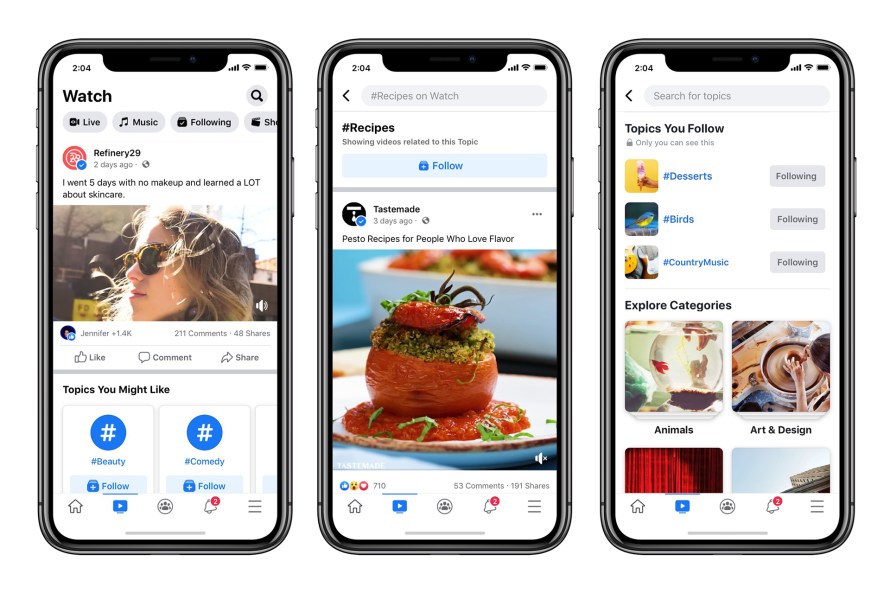 As well, following the recent integration of Instagram Direct and Facebook Messenger, Facebook has announced Messenger API support for Instagram Messaging. Here's what Facebook has to say about the update: "The Messenger API now allows businesses to manage messages initiated by people throughout their Instagram presence, including Profile, Shops, and Stories. It will be possible for businesses to use information from core business systems right alongside Instagram messaging, enabling more personal conversations that drive better business outcomes. For example, businesses integrating with a CRM system can give agents a holistic view of customer loyalty. Furthermore, existing investments in people, tools, and workflows to manage other communication channels can be leveraged and extended to support customers on Instagram."
Facebook has also announced some new features to prepare for the upcoming holiday season. First, a new way to create ads with product tags will be available for businesses in Ads Manager. This addition will allow marketers to choose from more creative formats, such as photos, carousels, and videos, when making an ad with a product tag. Facebook is also adding "Shopping Engagement Custom Audiences," an audience tool that will help brands reach new and existing customers who are showing interest in shopping on Facebook and Instagram. This includes customers who have saved a product, viewed a shop, or initiated a purchase. As well, Facebook will be testing discount features for shops in the U.S, allowing businesses to put individual products on sale and create offers that can either automatically be applied or be applied as a promo code by the customer. Brands looking to make use of this feature will be able to promote their discount options by adding a banner to their shop.
The platform has also launched a program called Season of Support, which is geared towards helping small businesses thrive throughout the holiday season. This includes free marketing training, guidance from marketing experts, and other tips and resources. Businesses will have free access to these resources until the end of the year. As well, between October 30 to November 27, 2020, Facebook wants users to support more Black-owned businesses by making every Friday #BuyBlack Friday. The platform notes that 41% of Black-owned businesses in the U.S. have closed due to COVID-19, and this movement aims to support and celebrate Black brands and creators. 
The platform is also testing a new option called "Neighborhoods," which aims to keep users connected with the people in their close vicinity. Users will be able to select their local neighborhood and enable their location to discover groups, posts, and marketplace items. 
Facebook is taking on NextDoor with a NEW 'Neighborhoods' feature! 🏘🏡

h/t Leon Griggs / https://t.co/oHkIdU6nbC pic.twitter.com/OHYMW1ig9I

— Matt Navarra (@MattNavarra) October 20, 2020
Lastly, Facebook is offering a simplified way for users to sort their news feed. As pictured below, the options will be presented in a swipeable layout, allowing easier access for users to choose between them. The feed options include "Home," which is the current default feed that sorts most relevant posts; "Most Recent," which sorts users' feed chronologically by newest posts first; and "Favorites," which includes posts from people and Pages that a user cares most about (up to 30 Favorites can be chosen by a user).  
Facebook is testing a new set of tabs and filter options for your news feed

h/t @TomBarragry pic.twitter.com/Spqc1AxVC7

— Matt Navarra (@MattNavarra) June 20, 2020
Twitter
In the continued fight against the spread of misinformation, Twitter has added a new prompt feature. Before a user Retweets or Quote Tweets a post that has been labeled as having broken Twitter's misinformation rules, a prompt will show up that reads "This is disputed." The same prompt directs users to a "Find out more" button, which will provide more context as to why the Tweet's content has broken the rules. This feature may help to encourage users to critically think about the content they are sharing. 
Our work to limit the spread of misleading information goes beyond elections. Starting today, before you Retweet or Quote Tweet any labeled Tweet that breaks our misleading information rules, you'll see a prompt.

It'll provide more context on why the Tweet breaks our rules. pic.twitter.com/KjQSnDk8cC

— Twitter Support (@TwitterSupport) October 16, 2020
Twitter has also updated its Tweet composer for businesses who use Ads Manager. This includes a new layout and design, real-time previews of Tweets in both desktop and mobile views, and a Tweet duplication tool for marketers who are planning bigger campaigns or who want to create multiple permutations of a Tweet. 
Twitter is launching a NEW tweet composer for building ad campaigns

✨ New features

– Intuitive new layout and design

– Real-time previews of your tweet for desktop + mobile

– Tweet duplication tool for bigger campaigns

More info: https://t.co/wDCZEWiuQ8 pic.twitter.com/AQsDY4EvWd

— Matt Navarra (@MattNavarra) October 21, 2020
LinkedIn 
Due to the increased reliance on virtual tools throughout the COVID-19 pandemic, LinkedIn users across the globe can now create video meetings via LinkedIn messaging. The platform has teamed up with Microsoft Teams, BlueJeans, and Zoom to enable users to access these platforms within LinkedIn. To do so, users can click on the video meeting icon, choose one of these providers, and sign in or register. Once users are signed in, they will not have to sign in again and will be able to generate a video meeting link within any LinkedIn message thread. Users also have the option to sign into multiple or all providers to easily switch between any service when creating a meeting link. 
The platform has also added some new additions related to its Events feature. First, it has added personalized event recommendations to users, which can be viewed in the "My Network" tab. LinkedIn will also begin sending a weekly Events digest email to users, which will help them stay up-to-date with relevant virtual events. In line with this, LinkedIn will also begin sending automatic notifications to a business page's followers when the brand creates a new event. However, this will not include all of the page's followers: rather, LinkedIn will send out the notification to users who are more likely to accept the invite. The app will look at a variety of factors, such as the user's interest, when determining who to send the notification to. Businesses will also now be able to create registration forms for their created events, prompting followers who sign up to include their names and email addresses. 
Pinterest 
In a move to further support creators and businesses from marginalized communities, Pinterest has added a few new features. First, Pinners will soon be able to self-identify if they are from an underrepresented group. Pinterest will then include these users' content in emerging spaces, such as the Today tab, The Pinterest Shop, and Shopping Spotlights. This will help to increase the representation and discoverability of these creators. Next, the platform is launching a campaign called "Make the World See Beauty," which will garner a conversation about building a more representative future in the beauty world. 
WhatsApp 
To increase customer service efficiency for brands during the pandemic, WhatsApp is rolling out some new updates over the coming months. First, the platform is working on expanding ways for users to check out available products and make purchases directly from a chat. Second, WhatsApp will be expanding its partnerships with business solution providers to better cater to the remote work structure. Lastly, businesses will be able to manage their WhatsApp messages through Facebook hosting services, which may better enable brands to organize their Business profile and mitigate customer relationships. 
That concludes our social media updates for the week! If you'd like to keep up with more digital marketing news, be sure to follow Spark Growth on LinkedIn! 
And if you're interested in learning more about the benefits of social media marketing, why not flip through some of our case studies? Click the link below to see some of the results we've achieved for our clients! 
Click here to read our case studies!