06 Nov

Facebook Launches #BuyBlack Initiatives

Another week, another Spark Social Report by Spark Growth! In further efforts to support Black-owned businesses, Facebook has expanded on its #BuyBlack campaign, and platforms like TikTok and LinkedIn have followed suit with similar initiatives. Scroll to read more of this week's social media updates! 
Facebook 
A few weeks ago, Facebook first announced its launch of #BuyBlack Friday, an initiative running from October 30 – November 27 that encourages users to support Black-owned businesses. Recently, Facebook added more features to the campaign such as a Gift Guide, Live Shows, and shared stories from Black entrepreneurs. 
The #BuyBlack Friday Gift Guide features various products from Black-owned businesses across the U.S., offering users the opportunity to sift through a catalog of curated products. The guide is categorized by industry, including but not limited to beauty, food, fashion, and home. When a user selects a product, they will be directed to the brand's website to complete the purchase. 
The #BuyBlack Friday Show is a Facebook Live segment that airs every Friday at 11 AM PT (Pacific Time) through November 27. The segment aims to highlight Black-owned businesses, celebrate Black culture, and encourage customers to buy from Black-owned brands. Each episode will be hosted by comedian Phoebe Robinson and will feature a different theme, as well as spotlighting different business owners and creators in every episode. Users can tune into these Live videos through Facebook's Lift Black Voices page. 
Lastly, Facebook will be sharing stories about Black entrepreneurs on its Lift Black Voices page as well. While it currently looks like this page is not yet available to users in all countries, users can still read these stories on the platform's Facebook for Business page on Instagram. 
Next, Facebook is publicly testing dark mode on its mobile app. Reverse engineering expert Jane Manchun Wong confirmed the news by sharing a video that she and Facebook made collaboratively (featured below). Though dark mode is already available on desktop, mobile users have been waiting for this feature. However, there is currently no official timeline on when dark mode for mobile will become a permanent fixture on the platform. 
Facebook is publicly testing Dark Mode! 🌙

You asked it, I chatted with Facebook's @alexvoica about it and here's a video made in collaboration with Facebook! pic.twitter.com/TGjdTXDxoP

— Jane Manchun Wong (@wongmjane) October 30, 2020
Facebook has also been spotted testing an upvote and downvote feature for comments in Groups. The option allows members to vote as to whether or not they think a new comment is valuable or not. This feature may be useful to help moderate discussions in Groups to better reflect the group's values. 
Facebook is testing reddit-like ⬆️⬇️ voting for comments in groups … again. pic.twitter.com/xRkg21s58G

— Matt Navarra (@MattNavarra) November 3, 2020
TikTok 
TikTok has announced a new agreement deal with Sony Music Entertainment. This deal will make songs from Sony's roster wide available to users on TikTok. In commenting about its new partnership, TikTok notes: "With this deal, the TikTok creator community will have access to sound clips from Sony Music's massive catalog of current hits, cutting edge new releases, emerging favorites, iconic classics and deep cuts from every genre of music for use in their TikTok content. TikTok and Sony Music will work together to support greater levels of TikTok user personalization and creativity on the platform, and drive new and forward-looking opportunities for fan engagement with SME's artists and music." 
TikTok is also adding to its own efforts to support Black businesses and artists by including a list of 40+ Black-owned businesses to its "Support Black Businesses" resource hub. This online hub also highlights the platform's #ShopBlack Hashtag Challenge campaign, which was announced last week.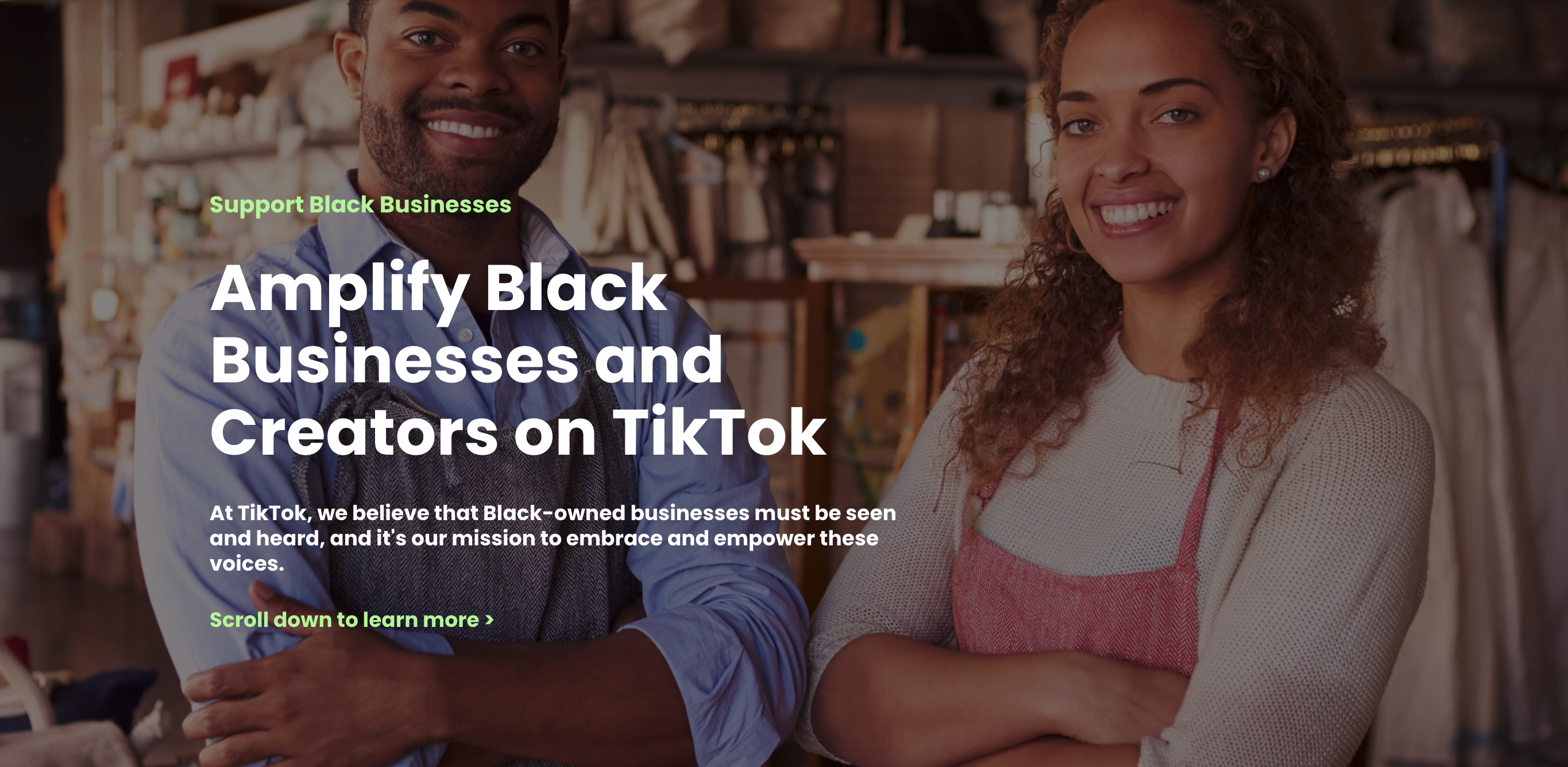 Instagram 
In light of the U.S. elections, Instagram temporarily removed the "Recent" tab from U.S. users' hashtag pages. This move was done to reduce the real-time spread of potentially harmful or misleading information surrounding the election. There is currently no word as to when Instagram will reinstate the Recent tab. 
As we near the U.S. elections, we're making changes to make it harder for people to come across possible misinformation on Instagram.

— Instagram Comms (@InstagramComms) October 29, 2020
Snapchat 
Snapchat has released a new guide for marketers to refer to when creating ads on the platform. From tips on choosing the proper format for a brand's objectives to following best practices for optimal engagement, this is a useful resource for advertisers to utilize, especially as the holiday season approaches. 
As well, creators now have the option to publicly display their subscriber count on their profile. This feature, which comes in the form of a toggle switch, will allow creators to showcase the size of their community. 
Wow! I can add my subscriber count to my public Snapchat profile now. pic.twitter.com/fjtiNFMTLk

— Mike Metzler (@MTZLER) November 3, 2020
LinkedIn 
LinkedIn is also working to amplify the voices of underrepresented groups. The platform launched a resource hub that aims to provide support for marginalized groups through virtual channels, citing its own dedication to improving diversity and inclusion within workplaces. The hub offers tips on best practices for optimal engagement as well as resources to LinkedIn's online courses, initiatives, and tools. 
WhatsApp 
WhatsApp has updated its storage management functionality. It's an easier and more user-friendly format where users can now see a visual overview of how their in-app space is being used, and which files can be deleted in bulk. Users will now be able to search through each chat's messages, images, videos, and other files to determine how to efficiently free up space. This new layout offers users a more comprehensive way to manage storage within the app, including thumbnails and data listings. Users can manage their storage by clicking into the app's Settings, going to Storage and Data, and selecting Manage Storage. 
That wraps up this week's social media updates! If you'd like to keep up-to-date with more digital marketing and social media news, be sure to follow Spark Growth on Twitter! 
And if you're interested in learning more about the benefits of social media marketing for brand awareness, click the link below to learn more! 
Click here to learn about our marketing services!