11 Dec

WhatsApp Gets Shopping Carts!

Welcome back to another Spark Social Report by Spark Growth! This week, Instagram is testing a countdown timer for Stories, YouTube is updating its harmful content policies, and WhatsApp gets shopping carts. Keep reading for more social media updates.
Facebook
For brands in the auto industry, this update's for you! Facebook is making it easier for auto dealers to promote their inventory on its app. The updates include a new "Manage Inventory" tab, an easier ad set-up process, and a new shoppable "Vehicles" tab on Facebook Pages. The updates are available to dealerships based in the U.S.
[Source]
With the updates to data privacy laws in Europe, Facebook is preparing to make some changes to its Messenger API (application programming interface). Some users may already be experiencing the impact of the new policies in effect, such as messaging and messaging-related insights being disabled. While Facebook states that it's looking at ways to help developers and businesses who use important Messenger API features, there's no concrete plan shared to the public as of yet.
Next, with COVID-19 vaccines rolling out over the coming months, Facebook has updated its content policy and will be removing any false claims made about the vaccine. An example the company shared includes misinformation about the ingredients found in the vaccine and its safety. Facebook notes that this process will be gradual as new information about the vaccine continues to be released.
Creator Studio, a dashboard where Facebook users can create posts to share on their Page, may get more Instagram options in the future. Social media specialist Matt Navarra shared a screenshot showing Facebook testing with an Instagram content calendar that shows past and scheduled post activity.
New! Facebook Creator Studio now has a content calendar tool for Instagram

h/t @ahmedghanem pic.twitter.com/p4pU9Txtv9

— Matt Navarra (@MattNavarra) December 9, 2020
Last but not least, both Facebook and Twitter will be updating how they will deal with hate speech on their apps. Facebook will be completely revamping its algorithm that monitors hate speech, noting that its new system will detect and remove "the worst of the worst" content that targets groups such as minorities, the LGBTQ community, and Muslims.
Twitter
Continuing on to Twitter, in an update to one of its previous blog articles, Twitter has also made some updates to its rules concerning hateful content. Reported content that goes against Twitter's policies will be removed. If a user repeatedly posts harmful content, the account may be temporarily locked or suspended entirely.
Next, it looks like one of Twitter's recent experiments has come to an end as the company announced it has turned off threaded replies. While the layout was meant to help direct the flow of conversations on the app and give users a clearer indication of who responded to which comment, user feedback was actually the opposite. The threaded replies, which function similarly to Reddit comment threads, can be seen in the video below. Twitter will be taking user feedback into consideration as it makes updates to this feature.
Your feedback shapes Twitter.

We asked and you let us know this reply layout wasn't it, as it was harder to read and join conversations. So we've turned off this format to work on other ways to improve conversations on Twitter. https://t.co/pA4Yd0QfyW

— Twitter Support (@TwitterSupport) December 3, 2020
Reverse engineering expert, Jane Manchun Wong, spotted a new Twitter test that limits replies to followers only. The company has been testing with setting restrictions to tweet replies for some time and this latest experiment could help users filter out unwanted spam. There's no official word yet on whether this feature will be released.
Instagram
By now, most of us are familiar with Stories on social media—they're short videos that only last for 24 hours on your profile. With such a short timeframe to view the content, Instagram's latest test shows users how much time is left before a Story expires. This type of countdown is not only convenient for users but may also boost engagement as well by giving the limited-time content a sense of urgency. There's no official word yet on when this feature will be released so stay tuned!
Instagram is now showing time left to view a story before it expires https://t.co/eUgMwOUV3p

— Matt Navarra (@MattNavarra) December 8, 2020
Shopping features have officially been launched globally for Instagram Reels. Users can now tag specific products in their Reels, which allows others to tap on the product tag to make a purchase or save it for a later date. With this new addition, shopping features are now a part of every Instagram feature, turning the app into an even more effective resource for businesses.
Have you started your holiday shopping yet? In the U.K., Instagram is launching its first-ever shoppable Christmas catalog to support small businesses. The Instagram Christmas Edit: Supporting Small Businesses features a variety of influencers who are highlighting unique British brands, ranging from food to fashion.
[Source]
Snapchat
Ever wanted to give your Bitmoji a Levi's makeover? Snapchat's latest partnership lets users dress up their avatar with clothing from the Levi's collection, including jackets, shirts, and jeans. Snapchat users can choose between 12 curated outfits or mix and match with the available items. After customizing their Bitmoji, you can also use it in Snapchat's AR (augmented reality) lens, Bitmoji Stories, and Snap Map.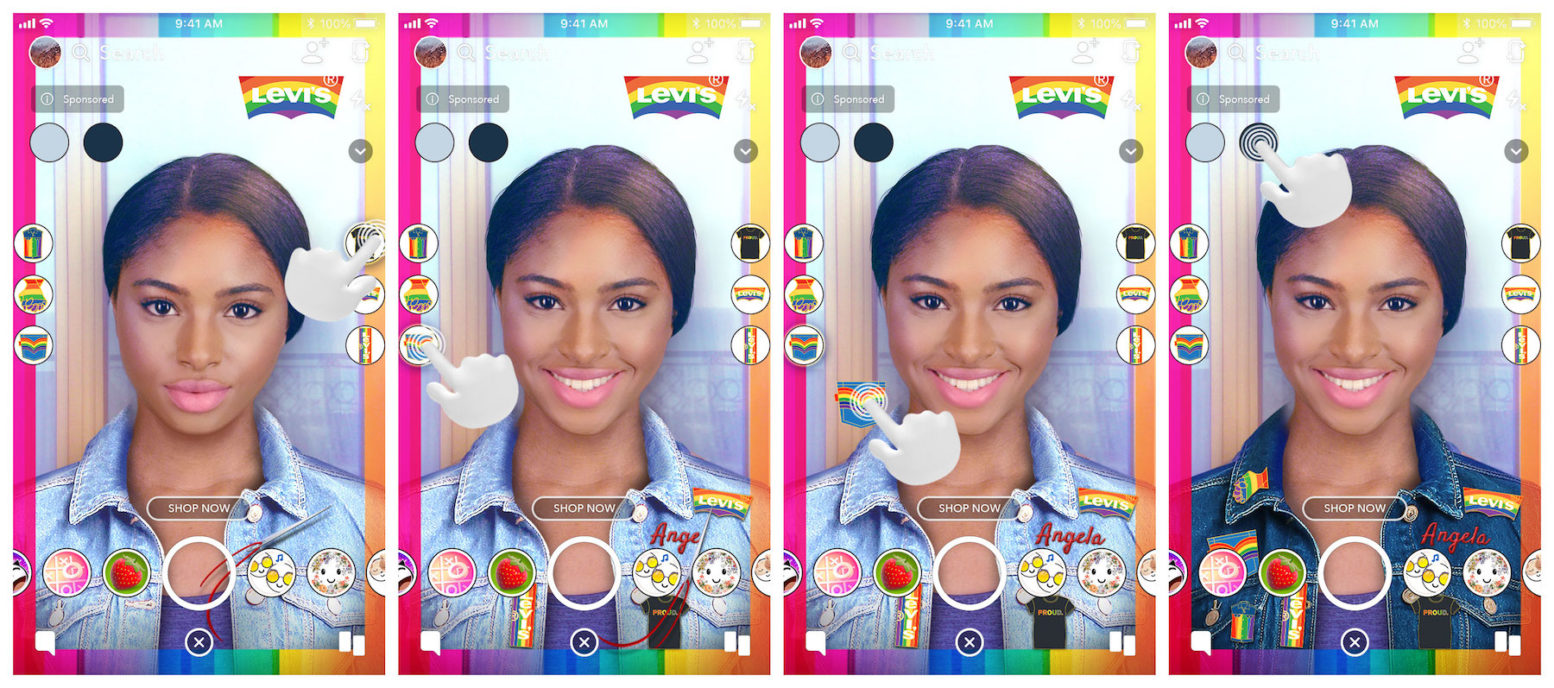 [Source]
Earlier this week on December 8th, Snapchat launched its first-ever Lens Fest, which highlights content creators and provides updates on AR developments. The online festival isn't just going to entertain viewers, but it's also meant to inspire others to use the app's AR tools. To kick-off the festival, Snapchat also announced a $3.5 million fund to support Lens creators and developers.
YouTube
In its continuous efforts to make YouTube a more inclusive platform, Johanna Wright, Vice President of Product Management at YouTube, made some updates on how the process is going. First, YouTube Studio will be getting a new feature that can filter out harmful content before content creators read or flag it themselves. The app will also be getting a feature that warns users that their comments may be offensive, giving them time to rephrase or delete their comment before posting it. Wright also notes that the company has been investing in technology that is more effective in detecting harmful content by analyzing the video topic and comment context before making a decision.
Next up, YouTube is currently testing a feature that would allow users to appeal their channel suspension. After submitting an appeal, YouTube's policy team will review the video that led to the suspension while also looking at the user's entire channel. Successful appeals result in a channel's monetization being turned back on before the 30-day suspension window. There's currently no word yet on when this feature will be widely released, but YouTube is hopeful that the appeal program will be expanded in the future.
WhatsApp
A major trend we've seen this year is the rapid addition of shoppable features on social media platforms, like shopping carts that let users send orders right from the app. Just in time for the holiday season, WhatsApp is now getting shopping carts as well! When browsing through a shop's catalog, users can add multiple products to their cart. Not only is this convenient for shoppers, but it also helps businesses keep track of bulk orders by only dealing with a single message from the customer. To learn more about how to use the WhatsApp shopping cart, click here to view the F.A.Q.
WhatsApp has released new chat backgrounds that users can use to customize their chat threads. Just take a look at the video below for a sneak peek! You can also expect to see new dark mode-specific wallpapers that work better with darker tones.
Beautiful new wallpapers coming to WhatsApp, including custom chat wallpapers… pic.twitter.com/26bhVXzDZ3

— WhatsApp (@WhatsApp) December 9, 2020
Reddit
Remember that top post in that subreddit you used to follow? Instead of trying to remember what it was, you can now go back in time and find it yourself. Reddit has launched Rereddit where users can search the top posts on any given day, month, and year. Users can currently see posts from as early as 2008.
Reddit has also released a winter holiday collection which can be used to dress up your avatar. Take a look at some of the options below! These accessories will be available to Reddit Premium members.
[Source]
That's all for this week. Be sure to check in next Friday for more social media updates! If you haven't already, follow us on LinkedIn to stay updated on the latest social media news.
Many brands launch new marketing campaigns during the winter season such as Engage and Change, one of our past clients. Visit the link below to read about our campaign, Project Winter Survival, and how we achieved over 13 million hashtag impressions.
Learn how we won the Non-Profit Social Media Award Winner!