26 Feb

Platforms Supporting #NEDAwareness Week

We've got more social media updates for you in our latest Spark Social Report by Spark Growth! This week, Instagram, TikTok, and Pinterest made updates to support National Eating Disorder Awareness Week, also known as #NEDAwareness Week. Read more below! 
Instagram 
In light of #NEDAwareness Week (February 22 – February 28), Instagram has created new resources to support people affected by eating disorders and negative body image. 
First, when users try to search for terms related to disordered eating, Instagram will showcase contacts for local eating disorders hotlines in specific regions. This includes the National Eating Disorder Information Centre in Canada, the Butterfly Foundation in Australia, and Beat in the U.K. Additionally, users will be supplied with other resources that were built in partnership with the National Eating Disorders Association (NEDA) in the U.S. 
[Source]
Second, Instagram is hosting feedback sessions with global and local experts to learn more on how it can improve its approach on the topic of eating disorders. Lastly, Instagram has been working with NEDA to share relevant programming during #NEDAwareness week. Creators and community leaders such as @mikzazon, @jamesissmiling, and @kendramorous are sharing Reels content that encourages positive body image, pushes back against weight stigma and harmful stereotypes, and reinforces the fact that all bodies deserve to be celebrated. 
TikTok 
UFC fans rejoice! TikTok recently announced a multi-year partnership with UFC, the world's largest mixed martial arts promotion company. This will result in exclusive weekly UFC livestreams on TikTok, featuring pre-and post-fight access, behind-the-scenes footage with UFC athletes, and other exclusive content. Users will be able to access this content on the UFC, UFC Russia, UFC Europe, and UFC Brasil TikTok pages. 
Now, when TikTok users search for keywords related to eating disorders—such as #edrecovery—the platform will provide access to the NEDA Helpline, which will offer users help, support, and information about treatment options. Additionally, TikTok has worked with eating disorders experts to provide tips to struggling users, such as focusing on one's own positive attributes or supporting a friend who may be struggling. Lastly, TikTok has worked with NEDA to introduce permanent public service announcements attached to hashtags like #whatieatinaday, #emotionaleatingtips, #bingerecovery, and others. These PSAs are aimed at driving awareness and fostering support around recovery and those affected by eating disorders. 
Canadian brands have new advertising opportunities on TikTok! The platform has expanded its self-serve advertising tools through the TikTok for Business hub and TikTok's Shopify channel to Canadian businesses. The simple interface and resources allow brands to easily create campaigns and reach their target audiences on TikTok. With the Shopify channel, Canadian merchants will be able to run promotions on TikTok, offering the ability to connect with the TikTok community. 
Facebook 
In order to better educate its users on climate information, Facebook is expanding and improving its Climate Science Information Center. The center now has a section featuring facts that debunk common climate myths. Facebook consulted climate communication experts from George Mason University, the Yale Program on Climate Change Communication, and the University of Cambridge for this information. Though the information center was already available to users in the U.K., U.S, France, and Germany, it has now expanded to users in Belgium, Brazil, Canada, India, Indonesia, Ireland, Mexico, the Netherlands, Nigeria, Spain, South Africa, and Taiwan.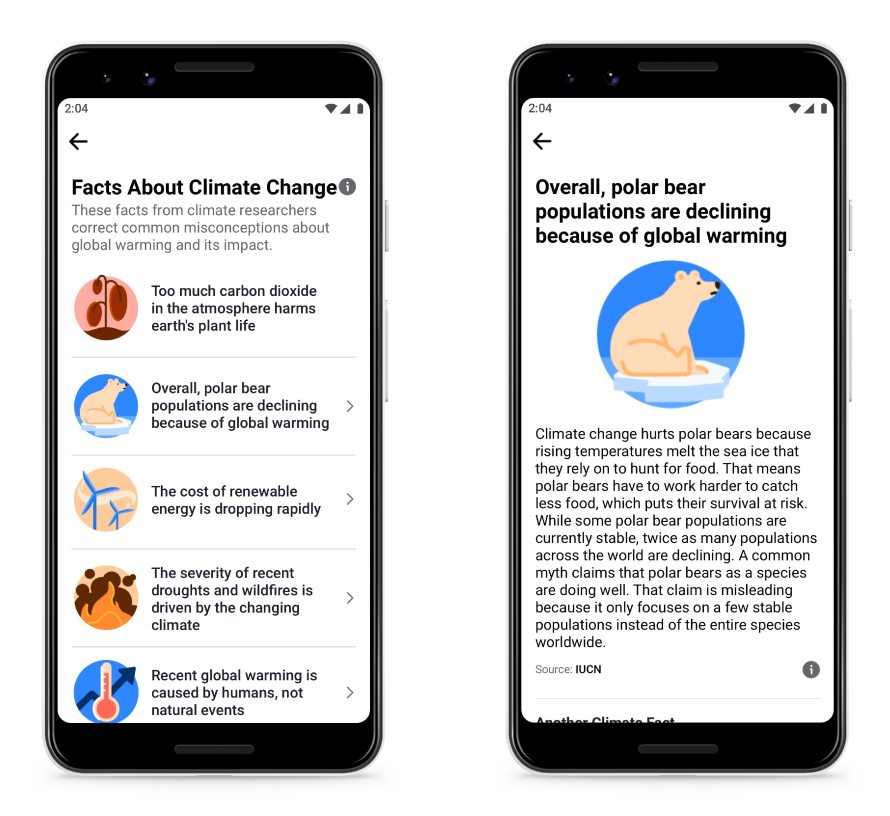 [Source]
As mentioned in our article last week, Facebook had announced that Australian users could no longer view or share news on the platform following proposed laws that would require digital news platforms to pay for journalism. However, after reaching an agreement with the Australian government, Facebook has now restored Australian news pages. Here's what Facebook had to say of the decision: "After further discussions, we are satisfied that the Australian government has agreed to a number of changes and guarantees that address our core concerns about allowing commercial deals that recognize the value our platform provides to publishers relative to the value we receive from them. As a result of these changes, we can now work to further our investment in public interest journalism and restore news on Facebook for Australians in the coming days." 
Facebook has also announced new measures to better detect and remove content that exploits children. The platform is testing two new tools: the first is a pop-up shown to users who search for terms that are associated with child exploitation. This pop-up will offer ways to get help from offender division organizations, and highlights information surrounding the consequences of viewing illegal content. The second pop-up is a safety alert for a user who shares exploitative content featuring children, which will inform them about the harm this type of content can cause, warns that it is against Facebook's policies, and states that there are legal consequences for sharing this material. Facebook will also remove the content and report it to the National Center for Missing and Exploited Children (NCMEC). 
Additionally, Facebook has made improvements to its exploitative content detection capabilities and has updated its child safety policies to clarify the process. It will remove profiles, Pages, Groups, and Instagram accounts that share images of children with captions, hashtags, or comments containing inappropriate signs of affection or commentary about the children shown in the image. Lastly, Facebook has made it easier for users to report content that violates its child exploitation policies: under the "Nudity & Sexual Activity" category of reporting, there is now an option to choose "involves a child." 
Last on the list of Facebook updates, some good news for merchants in the U.K. and Canada: Facebook Shops is now rolling out to businesses in these two regions! Eligible brands will be able to set up their eCommerce storefront on Facebook and Instagram, offering a new way for customers to discover and shop for their products. 
LinkedIn
LinkedIn is developing a new service called "Marketplaces," which will allow users to find, book, and pay freelancers for contracted work. This is similar to popular freelance platform Upwork. If LinkedIn succeeds with Marketplaces, this could increase the app's function and provide more direct career opportunities for its users. However, there is currently no word on when this service will be available. 
The platform is also adding new tools for brands to strengthen their online presence and communities. First are updates to the "My Company Tab" on users' LinkedIn Page. Now, Page admins will see a "Recommend" tool that suggests trending articles for employees to reshare through a new "Content Suggestions" tool. The platform also added a new Analytics feature, which will help users measure the reach and impact of their employee advocacy program. LinkedIn has also brought Lead Gen Forms to Product Pages for free, which are forms that allow users to drive more high-quality leads through pre-filled forms populated with a member's LinkedIn profile data. 
Twitter 
Last year, Twitter launched a limited test where warning prompts would appear on Tweet replies which contained potentially offensive remarks. Now, Twitter is re-launching these alerts with a new format that asks users if they want to review their reply before tweeting, as it may include potentially harmful or offensive language. This feature may help to control and decrease inflammatory conversations on the platform. 
Say something in the moment you might regret? 😬 We've relaunched this experiment on iOS that asks you to review a reply that's potentially harmful or offensive.

Think you've received a prompt by mistake? Share your feedback with us so we can improve. pic.twitter.com/t68az8vlYN

— Twitter Support (@TwitterSupport) February 22, 2021
Twitter is also planning a safety feature where users can automatically block and mute abusive accounts. According to The Verge, Twitter described the feature as a toggle option where users can automatically block accounts that appear to break Twitter Rules and mute accounts that might be using insults, name-calling, strong language, or hateful remarks. This feature may help to reduce abusive content on the Twitter platform. 
[Source]
WhatsApp
WhatsApp shared updated plans on how it will ask users to review its terms of service and privacy policy. After encountering backlash and misinformation about the update which took place in January 2021, the platform is continuing to try and clear up confusion amongst users. To do so, WhatsApp will display a banner in the app to provide users with more information. It has also included more information in its Help Center to address common user concerns surrounding the update. 
Pinterest
Pinterest is another platform that is supporting #NEDAwareness Week and has partnered with NEDA to help raise awareness, share educational content, make resources available to those in need, and build communities of support and recovery. #NEDAwareness Week's 2021 theme is "Every Body to Have a Seat at the Table," and as such, Pinterest is donating ad credits to encourage people to tune into the organization's events and roundtables. Additionally, Story Pins are being used to generate further awareness, and a feature on the Today Tab is educating users about eating disorders communication and recovery. 
[Source]
Pinterest users can also now paste the URL of any Pin onto a OneNote page or Word for web document! When pasted, the Pin will render it as a live interactive embed. The company states that this feature has been created after receiving many user requests for a Pinterest integration with OneNote, particularly from educators who use Pinterest to save content for lesson plans and other digital materials for the classroom. 
YouTube 
YouTube has announced an onslaught of new programming for YouTube Kids! The platform previously announced a $100 million commitment to invest in quality kids, family, and educational programming, and these new shows have been developed in collaboration with experts in areas related to child safety, child development, and digital literacy. These shows are now available on the YouTube Originals for Kids and Family channel, with much more content on the way. Visit YouTube's webpage here for a full list of the newly premiered titles! 
YouTube has also announced new account supervision features for parents. The experience will initially be launched in beta, with the option for parents to allow their teens or tweens to access YouTube through a supervised Google Account. There will be three content option settings to choose from. First is Explore, which will transition children from YouTube Kids to YouTube, and will feature a range of videos that are generally suitable for viewers ages 9 and over. Second is Explore More, which will include content generally suitable for viewers ages 13 and over, and will feature a larger range of videos. Last is Most of YouTube, which will contain almost all videos on YouTube except age-restricted content, and will include sensitive topics that might only be suitable for older teenagers. 
Clubhouse 
The popular audio-based social platform is dealing with new security concerns after a data breach this past weekend. A spokesperson for Clubhouse stated that an unidentified user was able to stream Clubhouse audio feeds from multiple rooms into their own third-party website. The platform then permanently banned the user and installed new security measures to avoid a repeat offense; however, Bloomberg cites researchers who say Clubhouse may not be in a position to promise it won't happen again. Platforms like Zoom and Houseparty saw similar security breaches earlier in 2020, so it will be interesting to see how Clubhouse continues to address and improve its own security features.

That's all for this week! Don't forget to follow Spark Growth on Twitter for more of the latest digital marketing news. 
As seen by all the platforms raising awareness for important causes, social media can help create positive change. Just take a look at how we helped a charity surpass its goals through our customized digital marketing program! 
Read our Engage and Change case study!