12 Feb

TikTok Announces New Licensing Deal with Universal Music Group

We have more social media updates for you in this week's Spark Social Report by Spark Growth! TikTok and Universal Music Group released a new global partnership agreement and more. Scroll for more updates! 
Facebook 
With COVID-19 vaccinations becoming available for people across the globe, Facebook has updated its COVID-19 Information Center to offer relevant and easily accessible vaccine information. For U.S. users, Facebook will feature links to local ministry of health websites to help users understand if they are eligible to get vaccinated and how they can do so. In the coming weeks, this feature will become available in other countries as well. Facebook is also giving $120 million in ad credits to help health ministries, nonprofit organizations, and United Nations agencies reach a larger global audience with their information on the COVID-19 vaccine and preventive health. 
The platform is also expanding its efforts to remove false claims on Facebook and Instagram about COVID-19 and vaccines. Facebook has added these claims to the list of topics that are subject to being removed: the idea that COVID-19 is man-made or manufactured, vaccines are not effective at preventing the disease they are meant to protect against, it's safer to get the disease than to get the vaccine, and vaccines are toxic, dangerous or cause autism. 
In light of Safer Internet Day on February 9, Facebook announced new safety feature updates for users. In addition to its existing Safety Notices, App Lock, and Forwarding limits, the new update to Message requests now gives users more context on who the requestor is, bulk delete options, and blurred images or videos. The platform is also testing a simplified reporting process to help users easily take action against harassment and abuse. Lastly, the block and delete options are more prominent in request threads, and Facebook has added more transparency in Privacy Settings for users to easily review the accounts they have blocked.
[Source]
Next, the online shopping process on Facebook and Instagram is becoming even more streamlined! Shopify has expanded Shop Pay to all Shopify merchants selling on Facebook and Instagram, offering faster and more efficient secure online payments. Shop Pay also gives users access to a global order tracking service to track purchases, get updates, and manage their orders.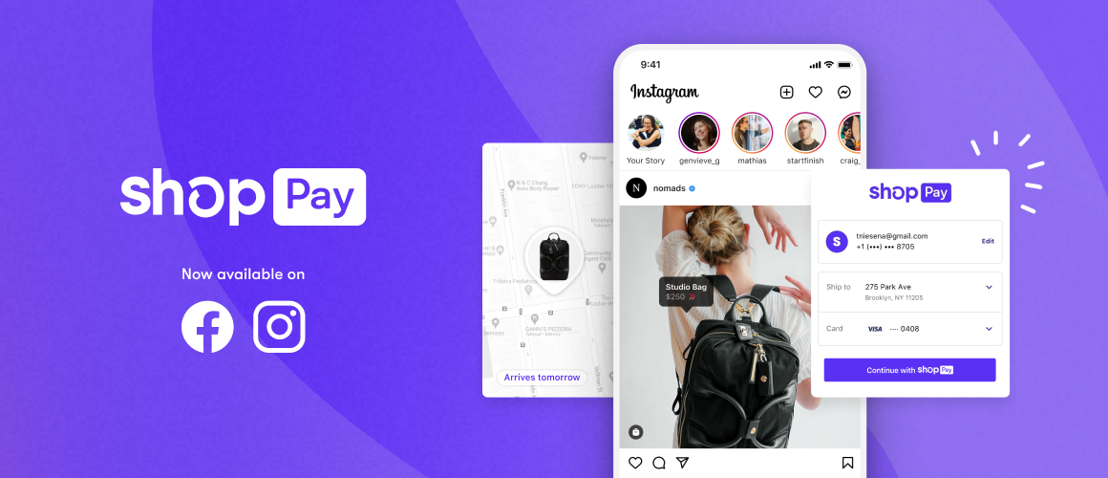 [Source]
For Black History Month, Facebook has launched a series of new initiatives. First, Facebook has created a guide for businesses that highlights Black history and provides resources and recommendations on how to better support the Black community. Included is a Black-owned business GIPHY sticker pack: users are encouraged to use them to celebrate and empower the Black community, during and beyond Black History Month. Find the full guide here. Facebook Elevate, the platform's resource hub that supports Black, Latinx, and Hispanic-owned businesses, is celebrating Black History Month through its "Generation Black" theme. Throughout February, Elevate will host online events with Black creators and provide spotlights on Black-owned businesses.
Lastly, it appears that Facebook is expanding its test on how users can share Instagram Reels on Facebook. The latest spotting, featured below, shows a prompt for creators to share their Reels to Facebook in order to grow their audience. If and when this feature is released to all users, this will be a great way to gain further exposure on Reels content, which is Instagram's short-form video format. 
Just got this message.
(It displays an error message when I tap on Allow. The 'Learn more' link is still broken. pic.twitter.com/NqI22ntEnZ

— Varun (@VarunBanur) February 4, 2021
Instagram 
On the topic of Reels, Instagram is cracking down on users who are reposting their TikToks on Instagram Reels, which has become a widely common trend. 
Last month, Instagram released a guide on its Creators account on the "Do's and Don'ts of creating optimal Reels videos, and strongly encouraged users to create original content using the Reels camera. This week, Instagram makes an even clearer stance: its latest Creators guide advises users not to post Reels content that is "visibly recycled from other apps (i.e. contains logos or watermarks)," and even goes so far as to say that the algorithm will not recommend these posts as often to other users. Though Instagram does not explicitly call out TikTok by name, it's clear that this is what is being referred to. 
[Source]
Instagram is also enhancing its efforts to tackle abuse and hate speech on the platform, particularly within direct messages. The platform is working to improve its detection tools to identify instances of hate speech faster, and will also be taking tougher action against users who break Instagram's rules in DMs. Until this point, users who send DMs that break Instagram's rules were prohibited from sending more messages for a set period of time. Now, if a user continues to send violating messages, Instagram will disable their account, and will also disable new accounts that try to get around the platform's messaging restrictions (i.e. accounts that are created solely to send abusive messages). Instagram has also said that it's working on a new feature designed to address the issue of hate speech in DMs, but have not given more details as to what the feature is. 
For Black History Month, Instagram for Business has launched an initiative called "We Create". We Create is a creative collaboration between 15 Black creative professionals and 15 Black-owned small businesses. The goal is to provide inspiration and opportunities through custom Instagram content that addresses each business' needs. 
LinkedIn 
LinkedIn has announced new measures to help its members drive more equitable outcomes both within and outside the workplace. First, users in the U.S. will see a prompt on their LinkedIn profile to self-identify by sharing their demographic information, and that its AI systems are being designed and updated to use this information to spot potential bias. Next, LinkedIn's Conversations for Change series will focus on highlighting the experiences of Black professionals. 
The platform has also released a Diversity, Inclusion, and Belonging for All path on LinkedIn Learning to help users better understand how to implement diversity and inclusion efforts in the workplace. Though these initiatives are part of LinkedIn's Black History Month efforts, the platform notes: "This is not a month-long project, but rather a journey. Systemic change takes time. But we're making progress." 
Twitter 
Twitter has removed its Ads Transparency Center (ATC), citing that it no longer provides its original intended value. The ATC was initially launched in 2018 to offer more insight into Political and Issue ads on Twitter. However, Political and Issue ads became officially prohibited in 2019, and Twitter also established a mandatory Cause-Based Ad certification and review process, all of which have resulted in the ATC becoming obsolete. However, marketers who want to see ATC data from all Political ads running between May 2018 – November 2019 and Issue ads that ran from August 2018 – November 2019 will still be able to access archived versions. 
Snapchat 
Snapchat is also making platform updates for Safer Internet Day. First is "Friends Check Up," a new alert on a user's homepage which will prompt them to tap and review their friends list. This encourages users to ensure their list is full of people they still want to be connected to and allows them to easily remove any unwanted connections. According to Social Media Today, Snapchat is also partnering with ConnectSafely in the U.S. and Childnet in the U.K. to create filters that will allow users to swipe up for additional safety resources. The platform is also partnering with The Trevor Project to better support mental health among LGBTQ+ youths. Lastly, the platform is partnering with MindUP on an online course for parents. It will be available globally and offers tips, tools, and strategies for parents to better support their teens. 
Pinterest 
Pinterest has added a new widget for iOS users called "Interests," where users can choose their top interests and have related content shared to their home screen. Some category examples for Interests include Food, Home Decor, Beauty, Quotes, and Men & Women's Fashion. Users can also customize the update cadence depending on how often they want to see new content. This widget will allow users to access Pinterest content more easily. 
[Source]
TikTok 
TikTok has become known for its music-centric culture and as a platform for users to discover new music and artists. As such, TikTok and Universal Music Group (UMG) announced a new licensing agreement. The global agreement covers recorded music from artists at UMG's labels and songwriters with Universal Music Publishing Group. With this new partnership in place, TikTok users will now be able to incorporate clips from UMG's full music catalog. The agreement will also deliver equitable compensation for recording artists and songwriters. Both TikTok and UMG have also stated that, through this partnership, they will be experimenting with new features on the platform. 
It also looks like eCommerce options will become more prominent on TikTok, as it has briefed advertisers on three new eCommerce integrations. This includes a tool that lets the most popular users share links to products and automatically earn commission on any sales; the ability for brands to showcase catalogs of their products on the platform; and "livestreamed" shopping, which allows users to tap and buy products after seeing them showcased by TikTok creators. 
That wraps up this week's social media updates! Don't forget to follow Spark Growth on Facebook for more of the latest digital marketing news. 
And while we're on the topic of eCommerce, we want to ask you: have you set up a digital storefront for your business yet? If you're not sure how to get started, click the button below to schedule a conversation with one of our social media experts today! 
Book your 30-minute consultation!