01 May

New Video Tools Coming to Facebook

Welcome to the first ever Spark Social Report by Spark Growth! You may notice that our name has changed (previously "Spark Bites") but rest assured, the content is still the same! This week, Facebook released a range of new tools for video, and Instagram announced "Live Donations" that allows users to raise funds for nonprofit organizations. Scroll to read more of this week's social media updates! 
Facebook
Facebook has launched a number of new video tool options to help users stay better connected during the coronavirus pandemic, as announced by CEO Mark Zuckerberg in a (fittingly appropriate) live stream. First, Messenger will be getting new effect tools for video chatting, such as 360-degree virtual backgrounds and "Mood Lighting." Second, a new tool called "Virtual Date" will be added to Facebook Dating, which allows users to invite a potential match to a video call. 
Next, the option to bring in guests on Facebook Live will now be available again, after being pulled as an option last December. Live video events will also become available, allowing users to schedule an Event that will link to a Live session. This feature will be particularly useful for small and mid-sized businesses who have had to close due to COVID-19, as this feature has the option to charge video event fees. Lastly, Facebook is releasing "Messenger Rooms," a Zoom-like option that allows users to start "unplanned hangouts" with friends and family. Users will be able to start a Room at any point, and a listing of active Rooms will display at the top of users' News Feeds. 
Additionally, Facebook has added an "Animate" option to add motion to still images on Stories, with a few basic options such as a close-up or panning effect. This feature provides further variation for users to experiment with on their Stories. 
Here's how Facebook's NEW 'Animate' feature for Stories works… pic.twitter.com/Sn5Kxz9JaE

— Matt Navarra (@MattNavarra) April 22, 2020
In its efforts to make profiles and pages more transparent—particularly in lieu of the upcoming 2020 US elections—Facebook is adding new location transparency measures. These updates will provide the location of every post a "high-reach" Page and Instagram account shares, in order to allow users to better gauge the reliability and authenticity of a profile's content. The feature is currently being piloted in the U.S.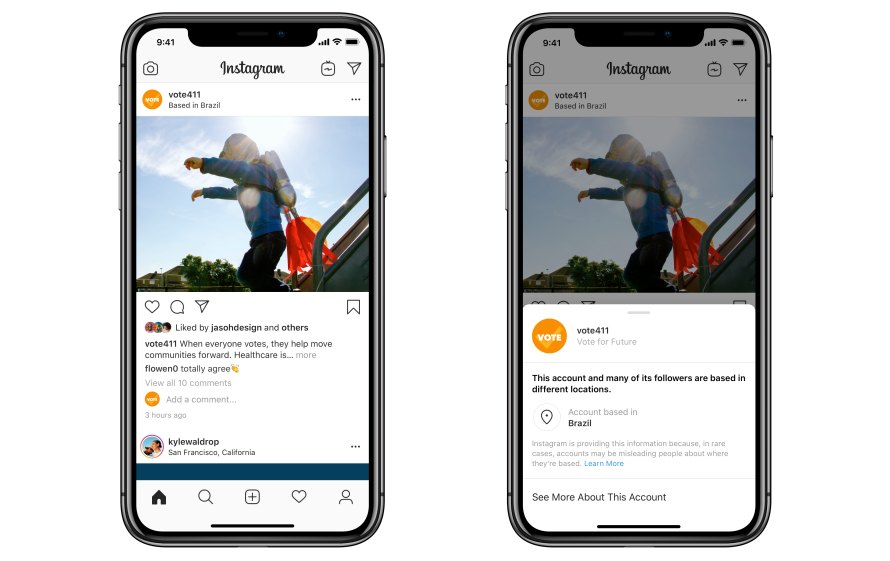 Instagram
This week, Instagram announced it will introduce "Live Donations" to Instagram Live, allowing users to create a fundraiser to raise money for charities. Users can select a charity of their choice to raise money for and once they have started a Live broadcast, users can view the amount of money being raised in real time. 
Reverse engineering expert Jane Manchun Wong has uncovered that Instagram is testing an account memorialization feature. As described in Wong's screenshot (pictured below), a memorialized page is a "place to remember and celebrate someone's life after they've passed away." Instagram has officially confirmed that it is working to fast-track this feature. 
Instagram continues working on account memorialization

adds this sheet of "Remembering <user>"

The link in this sheet brings us to Instagram's Help Center page on this topic: https://t.co/0Ztal3Vxh5 pic.twitter.com/3xHvmGH9MW

— Jane Manchun Wong (@wongmjane) April 21, 2020
The platform has also launched an initiative called #MonthOfGood for users celebrating Ramadan this month. In light of the COVID-19 pandemic and social distancing efforts, interactions with family and friends are often limited to virtual-only. Thus, #MonthOfGood will better allow users to maintain connections and support during this time. Instagram is encouraging users to utilize the branded hashtag to help spread positivity, has added a festive Stories effect, and is planning to feature various content creators throughout the month who are highlighting their own moments during Ramadan.
Twitter
Twitter is currently testing a new option to display retweets, which would combine both "Retweets" and "Retweets with comments" into one singular Retweets tab. Users can then click into Retweets, where the two options are numbered and categorized respectively. Based on user feedback, it appears that this feature has been long awaited, as this option will more accurately reflect the overall Retweet number (whereas currently, the numbers are kept separate). 
Twitter is now combining RTs and RTs with Comment in their native app stats. #smsports pic.twitter.com/bHSWVZqbHR

— Bruce Floyd (@brucefloyd) April 22, 2020
TikTok
TikTok has launched a new initiative entitled "Small Gestures," a feature that allows users to send a gift to family and friends from a list of brands the app has partnered with. Some gift options include free trials and subscriptions, gift cards, and coupon offers, with brands like DoorDash, Essie, Skillshare, and Adobe among the list. This feature allows users to spread feelings of positivity and support among the platform,  while simultaneously boosting brand awareness and potential e-Commerce sales for partnered organizations. 
TikTok has also released "Donation Stickers," wherein users can donate to various charities that are partnered with the platform, such as the CDC Foundation or Meals on Wheels. These stickers can be embedded directly into videos and live streams. When a user taps on a sticker, a pop-up window will appear with more information on how they can donate. TikTok has stated that it will match all donations made until May 27, 2020. 
LinkedIn
LinkedIn is testing new visual options for link previews on posts. According to Social Media Today, the feature "uses adaptive coloring in the background of the header title pane, based on the dominant color in the preview image." Currently, link previews have a light gray background.
LinkedIn testing a new darker-coloured theme for link previews in news feed?

h/t @ryanowengibson pic.twitter.com/1ITQTuoq3z

— Matt Navarra (@MattNavarra) April 28, 2020
Zoom
In response to recent privacy concerns, the popular video conferencing app released a new privacy update in its 5.0 version. The platform promises stronger security enhancements, which will help to provide meeting data with more effective protection. 
That's all for this week's updates! Be sure to follow Spark Growth on Twitter for more social media-related news!