16 Apr

Automatic Captions on TikTok

We're back and better than ever with a new Spark Social Report by Spark Growth! Starting today, we're changing things up a bit: every two weeks, we'll cover the latest social media updates and also provide our expert take on the digital marketing trends you need to know! Scroll down to see our new format! 
Digital Marketing Trends
In the U.S., YouTube and Facebook continue to be the most popular social apps among users. However, apps like TikTok, Snapchat, and Reddit have risen in popularity, particularly among users under 30. For instance, according to this study done by Pew Research, TikTok is being used by 21% of the population, and Reddit adoption has increased by 7% among participants. Brands that are looking to reach younger demographics online should consider exploring these platforms. 
Next, research from the Influencer Marketing Factory has shown that 40% of Gen Z and Millennial users in the U.S. are doing their shopping through social media. This number grew by 25% in 2020 and is expected to grow another 13% in 2021. Statistics like these showcase the continual growth and success of "social commerce," a term that denotes e-commerce on social media platforms. If your brand hasn't set up an e-commerce storefront yet, now is the time to maximize this opportunity to drive sales for your business! 
Social Media App Updates
TikTok
TikTok users can now add automatic captions onto their videos in order to make their content more accessible for all viewers (e.g. those who are hearing impaired). The captions feature can be accessed on the editing page once the user has uploaded or recorded their video. Once enabled, it will create an automated overlay on the upload, where the text will automatically be transcribed and displayed on the video.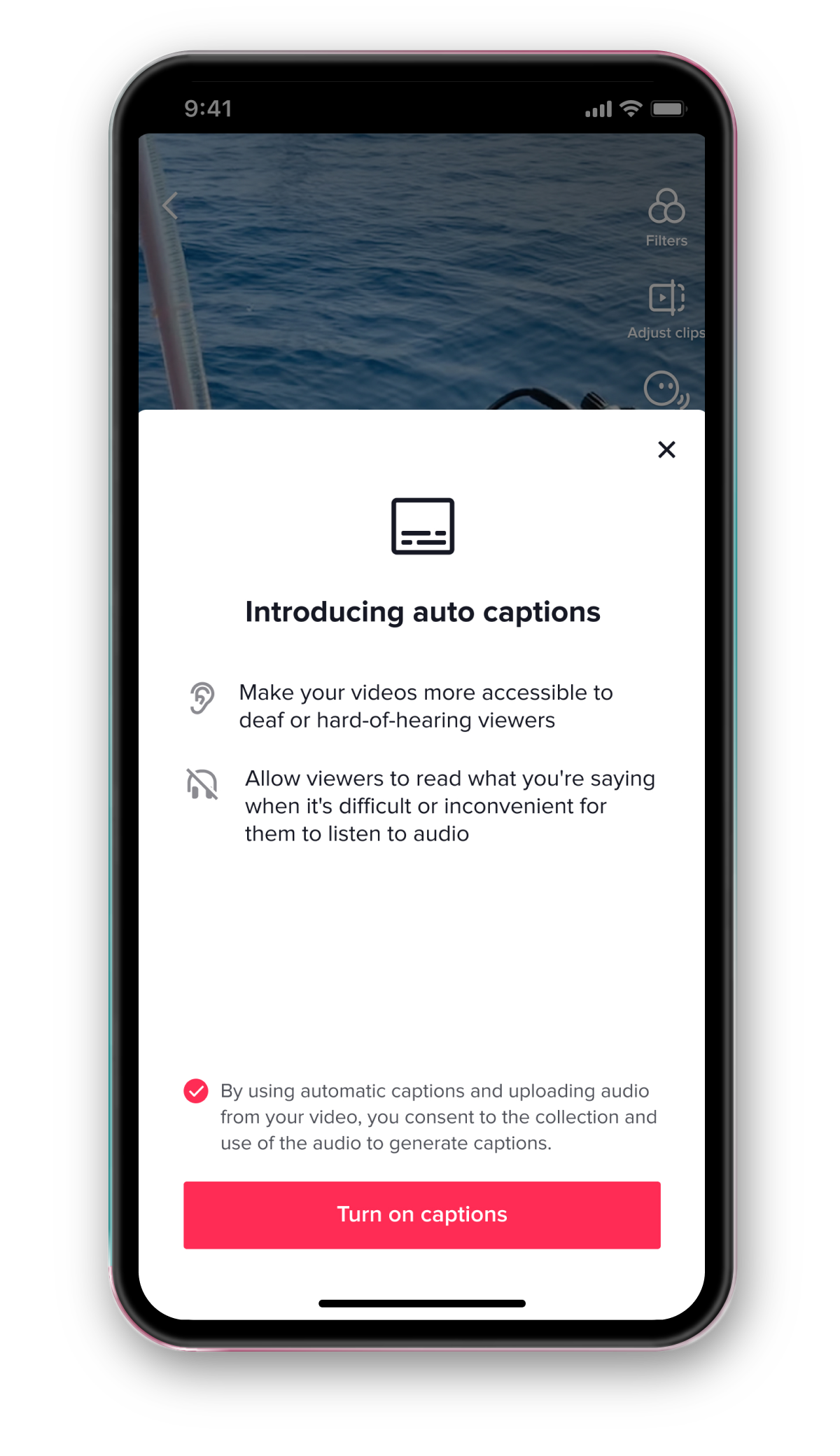 [Source]
TikTok has also launched a new video editor tool, which is aimed at helping brands create more authentic-feeling ads on the platform. The editor tool gives marketers access to TikTok-style elements like popular music, fonts, colors, and more. Brands can access the new tool through the "Create a Video" menu in TikTok Ads Manager, or from the Ad Creation menu when setting up a campaign. 
Next, the platform has created a wellness hub to provide users with mental health-related tips, guides, and other resources. The hub includes four categories: Food and Nutrition, Fitness, Life Advice, and Mindfulness. Users who click into any of these categories are able to access a list of relevant influencers, videos, guides, articles, and more. Access the full hub here! 
Our TikTok #WellnessHub has arrived 🙌 Head on over to find inspiration, connect with creators, and discover real tips for better living: https://t.co/hN8aWNckqV pic.twitter.com/OgmyjjZPnh

— TikTok (@tiktok_us) April 8, 2021
TikTok is also launching immersive visual effects that are triggered by music. These effects— which include "Music Visualizer," "Music Machine," "Delayed Beats," "Text Beats," "Solid Beats," and "Mirror Beats"—are powered by real-time, interactive music processing technologies. According to TikTok, the result is a synchronous combination of visual movements to the beat of any song from the platform's library. These new features will give users more creative and storytelling capabilities on the app. Take a look at the video below to see some examples! 
@tiktoknewsroom

Creative music effects are coming to TikTok! Which one are you most excited to try? 🎶
IPG Mediabrands and TikTok have built an exclusive creator program to help brands create more relevant, culture-focused content. According to TikTok, the program will choose a select group of creators who will "provide guidance to IPG Mediabrands' clients, ensuring that their content is culturally connected, inclusive, and resonates with the TikTok community." 
TikTok announced that it is financially backing the production of media publisher NowThis' new series called "VIRAL." The series will feature interviews with public health experts, and include a live Q&A session that will focus on answering pandemic-related questions. This is TikTok's first time funding a series from a publisher, which marks the start of new opportunities for publishers on the platform. 
Lastly, TikTok is looking to add a number of in-stream shopping tools in its move to explore e-commerce opportunities on the platform. First is "Collection Ads," which will allow brands to combine their product catalog listings and branded videos to guide users to relevant products from their videos. The second is "Dynamic Product Ads," which will automatically retarget users with relevant products, based on their activities on the advertisers' apps and websites. 
Facebook
Facebook has launched "Dynamic Ads for Streaming," a feature designed to help video streaming brands showcase relevant titles from their entire content library to their audiences. With the Dynamic Ads for Streaming option, users can see a brand's ad in their feed and swipe through the ad to see more personalized titles that they may be interested in. These titles are based on the interests the user has shown on Facebook and Instagram. This personalized marketing feature may help to increase views and conversion rates on Facebook. Dynamic Ads for Streaming is now available for all video streaming businesses globally. 
[Source]
Facebook and Instagram users can now appeal other users' content that has been left up to the Oversight Board. Previously, if content was removed and a user disagreed with Facebook's re-reviewed decision to take it off the platform, this content was eligible for a final appeal to the Oversight Board. The new changes, however, indicate an expansion to the board's initial scope, allowing them to review Facebook's decision to leave content on the platform. 
The platform is also helping users connect with state-specific information about COVID-19 vaccine eligibility in the U.S. Similar to the way Facebook ran state-specific notifications in users' News Feeds about registering to vote in the November 2020 elections, vaccine-related notifications will coincide with each state's eligibility rules to keep users informed. The feature will first be rolled out in the U.S., but will soon become available globally as more countries expand vaccinations.
Lastly, Facebook is rolling out a new "Layouts" option in its post composer tools. The feature offers a variety of frames and formats for users to get creative with when they post visual content on the platform. Take a look at the tweet below to see what these options look like! 
New! Facebook has added a 'Layouts' feature for sharing multiple photos

h/t @TSbyJacki pic.twitter.com/eFz2i9AQef

— 🟣 Matt Navarra (@MattNavarra) April 7, 2021
Twitter
Twitter has rebranded its advertising product suite to streamline and simplify the platform's ad product offerings. After receiving advertisers' feedback for Twitter to use more straightforward language, Twitter has recategorized the suite from over 22 individual ad format names to five advertising categories and their corresponding features. First is Promoted Ads, whose formats can feature images, videos, and various ad features. Promoted Ads can be used by marketers in multiple ways across each stage of the marketing funnel. Second is Follower Ads, which can be used to promote an account to a targeted audience to build awareness and attract new followers. The third is Twitter Amplify, which advertisers can use to align their ads with premium video content from the most relevant publishers. Fourth is Twitter Takeover, which includes premium, mass-reach placements that take over the Timeline and Explore tab. The fifth and final category is Twitter Live, where advertisers can broadcast their ad content and allow an audience to join in real-time. 
Instagram
Instagram has added a "Remix" option to Reels, which allows users to build on another user's previously posted video by adding their own content onto it. If this sounds familiar to you, it's likely because you've seen the "Duets" layout on TikTok, a format that has become increasingly popular amongst users. The Remix option will allow Instagram users to get even more creative with their Reels content, creating everything from reaction videos to comedy skits and much more. Visit Instagram to learn how you can access the Remix option for Reels. 
Reddit
Reddit has launched a new advertiser resource hub called "Reddit Ads Formula." This hub includes a variety of tips, guides, case studies, and more, and is aimed at helping businesses improve their digital marketing efforts on the platform. View Reddit Ads Formula here! 
Pinterest
Pinterest has launched "Creator Code," a mandatory set of guidelines that are intended for community building and educating users on how to create inclusive, positive, and compassionate content on the platform. This feature will enforce users to accept Pinterest's guidelines before they post to Story Pins. As stated by Pinterest, the effort to mitigate negativity is a "critical step in our journey to build a positive experience that adds lasting value to the lives of our more than 450 million users around the world." 
[Source]
YouTube
YouTube has added a new metric called Violative View Rate (VVR). VVR helps the platform determine what percentage of views come from content that violates their policies. This metric is calculated by taking a sample of YouTube videos and sending them to the platform's content reviewers, who then tell YouTube which videos violate their policies and which do not. The addition of VVR may help to better moderate violative content on the platform. 
LinkedIn
LinkedIn has launched "Ads Guide," a resource for marketers to view LinkedIn ad specs, formatting recommendations, and general information. Brands can find all the details for the four different categories of LinkedIn Ads on the guide, including Sponsored Content, Sponsored Messaging, Lead Gen Forms, and Text and Dynamic Ads. This hub can help marketers better understand how to optimize the platform's ad opportunities.
The platform has also introduced new job titles to be more inclusive to parents who have temporarily stopped working. These include "stay-at-home mom," "stay-at-home-dad," and "stay-at-home parent." This update allows these individuals to more accurately reflect their roles and career gaps. In addition to this, users who use one of the stay-at-home job descriptions and set their employment field to "self-employed" will no longer need to specify a company or employer. 
WhatsApp
WhatsApp has announced a new sticker pack, made in collaboration with the World Health Organization (WHO), called "Vaccines for All." These were made to give users a creative way to express positive emotions about the COVID-19 vaccine, and to show appreciation to frontline workers. 
Snapchat
Snapchat is celebrating the upcoming International Day for Monuments and Sites by sharing its first wave of projects from its LACMA x Snapchat initiative called Monumental Perspectives. For the initiative, artists and Snap Lens creators have collaborated to create five new augmented reality (AR) monuments that explore history and representation across Los Angeles. Users can find the AR lenses at sites including LACMA, MacArthur Park, Earvin "Magic" Johnson Park, and the Los Angeles Memorial Coliseum, and can easily discover these monuments by looking for them on Snap Map. Users around the world can also view these virtual monuments from their mobile phones by visiting this LACMA website here. 
Clubhouse
The popular audio-only platform has launched a "Creator Accelerator Program," aimed at helping 20 chosen creators gain a larger following and monetize their work on the app. The company would support the selected creators by sending them equipment, providing assistance in developing concepts, and matching them with relevant brands for sponsorship opportunities.
Today's Town Hall Updates:
We are launching our first creator accelerator program, Clubhouse Creator First. We are looking to support and equip 20 creators w/ resources they need to bring their ideas and creativity to life. Details and application here: https://t.co/kmKjQvoUBK

— Clubhouse (@joinClubhouse) March 14, 2021
Clubhouse, which is currently only available on iOS devices, is also looking to expand to Android phones in the next few months. This move may help to increase its popularity and accessibility, which will be especially important as competition ramps up with platforms like Twitter and Facebook planning to release their own Clubhouse clones to the public. 
Lastly, the platform has added a payments feature that allows users to leave tips for their favorite hosts. As competition increases from other social media platforms, adding monetization features for users can help to strengthen Clubhouse as a long-lasting social media competitor. 
That's all for this week's digital marketing trends and social media updates! Be sure to tune in every other Friday for more biweekly updates, and follow us on Twitter in the meanwhile! 
Has your business taken advantage of social media marketing? If you're not totally convinced about it yet, take a look through our case studies below to learn how we've helped our clients achieve their business goals through our paid and organic social media programs. 
Click here to read our Case Studies!