06 Aug

Clubhouse Now Available for All Users

Welcome back to another Spark Social Report by Spark Growth! The popular audio-only app Clubhouse has finally opened its doors to all users. Scroll to read more of the latest social media news! 
Social Media E-Commerce Trends
Social media expert Matt Navarra has offered some insights on current e-commerce trends and growth opportunities within the online space. First, social shopping (or online shopping on social media platforms) continues to be a priority, with elements like live shopping, product tagging and branded content continuing to be developed on platforms like Facebook, Instagram, Pinterest, TikTok, and more. 
Second, Navarra notes that augmented reality (AR) is continuing to advance beyond aesthetic filters and into more utility-based spaces, particularly in the form of "try-on" tools, which will help brands better facilitate the online shopping experience. 
Lastly, Navarra mentions "creator economy tools," such as subscriptions, tipping, collaboration tools, and branded partnerships. With more social media channels focusing on creating more options within these spaces, this will ultimately provide brands with further opportunities to grow online. 
Social Media App Updates 
TikTok
TikTok has added new moderation tools for live streaming users. First, live stream broadcasters can now assign one or more Live moderators to help manage their streams. This feature will allow moderators to manage comments and commenting functions. TikTok is also rolling out a keyword filter feature for live stream comments, offering another way to manage conversations and offensive comments during a stream. Lastly, there will be a new option that allows broadcasters and assigned moderators to temporarily mute viewers or remove harmful comments.
TikTok announced a global partnership with ad agency Publicis Groupe. This partnership is aimed at providing brands with more insights and opportunities to maximize on commerce potential, such as shopping and product discovery, on the platform. In the lead up to the holiday shopping season, Publicis clients will be chosen to participate in TikTok's initiative called "Community Commerce Sprint," a program that will prepare brands to create effective commerce campaigns for TikTok. The multi-week program will allow participants to access support and coaching from TikTok teams on Community Commerce best practices. 
Facebook
Facebook added new emoji search options to Messenger! First, an emoji search bar which is located at the top of the reaction picker panel will allow users to enter a search term for the emoji they want to use, offering an easier way to locate emojis. The platform has also added a "recent reactions" section, which shows users the emojis they use regularly (but which haven't made it to the top reactions line-up). Lastly, a new Space Jam-themed background has been added to the roster of customized Messenger backgrounds. 
Facebook added a new Games Hub to help users celebrate the Tokyo Olympics. To help users stay up to date with all the sporting events, the Games Hub (which can be accessed here) showcases highlights, team and athlete overviews, event descriptions, and more. This hub also features information on Olympic history, and users can follow the hub to receive alerts about game updates. 
In its latest initiative to encourage inclusion and safety online, Facebook began hosting a number of Women's Safety live training events. These events offer comprehensive overviews and insights on how the platform's safety tools work, and how women can implement them in order to improve their online experience. The initiative includes seven separate sessions provided in four different languages across multiple time zones. 
Facebook launched "Campaign Ideas Generator," a mini-site that aims to inspire and support brands with their promotional efforts. The site provides insights, recommendations, and templates. Marketers can select their business type when using Campaign Ideas Generator, which will then suggest campaign ideas, insights and data, and resources that are tailored to the business' needs. The feature also includes an "Organic Post Pack," which offers a range of post templates for brands to use on their page in order to boost organic engagement.
Lastly, Facebook has redesigned its Settings page to streamline and better personalize the user experience. The new format shows more space between each option to reduce clutter, improve readability, and make it easier for users to navigate. Facebook has also grouped settings into six categories —Account, Preferences, Audience and Visibility, Permissions, Your Information, and Community Standards and Legal Policies—to reduce the number of main options on the page. It has also relocated a few standalone settings to appear alongside related settings (e.g. the News Feed setting is now located under Preferences). Additionally, the settings search function has been updated to make it easier for users to find the settings they need if they don't know its exact name or where it's located. Privacy Settings has also been unbundled, and those settings have been moved into other relevant categories. And finally, to give users more guidance on important privacy and security settings, the platform has added a "Privacy Checkup" shortcut at the top of the Settings page.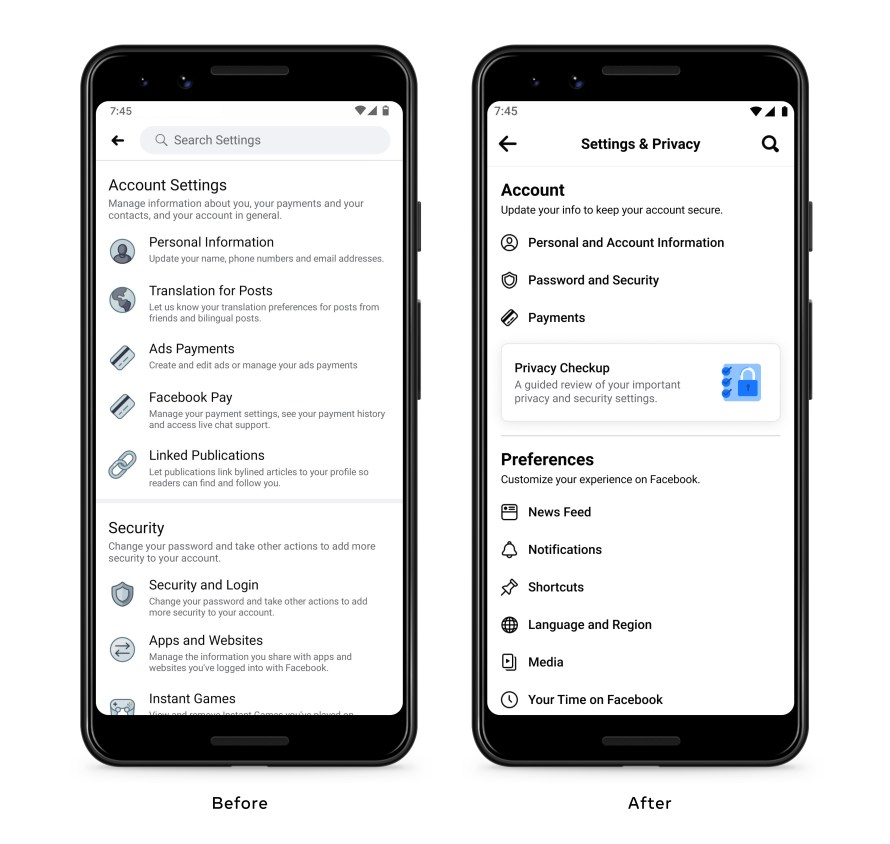 Instagram
Instagram is rolling out a language translation option for Stories. Now, when users see a Story with an overlay text in another language, they will have the option to translate the on-screen text. A "See Translations" banner will show up in the upper left corner of the Instagram Story when a foreign language is detected, based on the user's phone's settings. The platform states that over 90 languages are supported; however, translations are currently only available for text, with no capabilities for direct audio conversion. 
Here's some exciting news for Reels users: Instagram recently announced that Reels now have a maximum length limit of 60 seconds, doubled from its previous limit of 30 seconds! This extended limit will allow users more time to experiment with Reels length, offering further opportunities for creative capabilities. 
Reels. up to 60 secs. starting today. pic.twitter.com/pKWIqtoXU2

— Instagram (@instagram) July 27, 2021
Instagram has also implemented some new updates to help protect youth on the platform. First, the platform published a new Parents Guide, which offers parents of young users more information on the latest safety tools and privacy settings. Next, a new restriction will prohibit adult users who try to message users under 18 who don't follow them. The adult user will receive a notification saying that DMing that person isn't an option. Third, young users will start receiving safety notice prompts that will encourage teens to be cautious in conversations with adults they are already connected to. These safety notices will also notify the user when an adult who has been showing potentially suspicious behavior is interacting with them in their DMs. Lastly, Instagram is encouraging teen users to opt for a private account, as it offers more protection and control for who can see and interact with their content. The platform has added an additional step when users under 18 sign up for an Instagram account, which gives them the option to choose between a public or private account. 
Twitter
Twitter users can now sign up and log in to the app using their Google or Apple ID credentials. This option will make it easier for users to access Twitter through their device info. In order to access this feature, users will need to update their Twitter to the latest version and log out of the app entirely, after which they will be able to see the new sign-in options.
Sign on with ease and start scrolling your timeline.

Now, when you log in or sign up to join the conversation on Twitter, you have the option to use:
▪️ Your Google Account on the app and on web
▪️ Or your Apple ID on iOS, and soon on web pic.twitter.com/Nf56H1ghmY

— Twitter Support (@TwitterSupport) August 2, 2021
Snapchat
Snapchat has added a feature to Snap Map called "My Places." Through this feature, Snapchat users can discover over 30 million businesses, find personalized recommendations, and log local spots they have visited. Three listing categories will show up on the map, including places that are popular amongst the user's Snap friends, places the user has liked and places the user has previously visited. This update will help improve discoverability and increase brand awareness for local businesses. 
The platform has also launched "Campaign Lab," a section within Snap Ads Manager that is aimed at helping brands optimize their advertising initiatives. This analysis tool will allow users to run split tests, view detailed reports, and see customized recommendations and next steps. The Campaign Lab feature will be a useful resource for marketers to improve ad performance on the platform. 
YouTube
The popular video streaming platform added updates for its live streaming capabilities. First, YouTube will now allow creators to use Premiere trailers in their live streams, which is the option to add a short preview clip to their stream event page. This will provide broadcasters with the ability to market their live stream to audiences and offer a summary or snapshot of what it will entail. The platform is also expanding its access to Live Chat Polls, a feature that allows broadcasters to set up a live poll from the chat window. While this option was previously just available for gaming creators, it is now available for all streamers; however, Live Chat Polls can only be accessed through a desktop. 
Pinterest
For brands who use Idea Pins—the platform's own version of Stories—Pinterest has expanded on its insight tools by adding two new actionable metrics. Now, users can see "Follows" and "Profile Visits" for each Idea Pin. This data can help provide more insight on how Idea Pins are contributing to the brand's performance on the platform. 
In another update to Idea Pins, Pinterest has added new opportunities for users to earn money on the platform. As such, creators can now add shoppable tags to their Idea Pins, which offers another format for businesses to promote their products and drive e-commerce sales. 
Clubhouse
And finally, some long-awaited news for many users: the audio-only app Clubhouse is officially open for all! After being in beta for a year, during which time users had to receive an invite or join a waitlist to use the platform, Clubhouse is finally publicly available for all iOS and Android users. To commemorate its official public launch, the platform has updated its website. Now that the already widely popular Clubhouse is available for everyone, we're interested to see how the platform continues to grow! 
That wraps up this week's social media updates! Be sure to check us out on Facebook for more digital marketing news. 
These days, many social media platforms are developing innovative e-commerce opportunities for brands. So we want to ask you: has your business taken advantage of social media yet? If not, we can help. Chat with one of our digital marketing experts by booking a conversation with us below! 
Book a 30-minute consultation today!