18 Dec

Add Tweets into Snapchat Stories

Another week means another Spark Social Report by Spark Growth! This week's updates saw Twitter launching a platform integration feature with Snapchat Stories, Reddit acquiring Dubsmash, and more. Scroll to read more social media updates! 
Twitter 
Late last week, Twitter announced that iOS users can now share Tweets to their Snapchat Stories. This is an interesting update, especially since the trend of snapshotting Tweets and repurposing them across other platforms has become more popular. In the same announcement thread, Twitter also announced that it will be testing this feature for Instagram Stories with a small percentage of users. 
Oh snap! 👻

Sharing Tweets directly to your Snapchat Stories is now easier than ever. Rolling out today on iOS! pic.twitter.com/0LIHQhmCKu

— Twitter (@Twitter) December 10, 2020
Twitter Inc. has also partnered with Amazon web service to help power user feeds. Though the platform has primarily used its own data centers to store and show media, Twitter will now use the Amazon.com Inc. unit. Amazon's web service will provide its global cloud infrastructure to help supplement Twitter's own computing capacity. 
In an update that's relevant to digital advertisers, Twitter is preparing for 2021 by enhancing its brand safety tools. The platform announced a partnership with DoubleVerify (DV) and Integral Ad Science (IAS) to provide independent reporting on how ads appear on Twitter. Twitter notes: "We see this as an opportunity to build solutions that will give advertisers a better understanding of the types of content that appear adjacent to their ads, helping them make informed decisions to reach their marketing goals."
Twitter is also updating its approach to tackle COVID-19 misinformation by implementing new policies surrounding vaccine information. Starting next week, Twitter will require users to remove Tweets that include harmful, false or misleading information about vaccinations. This includes false claims that suggest vaccines are used to cause harm or control populations, claims that have been widely debunked about the adverse impacts of the vaccine, and claims that state COVID-19 is not real or not serious. Starting in 2021, Twitter may also place a label or warning on Tweets that advanced unsubstantiated rumors, disputed claims, or incomplete information about vaccines. 
Instagram 
U.S. users may remember that Instagram temporarily got rid of the "Recent" tab during the 2020 elections to prevent potentially harmful content surrounding the topic from showing on users' feeds. Luckily for those who have missed the Recent section, Instagram announced that the feature is now back! 
The Recent tab is now available again on hashtag pages in the U.S. We know many of you missed this feature, and we appreciate your patience as we continue working to make hashtags safer for everyone.

— Instagram Comms (@InstagramComms) December 9, 2020
Instagram is also testing the ability to show and recommend Reels on the Facebook platform. The test was spotted by mobile developer Alessandro Paluzzi, showing a "Recommend on Facebook" selection for Instagram users. This option is available when a user is choosing sharing options for their Reel. Instagram states that the Reels video would not be linked to the user's Facebook account. As well, users would be able to choose this option to apply to a single Reel or for all their Reels. If this option becomes available to all users, it could help to boost audience reach for Reels content. 
#Instagram keeps working on the possibility of recommending a Reel on #Facebook. Here's some more information about this option 👀 pic.twitter.com/RxKMQCvNFY

— Alessandro Paluzzi (@alex193a) December 11, 2020
Instagram has also added new creative tools to its platform. For Reels, social media expert Matt Navarra has noted new "Audio Mix" and "Voice-Over" options within its composition section. These tools will allow users to add additional audio tracks to their Reels. Additionally, Instagram has added a "Reels" watermark at the top left corner of clips to ensure the Instagram name is attached when resharing across other platforms. 
New! Instagram appears to be rolling out Audio Mix and Voice Over features for Reels pic.twitter.com/MNFxtxA88y

— Matt Navarra (@MattNavarra) December 16, 2020
The platform has also updated its editing options in Reels by offering more specific editing capabilities. Multiple users have also spotted additional options to their Stories mode. First is "Photobooth," which allows users to take multiple photos in sequence. Second is "Color Filter," enabling users to set filter intensity to their Story's photo or video.
TikTok 
TikTok announced a number of new updates to its community guidelines and safety tools, created to support the well-being of its users. 
First, the platform is rolling out a text-to-speech feature. This feature will allow TikTok content to be more accessible to visually or hearing impaired users. Second, TikTok is providing further resources for emotional support that surround the topic of self-harm. Users who search for terms such as "selfharm" or "hatemyself" will be directed to evidence-based actions they can take. These resources were created in partnership with leading behavorial psychologists and suicide prevention experts. These resources will be rolling out within the next week.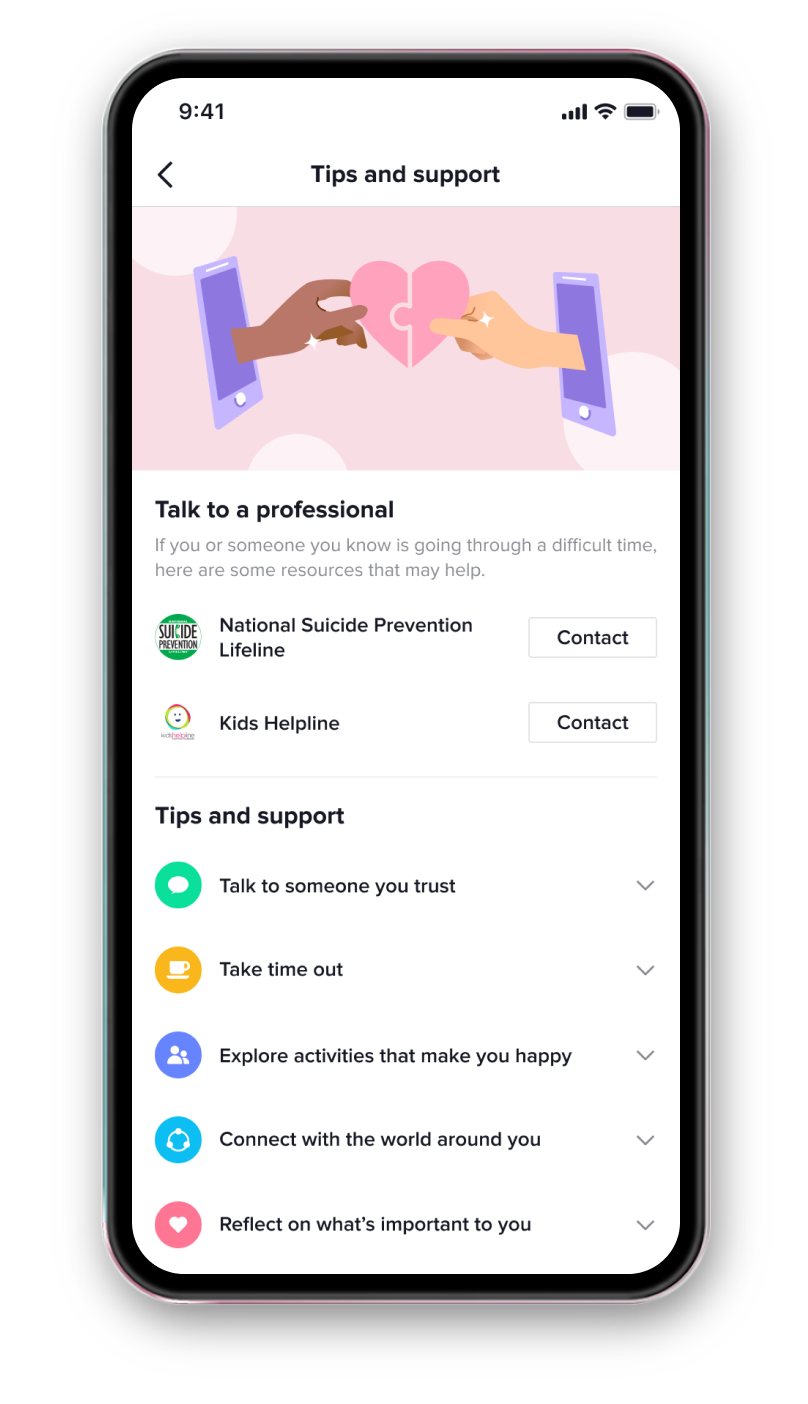 Third, TikTok is introducing an opt-in viewing screen on the top of videos that contain content users may find graphic, distressing, or triggering. TikTok notes, "These types of videos are already ineligible for recommendation into anyone's For You feed, and this feature aims to further reduce unexpected viewing of such content by offering viewers the choice to skip the video or watch it."
Fourth, following news of the COVID-19 vaccine, TikTok will update its in-app coronavirus resource hub to keep users informed on credible and up-to-date information from public health experts surrounding the vaccine. TikTok is also partnering with Team Halo, a network of global scientists who are sharing vaccine and COVID-19 updates through video content. 
Lastly, TikTok is working to educate and empower communities on its policies through in-app videos, notifications, and safety tools. Over the next month, TikTok will prompt users to review the updated guidelines when they open the app. 
In a separate update, Samsung TV users in the U.K. can now launch the TikTok app on their Samsung Smart TVs! Samsung Electronics Ltd and TikTok announced this partnership earlier this week, and the feature allows users to experience a new way to view TikTok videos. Though this feature has currently only been released in the U.K., it is planned to launch in other European countries in the near future. 
Facebook 
Facebook is encouraging kids and their parents to get in the holiday spirit by adding Christmas and holiday-themed features to its Messenger Kids platform. 
First on the list of updates, parents can choose to message their kids as Santa through a "Santa chat thread," which is available through January 6, 2021. Next, new AR effects, stickers, and frames will allow kids to visually express themselves and celebrate holidays like Christmas, Kwanzaa, Hanukkah, and New Years. Lastly, parents in Canada and the U.S. will be able to send a customizable digital holiday card to their kids through the Parent Dashboard. Users can choose from an array of holiday templates and include a personalized note. Cards will be sent from the parent's Messenger account to their child's Messenger Kids inbox.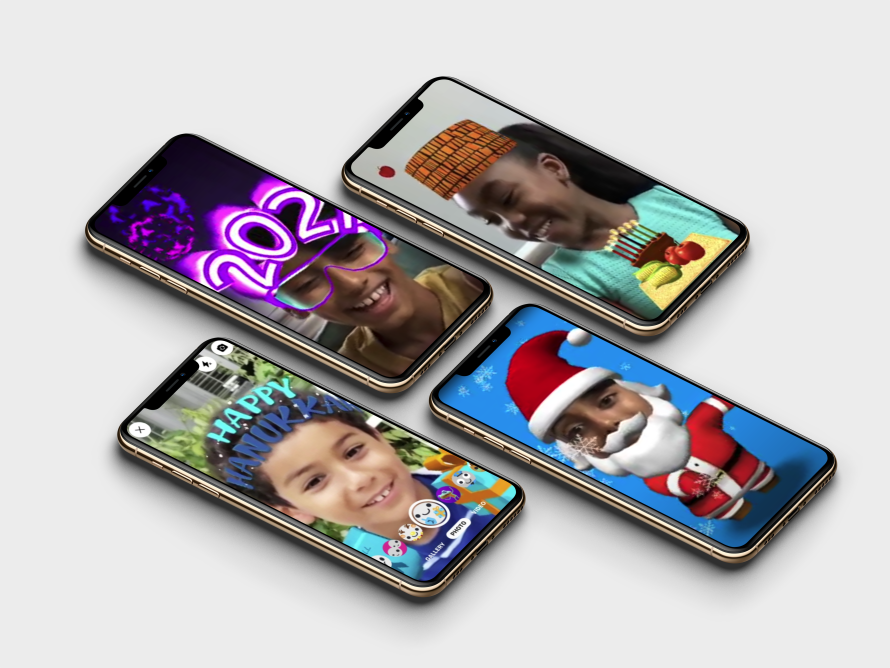 Similarly, new holiday-themed AR effects, stickers, and 360 backgrounds are available to Facebook Desktop users. From Christmas Elf to Grumpy Yeti, users can access these festive new effects through Messenger. 
To further tackle the fight against misinformation surrounding COVID-19, Facebook has expanded on its process. Now, users will be directly notified when they have come in contact or interacted with posts that have included misinformative information that has been taken down. The notifications will read, "We removed a post you liked that had false, potentially harmful information about COVID-19." Follow-up information will also be provided, such as credible resources or the option to unfollow the group that posted the misinformation. 
LinkedIn 
The professional networking platform has added new features to company page administrator roles. LinkedIn has added internal access tiers to Page Admin and Paid Media Admin, which provides more options for brand managers. New options include Super Admin, which enables master access to every administrator permission, such as adding and removing all admins on the Page, editing page information, and deactivating the company's page. Next is Content Admin, which allows users to create and manage page content, including updates, events, and more. A Curator option allows the admin to recommend content for employees to post, with access to insights on performance. Last is Analyst, who is given the capacity to monitor the page's performance through analytics. LinkedIn notes, however, that Analysts will only have access to the Analytics tab of a Page. 
FINALLY!! New feature for managing Page admins on #Linkedin!#socialmedia pic.twitter.com/dFjGgc9511

— Peter Aspengren (@aspengrenpeter) December 10, 2020
Pinterest
Pinterest has added a series of new board updates, which are influenced by the trends it observed this year: "Pinterest has seen surges in searches, saves and newly created boards for topics like home improvement, at-home workouts, and shopping for baby products, essential goods, and gifts. While life in quarantine has been unexpected, it hasn't stopped people from planning and looking ahead to the future." These updates include "Notes to self," "Board toolbar," and "Board favorites." 
Notes to self is a feature added to saved Pins, and allows users to add private notes to them. The board toolbar makes it easier for users to sort through their pins, including an easy-to-navigate section at the top of the screen which showcases all of the actions that can be taken on a board. Board favorites is currently in its testing stages, allowing Pinterest users to mark top Pins as a favorite by clicking on a star icon. 
Reddit 
Remember Dubsmash? Reddit recently acquired the video-sharing platform and will be adapting it into its own. The platform will integrate Dubsmash's video creation tools and allow users to utilize these when creating content. Dubsmash is arguably one of the earlier inspirations for platforms like TikTok, so it's interesting to see yet another platform adapting to the video and entertainment-based approach that made TikTok so popular. 
That's all for this week's social media updates! Be sure to follow Spark Growth on Twitter to keep up with more digital marketing news! 
And if you're interested in reading more about the wonders of social media marketing, why not flip through some of our case studies? Click the link below to learn how we helped one client, Engage and Change, meet their goals through a branded hashtag campaign! 
Click here to read our case study!