17 Sep

Snapchat Launches "Trends"

Welcome back to another Spark Social Report by Spark Growth! This week's social media news includes Snapchat's launch of "Trends" to improve audience insights and help brands better strategize for their digital marketing efforts. Scroll down to read more about the latest social media trends and updates! 
Social Media Marketing Trends
LinkedIn has recently provided fresh insights on the benefits of combined brand and demand. Brand and demand are key principles in marketing growth, with "brand" referring to long-term business campaigns and "demand" referring to shorter-term efforts and revenue. The platform makes a point in mentioning that when choosing between a brand and its long-term results versus demand and its immediate growth, the ideal solution is to find a balance between the two by implementing a brand-to-demand strategy. Marketers who utilize both aspects in their strategy can cultivate and maintain their company's image, while also prioritizing the immediate demands of their consumers. View the full infographic here for more insight! 
Social Media Updates
Snapchat
Snapchat launched its "Trends" dashboard feature on the platform, allowing brands to gain insight into current trends among target audiences. Snapchat Trends features the most popular keywords utilized by users via Stories and My Stories according to views, and includes a searchable database of terms. The app highlights that brands can utilize Snapchat Trends in various ways for their digital marketing efforts, including exploring organic consumer behaviour and allowing businesses to prioritize increased discoverability and audience engagement. 
Instagram
Instagram app researcher Alessandro Paluzzi noted that the platform is testing a feature called "Montage." Although Instagram has yet to confirm when this feature will be available to users, if released, it will definitely be something that users can look forward to. The feature will provide the option for creators to convert Stories into Reels, where creators can save their Instagram Stories as a Reel and overlay music onto it. Features like this one may help Instagram increase its relevance, stay on top of trends, and combat competitors such as TikTok—especially since TikTok's popularity has continued to skyrocket amongst global users.
Another feature that Instagram has also introduced is "Map Search" for users in Australia and New Zealand. Map Search allows users to utilize the in-app Explore tab to locate nearby businesses. The new addition may help support small businesses immensely by providing exposure to close-by immediate consumers. 
YouTube
YouTube is lowering the requirements for the "Community" posting tab within creator channels to boost creator-to-viewer engagement! Previously, YouTube required content creators to hit the 1,000 subscriber threshold to access the Community posting tab, but now, YouTube has lowered it to 500 subscribers. This gives a wider range of creators the opportunity to engage with their subscribers and grow their audience. The Community tab allows content creators to keep subscribers up to date and offers features such as polls, images, GIFs, and videos to create an engaging space for their community. 
Community posts are coming to millions more channels!!

Starting October 12, 2021, we're lowering the eligibility threshold for Community posts to channels with 500+ subscribers: https://t.co/66SEhZ33ML

Tips for getting started on the Community tab →https://t.co/O3KnHNvk1t pic.twitter.com/SB1pyfbgUz

— TeamYouTube (@TeamYouTube) September 9, 2021
LinkedIn
LinkedIn is offering users the chance to increase engagement with longer posts. The platform's new feature "Articles for Pages" (similar to Articles for personal accounts) provides a space for community building by engaging audiences with valuable long-form content, which can help to spark discussions in the comments section. The latest option is opportune for organizations and companies to build upon their current LinkedIn content and provide further outreach to their audience. Articles for Pages is just the beginning of LinkedIn's strategies to further professional community building and audience engagement—but without the character limit!
The platform is well received by users when it comes to showcasing professionalism and building networks, and now taking it a step further with its "Creator Accelerator." LinkedIn's Creator Accelerator gives content creators the opportunity to grow their social network and build a strong base for their business. This is a 10-week program that includes coaching, a built-in creator network, opportunities to be featured on LinkedIn channels, and even a $15,000 grant! For users who are just starting out or need extra support, this is an opportune time to participate in the program. 
Another feature LinkedIn released is "Dark Mode" for mobile and desktop applications. Dark Mode may be preferable to most users for low-light settings, or for those who want to reduce their exposure to blue light. Although the platform does mention that it will be released gradually and may not be immediately available to all users, it is still something that most can look forward to using in the future.
Facebook
In celebration of Latin and Hispanic History Month, Facebook set its new business guide in motion. Facebook conveys their understanding of the way the pandemic has negatively affected Latinx communities and businesses, and created the guide to motivate businesses on how they can promote and express support for Latinx businesses and communities. 
In preparation for National Business Week, the platform also announced its support initiatives for Small-to-Medium Businesses (SMB) through the expansion of the "Facebook Invoice Fast Track" and "Small Business Funding" Resource. One of the initiatives is the expansion of Facebook Invoice Fast Track, which notes that more minority, women, veteran, LGBTQ+, and disability-owned companies will have opportunities to be funded up to $100 million in invoices by the platform in operation with partnerships. The second initiative is its Small Business Funding resource, where Facebook connects small business owners with grant and loan opportunities, educational business resources, and prospering SMB groups. As many small businesses have suffered due to the pandemic, initiatives such as these are especially critical, and it is encouraging to see Facebook providing assistance to smaller brands.
Pinterest
Pinterest is putting its "Watch" mode to the test! The mode appears in a similar manner to TikTok's, with its vertical scrolling feed and images, GIFs, and videos. TikTok's popularity has excelled rapidly, so it comes as no surprise that other platforms may want to experiment with different methods to increase platform engagement and adjust to audience trends. Though the feature is currently in testing mode, this may mean that users will be able to post or consume full-screen content to maximize the visually-aligned platform in the future.
TikTok
TikTok expanded its resources to support the mental well-being of users! Currently available on the platform's Safety Center, TikTok implemented new well-being guides and expanded on its eating disorders guide. Additional features have also been added to support users, providing them with suggested tools and appropriate resources. With TikTok's efforts with the mental well-being of its community, the in-app functions may further support users in times of distress.
WhatsApp
WhatsApp is now giving users the option to encrypt their message back-ups as an additional security measure. The platform has provided users with end-to-end encryption by default for years—meaning that messages can only be seen by the sender and recipient—as well as allowing backups on cloud-based services. Now, users have the option to enable end-to-end encrypted backups, which means that neither WhatsApp nor their backup service providers will be able to access their information. Users will need to generate encryption keys and passwords through an entirely new system that the app developed for encryption key storage to access this feature. WhatsApp users can be further reassured that their messages and information are being kept safe if they decide to opt into this new security measure.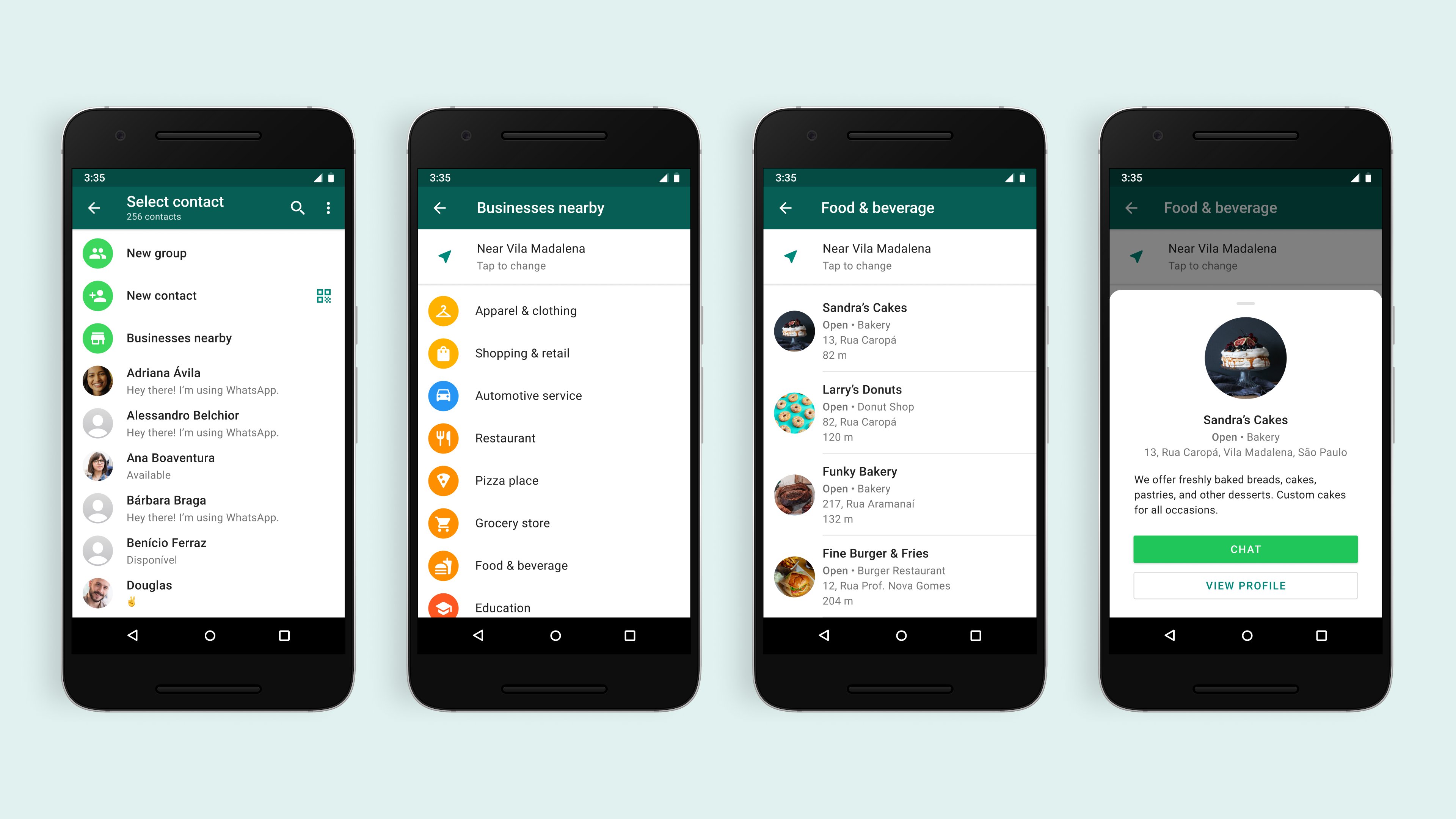 The platform is also testing an in-app business directory for users to identify nearby businesses. WhatsApp put the test in action, starting in São Paulo in hopes of supporting small businesses in the area. Users in that region can simply tap into "Businesses Nearby" in their app, which gives them access to business profiles, products, and direct contact information. The app assures users that the feature is built in a private way, ensuring that users' locations and businesses that are browsed are not logged. This is a supportive initiative to help small businesses gain traction and recover from the pandemic. 
Reddit
Reddit continues to build upon its ad platform with the inclusion of bid recommendations, an improved edit tool, and an updated dashboard. The new updates on the platform entail that users will see recommendations on what to bid on to reach their target audiences, and will also allow them to save time updating their bids across multiple ad groups. The app also updated its dashboard to be twice as fast as before. This new feature means that Reddit users can make use of their time on the platform more effectively and efficiently when it comes to their business. 
That wraps it up for this week's Spark Social Report. Stay tuned next week for more of the latest social media trends and check our Facebook for more updates! 
Are you looking to improve your social media presence as part of your digital marketing strategy? Book a consultation today to chat with our experts on how to grow your business today.